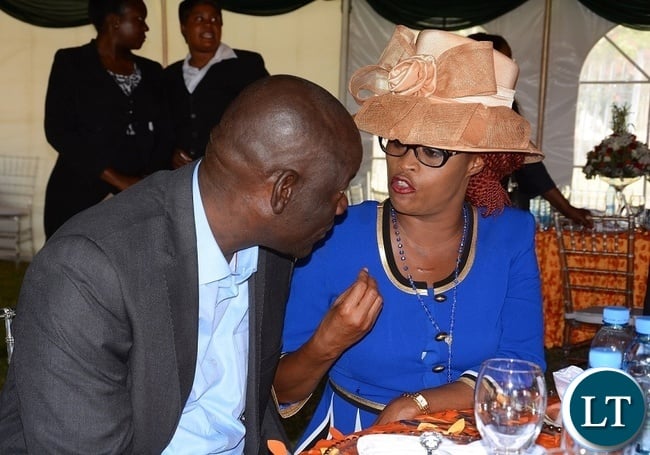 The ruling Patriotic Front(PF) Deputy Secretary General Mumbi Phiri has said that if there is a person who needs dialogue and reconciliation with himself, it is United Party for national Development(UPND) President Hakainde Hichilema.
Reacting to a press briefing held by the Zambia Centre for Interparty Dialogue (ZCID) calling for dialogue, peace and reconciliation in the nation, Mrs Phiri said that the UPND leader needs to be at peace with himself and at peace with the world and that ZCID should help him come to terms with reality.
Below is the full statement
"WE HAVE ALWAYS STOOD FOR DIALOGUE, PEACE AND RECONCILIATION", PF DEPUTY SECRETARY GENERAL TELLS ZCID.
PF Headquarters, Lusaka, Zambia
Zambia Centre for Interparty Dialogue (ZCID) held a press briefing today at which they revealed that they had written to the His Excellency President Edgar Chagwa Lungu to call for dialogue, peace and reconciliation in the nation. They also stated that they had written to the Prison Authorities for permission to go and engage HH on dialogue.
Let me correct something here: if there is a person who needs dialogue and reconciliation with himself, it's Hakainde Hichilema. He needs to be at peace with himself and at peace with the world. ZCID, we are calling on you to help him come to terms with reality.
In responding to their remarks, I wish to raise the following concerns:
1. President Edgar Chagwa Lungu is on record as having extended an olive branch to all stakeholders, including Opposition parties that he is for dialogue on matters of national development. Therefore, ZCID is preaching reconciliation and dialogue to someone who does not need to be lectured on it. The President has been consistent in calling for unity and love in the nation.
2. President Lungu and PF have no irreconcilable differences with the Opposition and neither does it hold any grudges against any political party that may have contested in the last election and lost. For the record, PF has no time to pamper an opposition leader at the expense of taking development to the people.
3. PF's mandate is not affected, not even an inch when some delusional opposition leader resign himself into dark corners of denial that Zambia. ZCID, help the gentleman to have inner dialogue and inner reconciliation and see that Zambians have no time for his clowning, the Country has a President in the name of Mr Edgar Chagwa Lungu. For the record, it's inconsequential to us whether he accepts that reality or not. It's a narrative over which we do not lose sleep.
4. We ask ZCID what their envisaged outcome for this dialogue and reconciliation is. Are they making efforts to negotiate HH's release to signal the same dialogue and reconciliation? We are a Country of laws and no one shall short-circuit any process rightfully before the Courts.
5. In promoting a culture of dialogue and reconciliation, let us emphasize context here: ZCID must realise like we do that anything else can be discussed at any forum except two non-issues: (a) There is no election petition in any Court. Elections are water under the bridge and the Country has no luxury of time to play ping pong by discussing whether there is a vacancy in the Presidency. This is because it's a no brainer that Zambia has a President and only anarchists and retrogressive minds would seek to subject such a matter to a public spectacle. We ask ZCID to find time and counsel HH on what it means to be a good loser without losing yourself
6. We solicit ZCID's position on UPND's style of politics premised on lawlessness and criminality. What counsel do they have for the UPND leader HH when he fails to recognize a democratically elected President? Where was ZCID when HH before the elections called for Armageddon?
7. We ask ZCID to tutor HH that Zambia existed before him, it is existing now and it shall continue to exist after him. In that regard, let him and his financial backers stop giving Zambia a bad name for them to score cheaply. HH would rather punish Zambians with hunger just to become President. It is by God's providence that he is not. HH is a puppet of the West in the style of Zimbabwe's Morgan Tsvangirai who was globe-trotting calling for sanctions against his own country. The Zimbabweans are suffering like they are because Tsvangirai sold out to corporations in the West, which seek to recolonize us as a continent again. That we shall never allow in Zambia. Let ZCID educate HH about patriotism and country first before his ambitions. We know that those who funded him heavily need their value for money but sadly they funded a losing horse.
8. While it is not within their mandate per se but ZCID should also counsel their royal highnesses like Chief Mukuni that he is more of HH's business partner and UPND member than he is as an impartial traditional leader who must see all Zambians as his children. Of all political players, Chief Mukuni only has Hakainde as a son? ZCID should remind Chief Mukuni that Zambia has four (4) paramount Chiefs and there is a reason why he is not among those and maybe the colonialists had a good reason for it.
Having corrected these misconceptions being peddled by people whose motives for this country are questionable, I wish to reiterate the need for all the parties accept that elections were held, someone was declared winner, others petitioned, they could not be within stipulated time at the Constitutional Court and the winner was sworn to office. ZCID must remind UPND's hired guns must be told that International observers and countries such as United Kingdom (UK), United States of America (USA), among others, recognised the 11th August 2016 elections as free, fair and credible.
The ZCID must take the leading role in giving advice to political parties on how to deal with electoral disappointments and post-electoral trauma. An organisation of ZCID's nature must be careful not to be used as a mouthpiece for one political party but must represent the interests of all political players in Zambia and ensure they advise those whose conduct boarders on lawlessness and criminality.
As a party, PF remains grateful to the Zambian people. With gratitude of heart, PF will continue to exercise the five-year mandate given to us by the Zambian people and we will work towards fulfilling all the commitments we shared in the runoff to the past election.
God Bless Zambia
Hon. Mumbi Phiri
Deputy Secretary General
Patriotic Front
[Read 96 times, 1 reads today]