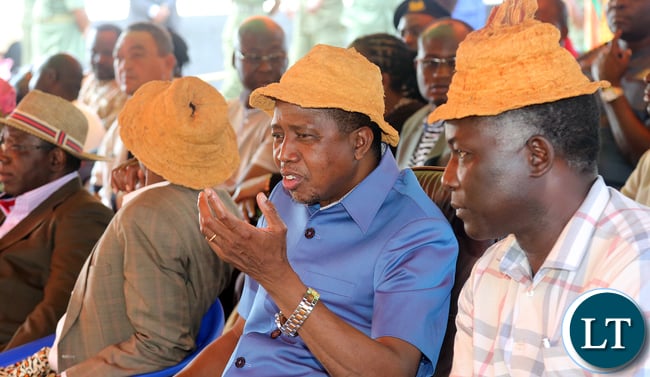 President Edgar Lungu has urged traditional leaders to corporate with government in fostering development despite their respective political affiliation.
President says this because government will continue to partner with traditional leaders in fostering development without discrimination.
Mr Lungu said this in Kalumbila district in Northwestern province yesterday when he graced this year's Kufukwila traditional ceremony of the Kaonde speaking people of senior chief Mukumbi.
Government attaches great importance to traditional ceremonies as they preserve cultural heritage of various traditions and promote unity, he said .
The Republican President said Zambia has been acclaimed as a beacon of peace because traditional leaders have played a major role in upholding peace and unity in their various chiefdoms.
He said government is undertaking a number infrastructure development project in Northwestern province such as rehabilitation and upgrading roads and schools among others.
President Lungu however apologised for the slow pace at which developmental projects in northwestern province were moving and assured that government will accelerate the process and free more resources to be channelled towards development.
He also implored traditional leaders to cooperate with government in ending child marriages which poses the biggest challenge in most chiefdoms.
Meanwhile the Mukumbi Ibaloli royal establishment has expressed gratitude to the Republica President for gracing this year's Kufukwila traditional ceremony.
Mukumbi Ibaloli royal establishment chairperson Brenda Mukumbi said no other President has ever graced the Kufukwila ceremony.
He added that the visit by the Republican President to the Kufukwila traditional ceremony is a confirmation that president Lungu has the people of this province at heart.
Ms Mukumbi said the royal establishment supports the establishment of Kalumbila as a district and its development.
The current senior chief Mukumbi Ibaloli is celebrating his 55th year on the throne following his ascension on 16 may 1962.