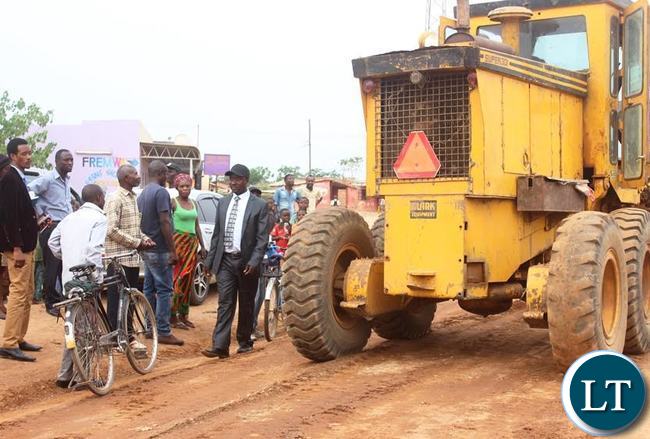 KABWE member of parliament Tutwa Ngulube says he will not sit idle and watch the council demolish 800 houses.
Mr Ngulube who has come under fire for some PF party officials for asking them to pack calls on 2021 general elections says government and the Party should be focusing on improving the lives of the people as they promised during campaign as opposed to looking at general elections due 2021.
Mr Ngulube says he is still deeply rooted in the PF but merely wants to help the party deliver its promises so that President Edgar Lungu receives accolade after his completion of his five year tenure.
Mr Ngulube has cited the demolition of 800 houses in Kabwes David Ramusho ward as one of the negative moves that may not only cost the PF in Central province but the presidency.
He says the demolition of more than 800 houses especially from a ward that gave the Patriotic Front the most votes in Kabwe is not fair to the residents and a negative move for the party.
"The Maganda Nyama ward has been in existence since 1994 and mostly houses former ZCCM employees, it is very unfair that we come and demolish their houses now to make way for a multi facility economic zone without at least relocating them, or compensating them," he said.
"Actually we have other places we can put the economic zone, we do not need to demolish these houses of people who voted for us."
He observed that his position maybe misunderstood but maintained that all he wanted was to do the right thing; which is service to the people who voted for him.
He said Maganda Nyama yesterday was at the brink of serious riots and he did not want to see his town come to this.
Ngulube added that he has no intention to break away from PF or go against the President.
"Quite the contrary I want to see my President deliver, and we are his soldiers, I want to make the electorates happy on behalf of my President, that's why am saying let's do away with the 2021 talk, moreover we have a pending court process instead let's focus on issues such as the happenings in Maganda Nyama," Mr Ngulube said.
"We can not displace 800 households, that is not what the PF manifesto entails. The PF puts the people first."
A demolition order by the Kabwe council has been issued to demolition David Ramusho ward to make way to set up a Multi Facility Economic Zone. The ward is home to Maganda Nyama compound which houses over 800 households.