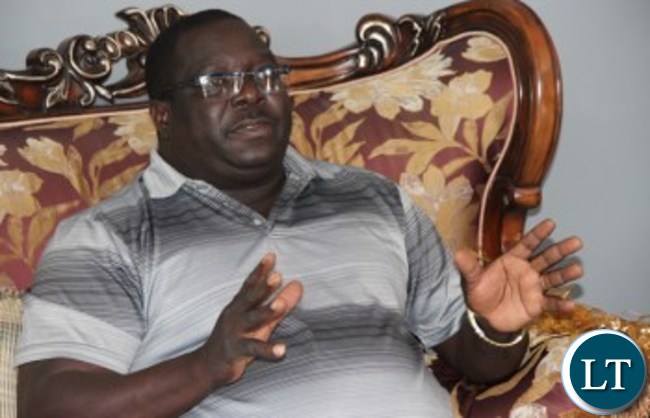 Roan MP Chishimba Kambwili says he has no intentions of leaving the PF saying those trying to push him out should instead leave first.
Mr. Kambwili said he suffered for the PF and he was not going to leave it to newcomers.
The former Information Minister was speaking to Journalists at his residence in Lusaka on Monday afternoon.
"I was one of the five people that started the PF, how can I be against PF? And today online people are saying 'we challenge Chishimba Kambwili to leave and go and form his own political party' let me say and I have said this before 'Mwaloba ilyauma.' I will never leave PF, I have suffered for PF, I have been imprisoned over PF, I lost my businesses in MMD over PF," he said.
"How many times have you been imprisoned yourself to call Chishimba Kambwili to leave PF? I was arrested five times in the opposition and put in prison for PF. And today you come from nowhere to say I should form my own political Party, it is you who should form your own political party, I have been there through thick and thin for PF. Now a few of you who have just joined PF you want to malign us, No! Join PF and let us work together," Mr. Kambwili said.
Mr Kambwili also said that he is concerned about the growing bickering in the PF.
"I have called this press briefing to discuss a few things to express my concern over what is happening in our party. It must be noted that we formed the Patriotic Front as a pro-poor party to serve the people of Zambia. Now, I am extremely concerned that instead of serving the people of Zambia, we are spending more time on insulting one another, on attacking one another and working against one another. Let me make it very clear that you united we stand, and divided we fall," he said.
Mr Kambwili further charged that the debates about 2021 elections was unnecessary.
"The debates on the 2021 presidential candidate for PF is unnecessary. I find it very unnecessary. Even the endorsements that have been going on all over the country are unnecessary. If you follow politics in Zambia, these are issues that bring division in the party. President Lungu was only elected I think eight plus or minus months ago and I think he needs to be given enough time to settle and deliver to the expectation of the Zambian people. I do not find it necessary for anybody to start endorsing that President Edgar Lungu shall be the sole candidate for then PF in 2021," he said.
He said, "That is in my view, being irresponsible because every origination has its own constitution and for me as Chishimba Kambwili, I have been very consistent on the issues concerning the PF constitution."
"When Mr. Sata died in 2015, you remember that there was a suggestion that the central committee would meet to choose the presidential candidate. I said no to that proposal and up to now, I am still saying no to any attempt to veer off the provisions of our constitution."
He said the PF constitution on the election of the president of PF is very clear and that he does not see any reason why any person would want to veer off from ten provisions of the constitution.
"The constitution states, the president of the part, shall be elected by the general conference which shall be held every five years, end of quote. The constitution does not provide that if there is an incumbent president, there will be no elections in the coming five years," he said.
"Look, former president Frederick Chiluba was an incumbent in 1996 after the 1991 elections. He was subjected to an election because that is what democracy entails. The likes of Levy Mwanawasa stood against him and because Chiluba was very popular at that time and sat so well with the general membership of MMD, he defeated Levy Mwanawasa. What is so different about the PF claiming that there will be a sole candidate in PF?" he asked.
"Let me make it very clear that PF will never entertain the issue of sole candidacy. Nobody, not even central committee would say that there would be a sole candidate to any position of the central committee. When we say this countrymen and women, we are not against President Edgar Lungu. What we fear is for us to be undemocratic and introduce tendencies that have got potential to destroy PF in future."
"So, I find it very very unreasonable for anybody to start talking about 2021 because what we need to do right now as a party is to concentrate on service delivery and once the party performs… and I think it is not about an individual, it is a collective effort of the party, meaning those who are in cabinet, those who are in the committee and the general membership should work united together to support the manifesto of the PF which is being superintended by president Edgar Lungu to meet the aspirations of our people."
He added, "When it comes to 2021, we will just look at the performance. If we come to 2021 and we have performed so well, and things are moving well, people will go to the convention and say oh, those who want to stand can stand but I think the general membership will say President Edgar Lungu has worked so well, we are electing him. All we are emphasizing is that there must be an election after five years."
Mr Kambwili said those who think that they can drive an agenda of sole candidacy in PF are free to go and join the UPND where he said there are no elections.
"The UPND has had one president since Mazoka died for I don't know how many ages. Every time there is a sole candidate. We don't want that to happen to PF," he said.
And Mr Kambwili says there are some people within the PF that are telling lies to President Edgar Lungu.
"Surely, you expect me, Chishimba Kambwili, to go and sponsor jerabos in Chingola to destabilize the Copperbelt so that president Edgar Lungu can lose the elections and I take advantage and become president? To me that is a lot of nonsense. Somebody goes to tell the President, a minister, your excellence, these jerabos who were killed in Chingola is Chishimba Kambwili who is organizing them. Where are we going? I have never been to Chingola since the beginning of this year."
"Do I know the jerabos in Chingola? Do I know the jerabos on the Copperbelt? Comrades in PF, more especially those who have juts joined PF, I beg you, help us to build PF, don't come and destroy for your selfish gains. Bootlickers have never meant well. All they want is to keep their positions. They speak for their pockets, they speak for their gains."
He said, "Can you imagine, members of the press, a few ministers are now going to private companies where my company Mwamoneni Enbgineering, telling them, cancel the contracts, do not deal; with this company because the owner is not in good standing with the party. Where are we going? I have been a businessman before I came into politics."
"Why do you want to destroy my business? Why do you want to destroy my business because today you are a minister? Come on, please stop it. It doesn't help you. Today you are a permanent secretary and you go to a private company and say the president has directed us that you should cancel the contract of this company, for what? I have been in business since 1993 and I have been dealing with the mines since 1993. Why should you use your ministerial position to go and tell the mines to terminate contracts for Mwamoneni engineering? It doesn't make sense!"
"The bible says he who rises by the sword, will fall by the sword. Do unto unto others as you want them do unto you. People may ask why I am I telling the press about this? I have tried my level best to meet the president, to sit down with him, to explain that some of the ministers have taken it upon themselves to go and destroy my business that I have suffered for and established in good faith. I have not used political power to establish my business. None of my businesses was established when I was a minister."
He added, "All my businesses were established long before I became minister and I have been dealing with the mines for very long. Why should it take Bowman Lusambo to go and tell companies that they should not deal with me? Young man Lusambo, let me tell you, the direction you are taking is wrong. The direction you are taking is wrong."
"That is not the way we run PF. Since Sata came into office, we have never squeezed anybody in business because the people you want to squeeze in business have got employees and they contribute to the GDP of this country. They contribute to the economy of this country. You have a lot of work to do as a minister. You have a lot of work to clean the Copperbelt. Please leave Mwamoineni engineering alone. Because you don't know where Mwamona engineering has come from that is why I am saying what is happening in PF is surprising and is a source of concern where you want to fight others."
Mr Kambwili also said there is too much indiscipline in the party and that small boys have been allowed to insult senior members of the party.
"Mu Chibemba tweba ati ukutengelesha mafina kucilonda because tomorrow they will not be on Chishimba Kambwili, they will be on you!"
Mr. Kambwili also complained that he had made several attempts to meet President Lungu so that he could give his view in the recently upward adjustment on the electricity tariffs but that all the attempts had proved futile.
"All of you know that this news has been received with a lot of anger by the grassroots. People are not happy but you see! I am convinced that people are not going to the President to tell him the truth that people are not happy. Yes, we know that Zesco needs cost reflective tariffs for it to survive but I don't think doing it at once 50 per cent increase in May and another 25 per cent increase in September is the right way to go. All the other factors have not changed between May and September, salaries of the people are still the same but electricity tariffs go up, 75 percent in one year," he said.
"For me I would rather go to the President and tell him that your Excellency, I think we should have spread standards to this increment I think on a period of three or four years, you increase by 10 percent this year, another 15 percent that year just like that. And when we want to tell the President, we are not being given access. I have been to the vice president I want to meet the president, there has been no positive response, I have phoned the presidential aide, no response, I have phoned Kaizer Zulu, no response, I have phoned the secretary to the president, no response. Now where do you air out your views like these?"
He further said that he would not respond to Rainbow party leader Wynter Kabimba who was celebrating his firing, but added "I would not want to respond to Wynter Kabimba because people may not notice the difference. There is a saying in English that if you argue with a fool… Kabimba is a political nobody and I wouldn't want to talk about him."
Mr Kambwili said Mr Kabimba is the worst politician this country has ever had.
"When I was fired nobody celebrated, when he was fired the whole country celebrated, so he can't see the distinction. He can't compare himself to me, the whole country went on the streets celebrating the firing of Kabimba but when I was fired the whole country was quiet like a sea, it shows him something so he should not talk about issues he doesn't understand," Mr. Kambwili said.