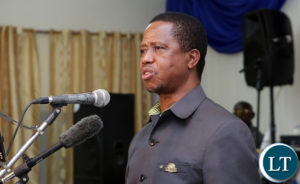 President Edgar Lungu has pledged support to The Democratic Republic of Congo in the electoral process to enhance its stability ahead of the elections at the end of the year.
He commended Democratic Republic of Congo's President Joseph Kabila for sending a special envoy to Zambia for an update on the electoral process ahead of  its polls this year.
Mr Lungu says the Vice Prime Minister who is also the Foreign Affairs Minister Leonard Okitundu was sent to Zambia to update him on the state of the electoral process in his country.
Mr. Okitundu , in his message, gave a comprehensive statement on the steps being undertaken to ensure there is peace in some parts of Congo where there was instability.
President Lungu  assured of Zambia's full support towards ensuring peace and stability in that country continues to prevail so that trade between the two countries can continue to flourish.
Special Assistant to the President for Press and Public Relations Amos Chanda said this in an interview with journalists at State House in Lusaka today.