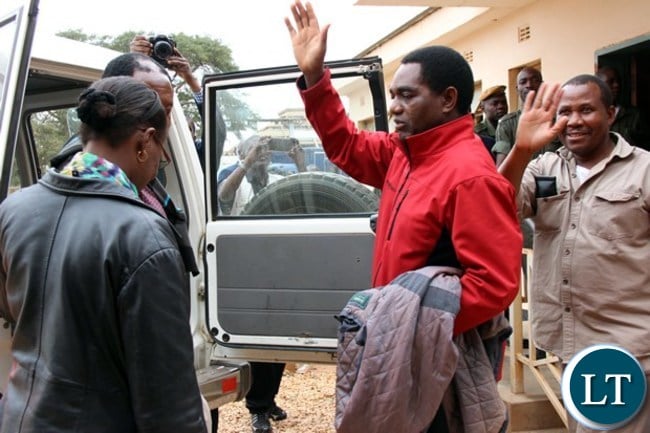 United Party for national Development Leader Hakainde Hichilema plus five others have finally today the 9th June, 2017 been transferred to Maximum Mukobeko Prison in Kabwe from Lusaka central Prison.
The opposition leader has been moved by air from city airport on his 60th day in incarceration to Mukobeko Maximum prison in Kabwe, Central Zambia.
According to the UPND media team, Hichilema landed arrived at Mukobeko Maximum Prison around 12:20 hours and it is not clear why he has been transferred to the maximum prison before being convicted.
The UPND leader was arrested on 10th April, 2017 and charged with treason after the Mongu incidence where he is alleged to have obstructed the Presidential motorcade during the 2017 Kuomboka ceremony.
And the High court has since set 12th June, 2017 as a trial in Hakainde Hichilema's petition case.
Below is the notification from the UPND media team:
This is to let you know that UPND President Hakainde Hichilema has been moved from Lusaka's Chimbokaila prison to Mukobeko maximum prison in Kabwe, Central Zambia. Hichilema landed a while ago in Kabwe at Mukobeko maximum prison. It is not clear as to why the state police have decided to take him to Mukobeko prison which is associated by Zambians to a prison where death by hanging is called. UPND MEDIA TEAM
[Read 240 times, 1 reads today]