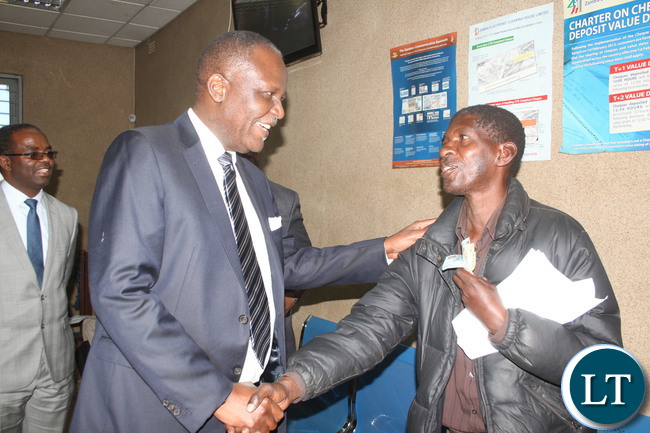 The Government has appointed the National Savings and Credit Bank – NATSAVE, Board of Directors.
Finance Minister FELIX MUTATI has named those appointed to date as;
1.Evans Chibiliti
2.Boniface Chimbwali
3.Denis Wood
4.Timothy Walamba
5.Tiziana Marietta
6.Anne Chikwanda
In a congratulatory message to the appointees, Mr. MUTATI has said the board "needs to inject oxygen into the viability of NATSAVE and in order to ensure that it delivers on its mandate of reaching out to the un-banked population in remote places of the country; especially in the new districts and high density locations."
"A functional and efficient NATSAVE is an imperative for growth of micro and small scale businesses in remote and high density locations of our country," said the Minister.
He added that "the procedure for acquisition of empowerment facilities such as the bunjimi package which NATSAVE administers should be streamlined in order to accelerate access to the facility.
"This complements government's efforts in redistributing wealth and building the human capital needed to stem inter-generational poverty in rural and high density areas thus enhancing social security."
MEANWHILE former Secretary to the Cabinet EVANS CHIBILITI has been named as Chairperson of the newly appointed NATSAVE Board of Directors. Prior to his tenure as the top most civil servant during the presidency of the late Michael Chilufya Sata, Mr. CHIBILITI served as Deputy Secretary to the Cabinet in charge of finance and economic development, Secretary to the Treasury in the Ministry of Finance, Permanent Secretary for Luapula Province, and Senior Director in the Bank of Zambia.
AND NATSAVE Board of Directors Chairperson EVANS CHIBILITI has said he will use his vast experience in team building to guide the board in achieving the vision of the government and the expectations of clients; some of whom are in rural and remote districts.
The government will appoint the remaining three members of the board once the relevant consultations are exhausted.