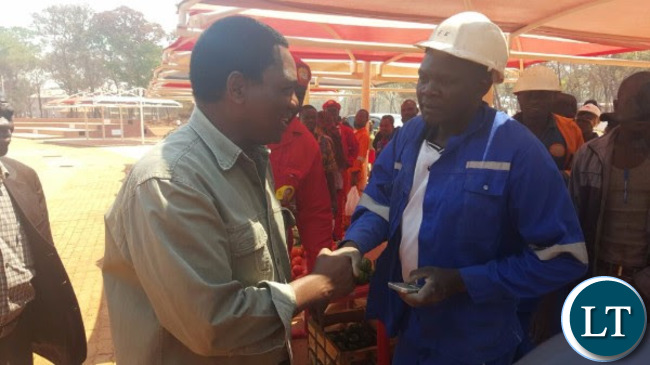 The Zambia Correctional Service has said that incarcerated UPND leader Hakainde Hichilema is being treated fairly like any other remandee. Zambia Correctional Service Public relations Officer Brian Mooya says Mr Hichilema is being looked after in accordance with available facilities at Mukobeko Maximum Correctional Centre in Kabwe.
Mr Mooya said that the Correctional Service does not discriminate persons detained in its facilities based on their social class, religion, tribe or any other status. He has assured the UPND and other concerned people that Mr. Hichilema is in safe custody like any other incarcerated person at Mukobeko Maximum Security Correctional Centre.
Mr Mooya, however, said that the Correctional Service is disappointed that the UPND through its spokesperson Charles Kakoma is claiming that Mr Hichilema is being dehumanized in his cell at Mukobeko.
Mr. Mooya said that the decision to transfer Mr. Hichilema from Lusaka Central Correctional Centre to Mukobeko was made in accordance with the law. Mr. Mooya has advised the UPND to adhere to the rules for visitation as stipulated in section 132 part 1 and 2. He said all visits to the correctional facility shall take place during such hours as officer-in-charge may direct.
Yesterday UPND Spokesman Charles Kakoma penned an emotional account of his trip to Mukobeko Maximum Prison to visit incarcerated opposition leader Hakainde Hichilema.
In his account, Mr Kakoma has confirmed that all the reports emerging about the deplorable conditions in which Mr Hichilema is being held are true.
He had since challenged prison authorities to allow family members, lawyers, the media and human rights organisations to tour the section where Mr. Hichilema is being detained.
Below is Mr Kakoma's account posted on his Facebook page
I visited President Hakainde Hichilema in Mukobeko Maximum Prison in Kabwe
It was a traumatic experience.
Before I stepped foot in Mukobeko, I was doubting some of the horrifying stories circulating on social media about the inhuman and degrading treatment Hakainde Hichilema was going through.
From what I saw and heard, I can now inform you that the conditions under which Hakainde Hichilema is being kept are cruel and unfit for human habitation.
This is not even a new finding. Many Parliamentary and human rights investigations have concluded the same and recommended for reforms.
On the day when government decided to use maximum force to transfer him from Lusaka Central Prison to Mukobeko, they made him spend a night in an overcrowded cell of about 179 people.
Some of these people had chronic chest infections as they were coughing throughout the night. Common chest infections of this nature include tuberculosis. Why was it found necessary to expose Hakainde Hichilema to this risk?
The following day, Hakainde Hichilema (fondly known as HH) was transferred to a tiny cell measuring about 2 metres by 2.5 metres.
There is no toilet in the room but the authorities have provided a bucket to be used as a toilet.
The bucket can only be emptied in a colonial type toilet (without a sitting pan like a pit latrine) outside the cell.
During the night, at around 20.00 hours, the authorities switch off power to HH's cell. There is no switch inside the cell.
He stays in the dark the whole night. The motive is not known.
Can you imagine a situation where the accused person develops diarrhoea and can't find the bucket because of darkness?
There is no water in the cell. No sink, no bathtub, no shower.
The accused person is expected to go outside his cell and draw water from a common tap and bath in full view of other inmates. This is degrading and dehumanizing.
There is no mattress provided by the authorities.
However, HH managed to get hold of his private mattress he was using at Lusaka Central Prison.
His cellmate is sleeping on the cold floor.
When I entered the section where HH is being detained, I was looking forward to shaking his hand. It never happened!
Not because HH did not want to greet me but that the reception area, which looked ancient and designed by colonial rulers to punish freedom fighters, has a physical barrier which prevents contact between the visitor and the accused. It reminded me of the colour bar during the colonial days when Africans could only buy meat from a butchery through a window to prevent the African from having contact with the white members of staff and the meat.
The physical barrier basically consists of glass and wire mesh.
At this reception, most people "shake hands" by placing their palms on either side of the glass and wire mesh without any warmth of physical contact.
I felt dehumanized. In Lusaka Central Prison, visitors and accused persons could great each other by shaking hands and symbolised human dignity.
My revolutionary solution is to do away with these degrading practices.
There is no privacy by the way. Prison warders stand next to you to hear your conversation with the accused persons.
After saying all this, your question is: how is HH?
He was the first one to ask me the same question. I replied in the affirmative even if I was not fine. I'm sick because of his incarceration.
The word affirmative loosely means " positive, yes, ok, etc" I asked him the same question and he equally replied in the affirmative but I did not believe him.
It is like asking a person involved in an accident whether he is fine or not.
Oftentimes, they would say they are fine when infact not. Put yourself in HH's position. In what condition would you be without bathing for one week, It would take doctors to determine the bill of health.
Who knows HH'S current state of health? I don't know. I don't want biased government doctors to do that. HH'S personal doctors should examine him.
1. Hitherto, family members, lawyers and human rights organisations have been denied access to the cell and environment where HH is being detained. As UPND, we demand that family members, lawyers, the media and human rights organisations be given the opportunity to tour the section where HH is being detained. 
2. We also demand that HH should be taken back to Lusaka Central Prison as per directive of the magistrate court. It's a terrible break down in the rule of law for central government to ignore a court order.
3 HH'S personal doctors should examine him regularly .
visitation rights as ruled by the Lusaka magistrates court should be adhered to.
4. Finally, and the most important, HH must be released unconditionally and the election petition should be heard to bring peace, unity and political stability to Zambia.