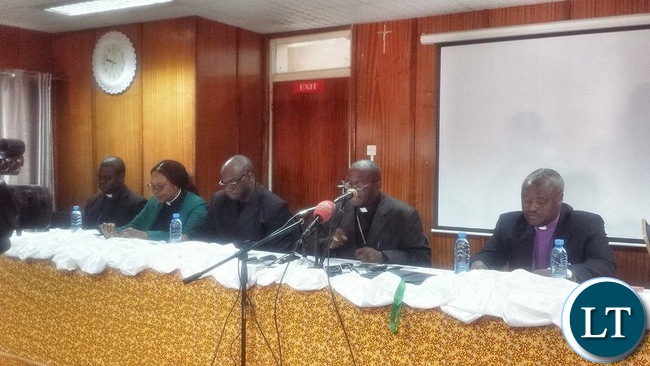 The Evangelical Fellowship of Zambia (EFZ) has distanced itself from the joint statement issued by the Church mother bodies in Lusaka. EFZ outgoing board vice chairperson Peter Ndhlovu says the EFZ board was not consulted and represented at Kapingila house.
Bishop Ndhlovu has charged that Bishop Telesphore Mpundu's statement has potential to cause anarchy in the country, adding that the church should focus on building Zambia by preaching peace and leave politics to politicians.
Bishop Ndhlovu said that Zambia only has one President who was duly elected and that the people's will should be respected.
The bishop further said Zambia is not a dictatorship, contrary to assertions by the other church mother bodies.
And Four Political Parties have called on the three Church Mother bodies to preach national reconciliation and not ignite divisions in the country. The New Congress Party, Christian Democratic Party, Zambia Republican Party and the Citizens Democratic Party say the role of the church is to promote national unity in diversity.
Speaking at a Joint press briefing in Lusaka today, Christian Democratic Party leader Dan Pule said yesterday's statement by the three Church Mother bodies is a misrepresentation of what is happening in the country.
Dr. Pule said that the statement was not a consensus of all Churches and did not reflect the true picture of what is transpiring in the country.
And New congress party president Peter Chanda said it is the duty of the church to unite and not divide citizens by taking sides.
And Citizens Democratic Party leader Robert Mwanza said allegations that president LUNGU is not a democrat are baseless.
Mr. Mwanza said branding the country as undemocratic is unfounded and should be condemned in the strongest terms possible.
And Zambia Republican Party president Wright Musona said the three church mother bodies should not only call for dialogue but advise the UPND to recognize President EDGAR LUNGU as the duly elected President of Zambia.