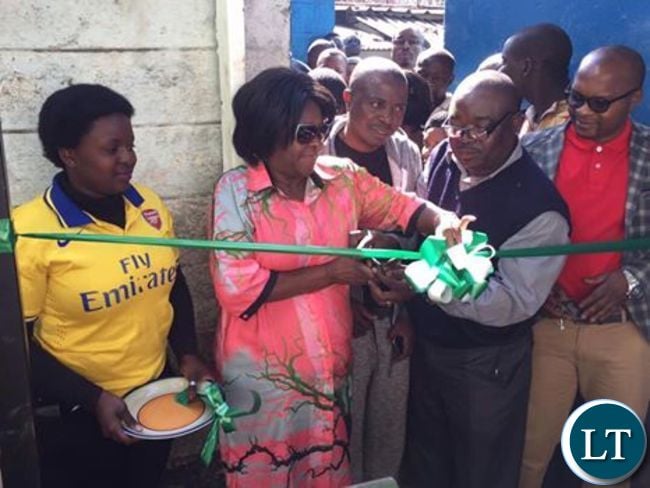 Commerce Trade and Industry Minister Margaret Mwanakatwe in her capacity as Lusaka central member of parliament today officially commissioned the Longacres Water Tank and Borehole.
Speaking at the Commissioning of the market water project, Mrs Mwanakatwe said she is very confident that the newly installed water tank and borehole will help reduce the water problem the traders at Longacres market have been facing.
Hon Mwanakatwe stated that she was happy that the market's water challenge has been solved and urged the users of the newly installed water tank and borehole to use the new facility wisely and ensure the place is kept clean.
"I am very confident that the marketeers will guard the new water tank, borehole and taps installed carefully to avoid vandalism," appealed the Lusaka central lawmaker.
Longacres market had two water taps which only had little or no running water at times but the installation of the 4000 litre capacity water tank and an additional 9 taps officially mark the end of the water problem at the market which has about 150 traders.
Meanwhile, Mrs Mwanakatwe expressed disappointment with the lack of collection of garbage at the market. She urged the marketeers to avoid having the market dump site full and urged that instead of collecting garbage only twice a week, collection should be changed to at least four times a week.
"I am not happy with the garbage begin dumped here. We need to ensure that this market dump site is never this full. I am told that the Council collects the waste twice a week but now it should change to at least four times a week and this coming weekend, I will be here to personally help clean this garbage and we should all be here to keep our market clean," she said.