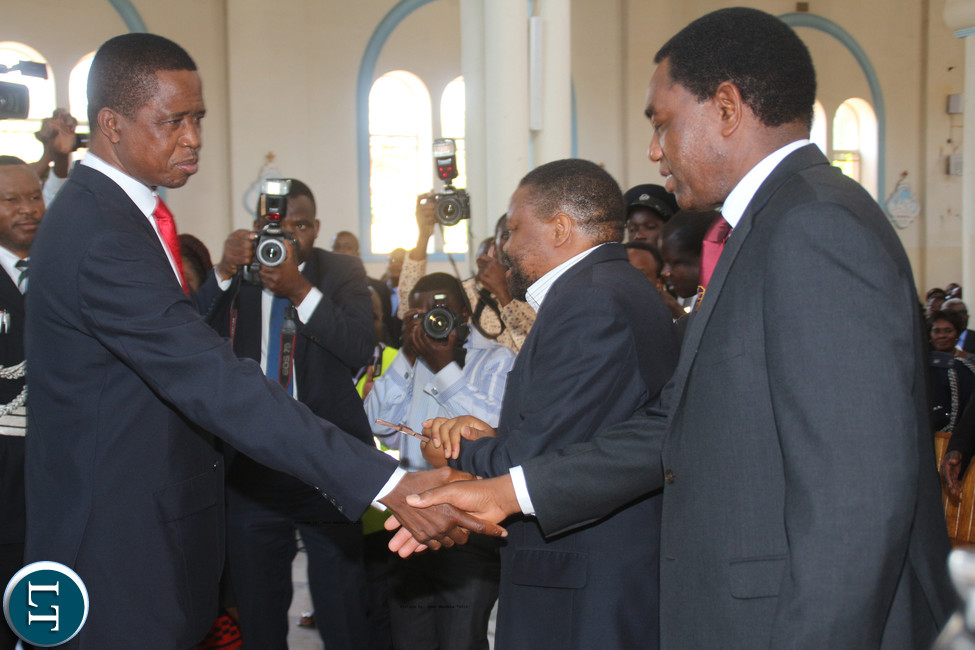 Economic and Equity Party (EEP) President Chilufya Tayali has charged that Zambians are doomed to have President Edgar Lungu as president of Zambia and Hakainde Hichilema the biggest opposition leader because they are both selfish, egocentric and power hungry.
Tayali said he is honestly drained with what is going on in Zambia and it does not give any hope in the immediate terms and there is so much intolerance, egocentrism and polarization currently in the country and further stated that both the PF and the UPND are not inspiring and reasonable Zambian will be looking for something different and his party, Economic and Equity Party (EEP) is the alternative.
Tayali said he is no longer interested in discussing tension in Zambia, instead he is interesting in discussing poverty that have engulfed the country and he added that he equally not interested anymore in talking about Hakainde Hichilema cases in court because, it is all political other than constitution, but he is very much interested in justice and human rights for all citizens including the opposition leader Hakainde Hichilema of the UPND.
EEP leader said it was unfortunately that those who have powers to provide the good environment for people to realize their potentials are busy in useless political squabbles when citizens are lacking basic needs such as food, shelter, Medicare, Education, business prosperity and stable jobs with living wages, affirming that worse enough public resources are being externalized to perpetuate pettiness at the expense of citizens.
"The UPND, as the largest opposition party are busy with a by-gone event of last elections instead of offering checks and balances as well as giving alternative solutions to our problems as a Country"
"They are even absenting themselves from Parliament, a rare opportunity that many of us want, over something that is foregone. That suspension was not necessary because their protest does not benefit Zambians. I wish they would protest against K1, 500 daily sitting allowances in Parliament when most Zambians are getting the same amounts per month"
"Some people are saying HH is a freedom fighter, but I don't see any freedom that he is fight for. Mandela had a specific objective for being in prison for 27 years, but what is the specific objective of HH to obstinately insist that he will not recognize President Lungu."
"Let's stop for a moment and think, which is going to benefit in HH's bid to refuse to accept President Lungu and legitimate President. This refusal will not stop further rigging, if indeed it was there. I would appreciate it if HH dedicated his efforts in engaging ECZ to make sure that, the next elections are free and fair"
"You can't correct what has already been messed up but you can prevent future from being messed up in the similar manner. Whether HH recognize President Lungu or not, he will still be the Republican President and he continue to mislead this Country till 2021, unless God takes him in death or he becomes mad in counting his millions which he has acquired so quickly since he become President. Money that comes to quickly, from nowhere, can make a person mad, just looks at Kaisa."
"Things are so confused such that, even Felix Mutati can't tell clearly tell where we are in terms of our debt stock because they are borrowing in all forms including from the street vendors who they are charging illegal taxes using their cadres"
"David Mabumba is jumping around praising the increase in electricity tariffs like a monkey that has been given a poisonous banana because those Tariffs are going to kill the economy subjecting citizens to more suffering"
"That increase on tariffs is poisonous but Mabumba thinks he has a solution to the failing economy. Unfortunately, amidst all this and many other messed up policies, President Lungu is only interested in making sure, HH is properly fixed and wiped out of politics so that he stops tinkering with Presidency" Tayali said