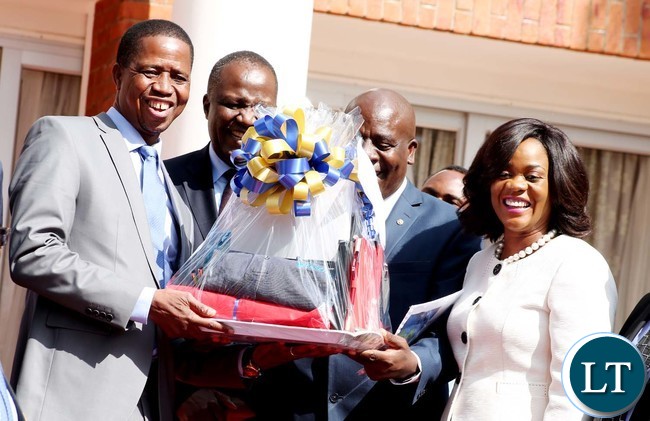 THE BANKERS Association of Zambia and leaders of business in the country endorsed President Edgar Lungu's decision to invoke article 31.
Featuring on the Hot FM Breakfast show this morning Special Assistant to the President for Press and Public Relations Amos Chanda said the Bankers Association and leaders of business had welcomed the decision to declare a state of threatened emergency noting that when there is a threat to a business environment, business can be disrupted and thus needed a practical solution.
"On a day shortly after the President invoked that (article 31) he had a meeting with bankers and they endorsed his actions," Mr Chanda announced to the nation and cushioned speculation especially on Social media that had been suggesting that the invocation of the article 31 would set a negative hit to the economy.
He added that following the proclamation the Kwacha actually gained a few points upwards against superior currencies like the dollar.
"This is because business leaders did recognise that when there is a threat to business, an environment were business can be disrupted. But, there is an authority that there is a government that is capable and can rise to the occasion and bring to an end all acts of sabotage," he said.
Mr Chanda said it can be inferred that the leaders of economic business did not appreciate the lawlessness and equally regretted the market fires.
He added that the business community also assured the President that business was operating normally.
"They also assured the President that business was operating normally, no exchange controls, no threat to seizure of private property… The normal constitutional order is intact the business environment remains positive," Mr Chanda said.
He additionally emphasised that the action by the President to proclaim and invoke article 31, declaring that a situation in the country exists, which if allowed to continue may lead to a state of emergency is an assurance to businesses that Zambia is safe for business and also to investors.
And State House has revealed that the current perceived tension is being manufactured by malcontent politicians who lost elections in 2016.
Narrowing down speculation Special Assistant to the President for Press and Public Relations Amos Chanda said in bid create an image that the country was ungovernable, The soar losers had been setting markets on fire in order to instil anger in traders and hence cause an uprising from them that would reflect in townships.
"It is lawlessness instigated by political malcontent," Mr Chanda said when he appeared on the Hot FM Breakfast show this morning.
"They burn markets so they hope the 1000 people trading there will go into the townships and inject that anger into the the townships and therefore create and manufacture that tension. It is that tension the President is trying to forestall."
He said there is prima facie evidence that the actions are well calculated by 'politically motivated mischievous individuals.'
"The President is acting to preserve the image of the country against calculated and targeted actions… prima facie evidence shows clearly that there is a lot of politically motivated mischief we know it and it is on record," Mr Chanda said.
"They were prophets of doom! People who predicted Armageddon. And it is very fair that we demand a retraction of those words."
And Mr Chanda took a swipe at the recent vocal South African Union hitting Zambian media headlines questioning how a metal workers union would be so concerned of the political affairs in Zambia.
He added that The State was aware that the actions of NUMSA was the architectural work of a 'disgruntled Zambian.'
"He went out to the country, lied that the government here was pursuing him. He has since returned several times to this country and police are not looking for him," Mr Chanda said.
"That is a non descript union in South Africa…What is the brief of metal workers union in South Africa for it to be so concerned about politics and not welfare of metal workers in that country?"