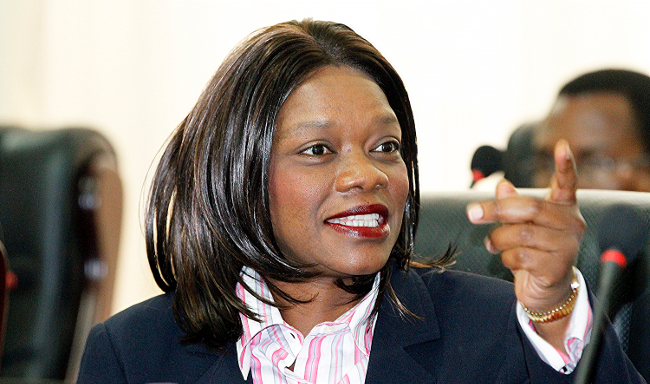 Former Tourism Minister Sylvia Masebo has been acquitted in a case in which she is alleged to have illegally cancelled hunting concessions at the Zambia Wild Life Authority when she was Tourism Minister.
Lusaka Magistrate Ireen Wishimanga when delivering her verdict said she found that the prosecution team failed to prove the case beyond any reasonable doubt and acquitted the Former Chongwe Member of Parliament accordingly.
She said the state did not bring witnesses to prove that the offence was committed.
Magistrate Wishimanga also expressed concern that there were gaps in the evidence presented to court and had no choice but to acquit the accused person.
And speaking in an interview shortly after her acquittal, Ms Masebo has thanked her supporters who have always stood by her side when she faced what she called persecution.
In July last year, Magistrate Wishimanga found Ms Masebo with a case to answer in a matter in which she was charged with abuse of authority relating to the cancellation of wildlife hunting concessions.
She was however acquitted of one charge of abuse of authority in connection with the sacking of five Zambia Wildlife Authority (ZAWA) top officials.
In July 2015, the Anti-Corruption Commission arrested Ms. Masebo and charged her with two counts of abuse of authority of office when she served as minister of Tourism and Arts.
In the first count, it is alleged that Mrs Masebo cancelled the procurement of a tender process of the Zambia Wildlife Authority (ZAWA) hunting concession.
In the second count, Ms Masebo is said to have abused her authority of office by terminating contracts of employment of some senior ZAWA officers.
In both counts, Ms Masebo is alleged to have disregarded the laid down procedures, an act against the Republic of Zambia and the people.
[Read 79 times, 1 reads today]