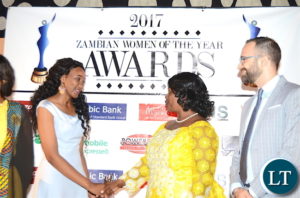 First lady Esther Lungu in USA in Minnesota

First Lady, Esther Lungu, has received the 2017 Humanitarian Honouree award from the Starkey Hearing Foundation in Minnesota, United States of America at acolourful gala night.
The 17th Annual awards gala night was attended by many prominent personalities from different countries and was characterised by performances from famous artists.
Prominent among them were comedian and actor Sinbad, Verne Troyer from Austin Powers, Grace Vander Waal 2016 America got talent Winner and Australian-based Zambian singer, Portia Clark.
Speaking during the gala night, Starkey Hearing Foundation, Board of Directors President, Richard Brown, commended the First Lady for demonstrating leadership which facilitated the establishment of theonly Starkey Hearing institute in Zambia.
Mr Brown said his foundation needs support and political will from key leaders in order for it to succeed in its mission of "Let the world hear", adding that the Mrs Lungu is one such leader who facilitated the establishment of the Starkey Hearing Institute in Zambia.
"We need support and political will from key leaders as Starkey Hearing Foundation Founder Bill Austin says, 'alone we can't do much but together we can change the World'," he said.
Presenting the award, Starkey Hearing Foundation co-founder, Tani Austin, described the Mrs Lungu as a selfless leader who was committed to empowering people in rural communities.
Mrs Austin commended The First Lady for supporting the vision of the Foundation, adding through her, a lot of people in Zambia and Africa as a whole will benefit from the Starkey Hearing Institute in Zambia.
"We thank you, Mrs Lungu, for the contribution you have made to the Starkey Hearing Foundation," she said.
Speaking when she received the award Mrs Lungu commended the Starkey Hearing Foundation for showing love for humanity through its services.
Mrs Lungu said the Institute in Zambia is one of the Starkey Hearing Foundation act of love as the training at the institution will help tackle a critical element of scaling up manpower through training.
"We only had one audiologist in Zambia, but the presence of Starkey Hearing Foundation in our country has helped increase the number of specialists in audiology. So far four out of 12 first graduates from theinstitute are Zambians," she explained.
She dedicated her award to all the people who have sacrificed so much to ensure that many may hear in the World.
The First Lady received the 17th "So the World May Hear" Humanitarian award together with actor, writer and founder of the Eastern Congo Initiative, Ben Affleck, who was also awarded for helping the people in Congo.