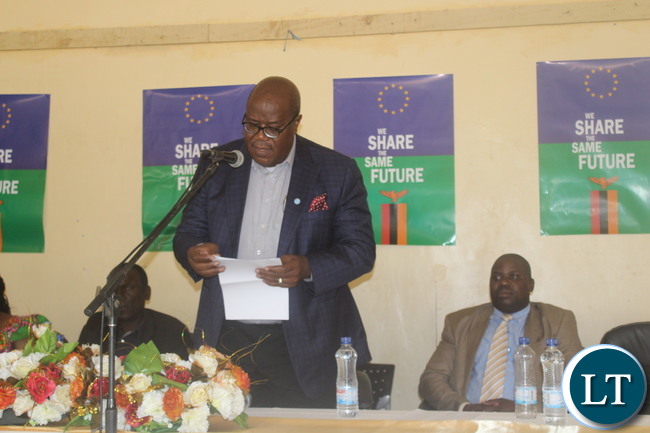 CHOMA mayor Javan Simoloka and Southern Province permanent secretary Sibanze Simuchoba (right) yesterday differed and exchanged undesirable words over the presence of Patriotic Front (PF) members at the commissioning of the council's rehabilitated office block and toilets.
Mr Simoloka was not happy at the presence of PF members clad in their party regalia at a public function when other political party officials were not in attendance.
The presence of PF members at the function made United Party for National Development (UPND) councillors uncomfortable and they refused to occupy their reserved seats and almost boycotted the event.
The UPND councillors were allocated seats in a tent which was also occupied by other invited guests, including the PF officials.
Mr Simoloka and the UPND officials were displeased with the issue, saying the event was not political but public and official.
The mayor was seen complaining to Minister of Local Government Vincent Mwale, who was guest of honour, about the presence of PF members, mostly women.
But as Mr Simoloka was complaining to the minister, Mr Simuchoba intervened and described the behaviour of UPND as childish, a comment which infuriated the mayor.
It was at this point that the highly-charged Mr Simoloka and Mr Simuchoba engaged in a fierce war of words which saw the mayor abandoning his seat to confer with his councillors, who were still unwilling to take up their positions.
Mr Simoloka said it was improper for the permanent secretary to use emotional words at a public function.
"You are an adult and should not be using such emotional words," Mr Simoloka said.
It took Mr Mwale, who was sitting between Mr Simoloka and Mr Simuchoba, to calm the two senior officials and allow the function to proceed.
Mr Mwale, before reading his official speech, called for co-existence among citizens regardless of political affiliation.
"In the spirit of co-existence, it is only proper that if political party A is invited to a public function, even political party B should also be invited. We are One Zambia One Nation and we should be able to chat and share food or anything as one people," he said.
Mr Mwale said people involved in organising public events should make it a 'must' that all political parties are invited to such functions to avoid misunderstandings.
The UPND councillors only sat after their chairs were moved from the tent, which was also occupied by PF members, to that of Mr Mwale and his entourage.
[Read 122 times, 1 reads today]