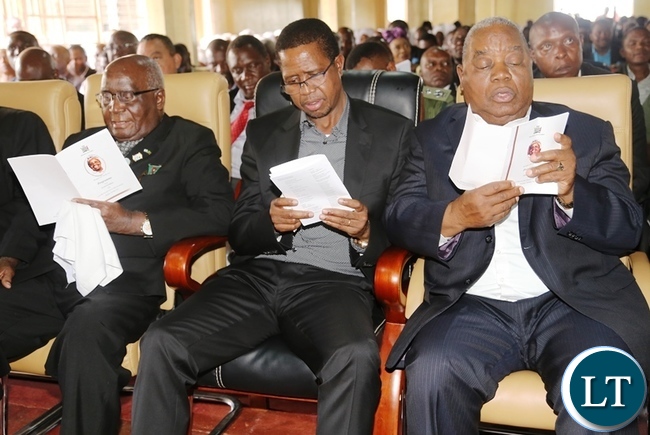 When the fresh wind of change blowing across the African continent in the early 1990s finally hit our shores, President Kenneth Kaunda knew there was no way he could forestall the political Tsunami. His days were numbered,the writing was palpable on the wall. Students, union leaders, political leaders, church leaders, business executives and indeed ordinary citizens alike had cast their ideological differences aside and closed ranks. Their common agenda? To extract KK from State House and dump him in the political bin of history once and for all.
With the nation writhing in pain resulting from hemorrhage of a crumbling economy, shortage of drugs and essential commodities, dilapidated infrastructure, mass unemployment etc. the founding Republican President knew the odds were stuck against him. But he had to take a gamble he just had to.
He decided to forego his firm grip on power and called for early elections in 1991. But wait a minute……….? Folks in this part of the world had already made up their minds. "Abash KK! Abash UNIP! Abash humanism!" ecstatic and frenzied crowds would respond to slogans at political rallies. This was a nation clearly fed up of decades of economic stagnation and tyrannical rule by the man with a snow white handkerchief. At the helm of this revolutionary movement would be a man with a diminutive figure and flowery language that he would use to mesmerize the crowds – the late Dr. Frederick Titus Chiluba!
This former trade unionist turned politician would go onto win the elections with a landslide margin! "I didn't know that this seat was so sweet……." Chiluba would quip as he majestically settled in his mahogany chair to address the nation as republican President. To the disappointment of many political observers though, Chiluba would immediately institute investigations into the nationalities of prominent opposition leaders instead of concentrating on fulfilling many of his campaign promises.
Chiluba's government would subsequently turn its attention to Kaunda who was flirting with the idea of launching a political comeback at the time. If history serves us right, Kaunda was born in Zambia to parents from what was then known as Nyasaland – Malawi. In 1995 the government announced plans to deport Kaunda as an illegal alien, but he fought the decision in the courts. Not to be deterred in its desire to fix the former President, in early 1996, the MMD government changed the constitution to the effect that both parents of presidential candidates be Zambian by birth or descent. A knockout punch was thus effectively delivered to Kaunda, he was no longer eligible to run in the elections to be held later that year.
Unbeknownst to him, Chiluba would be made to taste the dosage of his own bitter medicine! Just before the 1996 elections, several opposition parties petitioned the courts alleging that Chiluba was born in the Congo and was therefore not eligible to be president. Although Chiluba wasn't barred from participating in the elections, his image was left soiled in the eyes of the right thinking members of the public amidst a cloud of apparent inconsistencies in his actual names and questions about his paternity.
When Chiluba attempted to run for the botched third term in 2001, some senior members of his government including Vice President Christon Tembo left in protest. They went on to form breakaway political parties, prominent among them the Forum for Democracy and Development (FDD) led by no other than Gen. Christon Tembo. The government would immediately wage a high-profile campaign questioning the citizenship of Tembo. In the run-up to elections, rumors also circulated about the nationality of MMD presidential candidate, Levy P. Mwanawasa, the eventual winner of the elections. As misfortune would have it, Mwanawasa would succumb to the cold hand of death in France during his second term.
When campaigning to succeed Mwanawasa, Rupiah Bwezani Banda would often be denigrated and have aspersions cast on him over his nationality by the likes of Michael Chilufya Sata, leader of opposition the Patriotic Front. Apparently, Banda was born in the town of Miko, Gwanda, Southern Rhodesia (now Zimbabwe) to Zambian migrant workers.
Ironically, the former police constable in the colonial era who would later become 5th republican President would also be vilified as Tanzanian although information in the public domain clearly suggests that he was born and brought up in Mpika in 1937.
Right now, there are certain people that seem to question the nationality of President Edgar Chagwa Lungu who is said to have been born on November 11, 1956 at Ndola Central Hospital. This is the man who has been practicing law at Andre Masiye and Company in Lusaka all along after graduating from UNZA with a LL.B in 1981.
Why should certain individuals cease to be our citizens once they want to or become President? Fellow citizens let us discuss………….
Bill M. Kapinga
Freelance writer