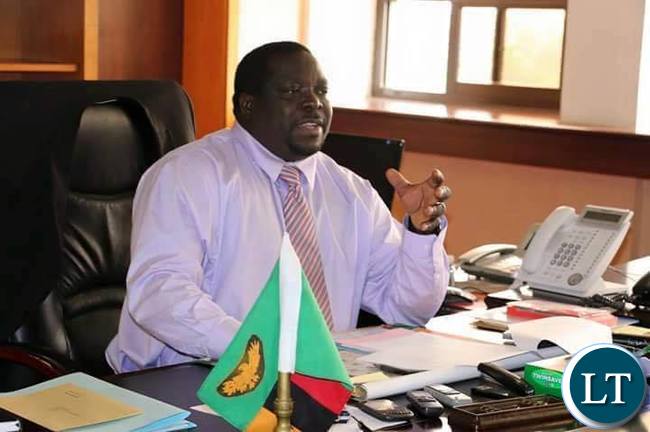 The PF leadership in Southern Province has said that former Minister of Information and Broadcasting Services Chishimba Kambwili's apology to the Tongas should not be taken seriously.
PF Southern Province Information and Publicity vice Secretary Trymore Mwenda said that Mr Kambwili's apology is merely for political expediency.
Mr Mwenda wondered what had motivated Mr Kambwili's change of heart for Tonga's who he politically maligned through his frequent scathing media statements when he served in government.
Mr Mwenda challenged Mr Kambwili to explain in detail the nature of evil spirits that possessed him when he maligned Tongas over their perceived voting pattern.
Mr Mwenda was reacting to Mr Kambwili's remarks that evil spirits forced him to malign the Tongas when he was Minister.
Mr Mwenda said that Mr Kambwili is merely seeking political sympathy after being expelled from the PF.
Mr Mwenda warned that Mr Kambwili's attempts to vilify President Edgar Lungu and the PF will work against him.
Mr Kambwili is reported to have told Chief Monze that evil spirits controlled him when he issued insulting remarks against Tongas.
He said this when he rendered an apology at the Chief's palace.
And PF provincial secretary Moses Ngosa has warned Roan member of Parliament Chishimba Kambwili against spreading falsehoods that President Lungu hates people of that province.
The party has also described Mr Kambwili's recent visit to the province to apologise for the tribal remarks he made against them as "cosmetic kicks of a dying horse".
Mr Ngosa said in a statement on Wednesday that it is unusual for Mr Kambwili to suggest that President Lungu has no heart for people in the province when the unprecedented number of projects initiated by him in the province are there for all to see.
"We find that behaviour very unusual and not befitting Hon Kambwili's calibre. President Lungu has wholeheartedly proved to Southern Province that it is at his heart by the number of projects Government has embarked on in the past and present," he said.
Mr Ngosa said Mr Kambwili should also remember that President Lungu was recently in the province to inspect a number of projects which included the commissioning of road works in Itezhi Tezhi and Dundumwezi.
Mr Ngosa said President Lungu has also promised to visit Namuswa ward in Choma where the PF has a councillor and wonders if the gesture is a symbol of hate.
"Honourable Kambwili should therefore be truthful and stop deceiving the people here by trying to paint the President black. We also want to remind him that President Lungu never became President by telling lies but by telling people the truth. He can't fool the people with his fake apology because even a small child knows that his apology over his tribal remarks was cosmetic," he said.
Mr Ngosa urged people in the province to ignore Mr Kambwili's claims as President Lungu is committed to developing the province.
"The desperation and hunger for presidency from Honourable Kambwili is a danger to democracy and we offer him this free advice to tone down. Let Mr Kambwili concentrate on building his dented image in Southern Province intsead of painting President Lungu black," he said.