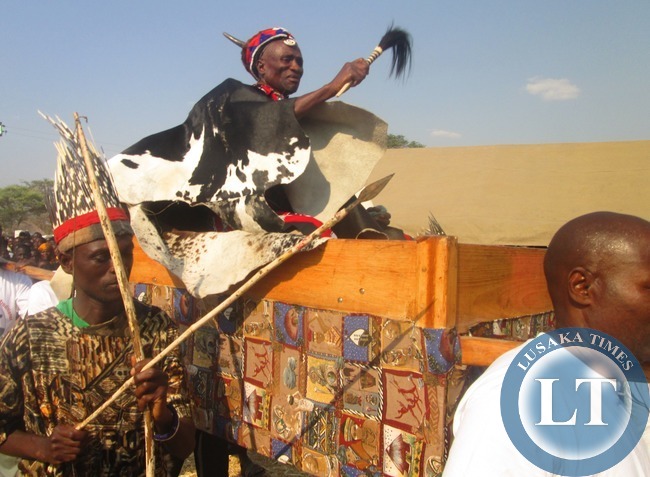 THE House of Chiefs says the barring of Roan member of Parliament Chishimba Kambwili from attending Ukusefya pa Ng'wena traditional ceremony is a wake-up call for all politicians to avoid making divisive remarks with the aim of gaining political mileage.
On Saturday, Paramount Chief Chitimukulu of the Bemba people blocked Mr Kambwili and former Copperbelt Minister Mwenya Musenge from attending the ceremony because of the Roan legislator's alleged tribal and divisive sentiments.
The former Minister of Information and Broadcasting Services is alleged to have said there is tension between Tongas and Bembas.
And during his recent visit to Southern Province, Mr Kambwili accused President Lungu of hating the Tonga people.
But Chief Chipepo, the House of Chiefs chief whip, said in an interview yesterday that the blocking of Mr Kambwili and Mr Musenge from attending the Bemba ceremony is welcome because it was done in the interest of peace and harmony.
"What the Chitimukulu did was the correct decision. You don't bring pandemonium where there is peace," Chief Chipepo said.
He also commended Mr Kambwili for heeding Paramount Chief Chitimukulu's directive.
Chief Chipepo has since urged Mr Kambwili to reflect on his alleged divisive sentiments and ask for the Chitimukulu's forgiveness.
"Mr Kambwili should go to Paramount Chief Chitimukulu and apologise over his tribal sentiments. He should ask the chief to pray for him so that the spirit of issuing tribal remarks can be exorcised from him," he said.
Chief Chipepo advised all politicians against uttering divisive or tribal remarks especially during campaigns.
"Politicians should not use tribalism to divide us, let us all learn to love one another and live together as one people in our Christian nation," he said.
And Chief Chipepo has urged the Patriotic Front (PF) to cleanse itself of divisive members who want to tarnish the image of the ruling party by disparaging President Lungu.
Meanwhile, PF media director Sunday Chanda has advised Mr Kambwili to check his words before uttering them.
Mr Chanda said in a statement yesterday that Mr Kambwili should stop practising alleged divisive, toxic and tribal politics.
"Mr Kambwili should be grateful to Rainbow Party leader Wynter Kabimba who cautioned him about his rantings because by now he would have broken the oath of secrecy," he said.
Mr Chanda said Mr Kambwili cannot win the hearts of the people of Southern Province whom he allegedly insulted in the past.
"He cannot impress the good Tonga-speaking people he wantonly insulted in the past.
"As honourable people, they 'pretended' to accept his apology, but the truth is they just enjoyed watching Mr Kambwili. They are now having the last laugh," he said.