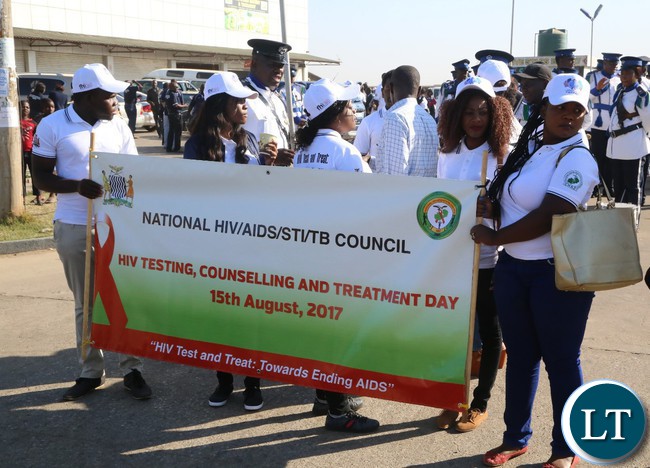 Government says it is committed to ensure that access free Anti-Retro Viral drugs is available to the general public.
Livingstone Acting District Commissioner James Zimba says government is for this cause taking the lead in initiating practical steps to link HIV testing to starting of Anti-Retro Viral treatment for life, for all persons living with HIV.
Mr. Zimba says people who test positive for HIV would instantly be put on treatment as opposed to waiting for them to get sick before any intervention was made.
"Government is determined to intervene early for better health results. Treatment is critical for HIV prevention and viral load suppression," he said.
Mr. Zimba said this in Livingstone today during commemoration of National HIV, Counseling, Testing and Treatment Day (HCTT) held under the theme, 'HIV test and treat: Towards ending AIDS'.
Zambia as part of the global community was determined to reverse the impacts of HIV on her people as could be seen in the contents of the National HIV Strategic Framework (NASF) 2017-2021.
Mr. Zimba said he was aware that the prevalence rate in Zambia had reduced by 19 percent from 2003 to the current 11.2 percent according to the Central Statistical Office (CSO).
"As a district according to CSO projections we are at 25.3 percent which is still very high and requires concerted efforts to further reduce it and the impact it has, in the coming years," he said.
The National Voluntary, Counseling and Testing (VCT) Day commemorated on 30th June every year has changed to National HIV Counselling, Testing and Treatment Day which will now be celebrated on 15th August annually.
This follows a change in policy by the Ministry of Health in keeping up with the new UNAIDS targets of ensuring HIV positive people are put on treatment and respond to treatment.
Speaking earlier, Livingstone District Health Director Cliff Hara said a lot of people were coming forward to test for HIV since the last quarter of 2016.
Dr Hara revealed that 17, 709 adults tested for HIV in the last quarter of 2016 while 23, 788 underwent the test in the first quarter of this year.
Out of those tested in 2016, 88 (1.7%) were HIV positive and 71(1.3%) tested positive among those captured in the first quarter of 2017.
"The total for those on Anti Retro-Viral Therapy is 16, 807. It is evident from these statistics that even with a lot of people coming forward to test, we still need to do more especially in children and male adults," he said.
He also stated that the district had not performed well in terms of linking HIV positive people to treatment.
And Livingstone AIDS Task Force Chairperson Eurgine Kamuti says the task force was working round the clock to ensure Livingstone lost its position as the city with the highest HIV rate of 25.3 percent.
Mr. Kamuti said the district had always used a multi-sectoral approach to respond to HIV but new infections and reinfections continued to be recorded in the tourist capital.
"The need for couples and those in relationships to go for VCT, get tested together and know their status is vital as it is the only gateway to care, treatment and support," he said.
And Government has urged service providers in the HIV response to step up efforts and intensify demand for HIV counselling and testing among the rural population in the province.
Northwestern province minister Richard Kapita says in order to ensure that no one is left behind, a multi-sectoral approach must be implemented by all stakeholders in combating vices that may deter people from seeking HIV services.
He said the service providers should work with the ministry of health and the National AIDS Council structures at all levels in order to be effective and efficient.
Mr. Kapita said strengthened collaboration will also ensure that there is no duplication of activities and unnecessary waste of resources.
He said this in Solwezi District today in a speech read for him by Solwezi District Commissioner Rose Ramalinga during the commemoration of the 2017 national HIV Testing, Counselling and Treatment (HTCT) day under the theme: "Test and treat: towards ending AIDS"
Speaking earlier, Solwezi deputy Mayor Nephan Kamwandi thanked government for the continued investment in the health sector.
Mr. Kamwandi said healthy citizens are key to achieving the country's vision of becoming economically prosperous nation.
And Northwestern province clinical care specialist, Dr Jonathan Ncheengamwa said ministry of health staff in the province are ready to implement the strategy that will see the province reversing the HIV prevalence rate.