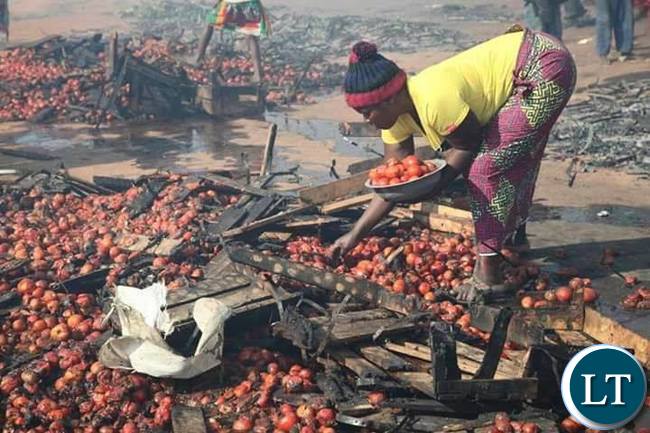 A Charcoal trader has been picked up by police in Ndola in connection with the fire that ravaged Ndola's Kapalala Market Wednesday morning.
Copperbelt Police Commissioner Charity Katanga told Journalists in Ndola that the Charcoal trader has been arrested for criminal negligence over the gutting of Kapalala market.
Mrs. Katanga said police have withheld the suspect's name to protect him from possible lynching from affected shop owners.
She said police investigations have concluded that the fire started after a brazier was left unattended to by the trader after he went to offload charcoal that was being brought to the Market.
"The suspect has been arrested and charged with criminal negligence contrary to section 372 chapter 87 of the laws of Zambia. The suspect was taken to the scene and six witnesses testified and will appear in court tomorrow for the subject offence," she said.
Mrs. Katanga said the brazier exploded and the fire spread to other wooden makeshifts.
The Provincial Police Commissioner also revealed that 12 people have been arrested for looting while the market was burning.
"12 people were arrested in connection with looting and are detained in police custody, while the goods are recovered," said Mrs. Katanga.
And the opposition UPND says it is alarmed and saddened about the Kapalala market fire.
"We sympathise with the marketeers and families who have lost their goods and businesses, and most likely their livelihoods in this fire. This tragedy comes just months after the much politicised City Market inferno, which up to now the report from the police service as to what caused the fire has still not been released," party Spokesman Charles Kakoma said.
"We hope and pray for a thorough and professional investigation into this latest inferno at Masala market and demand the timely release of the cause of fire. We also wish to advise the Patriotic Front government not to politicise this unfortunate, but suspicious tragedy," he said.
Mr Kakoma has since called upon government to assist the marketeers and their families during this difficult time to alleviate their loss of businesses and suffering.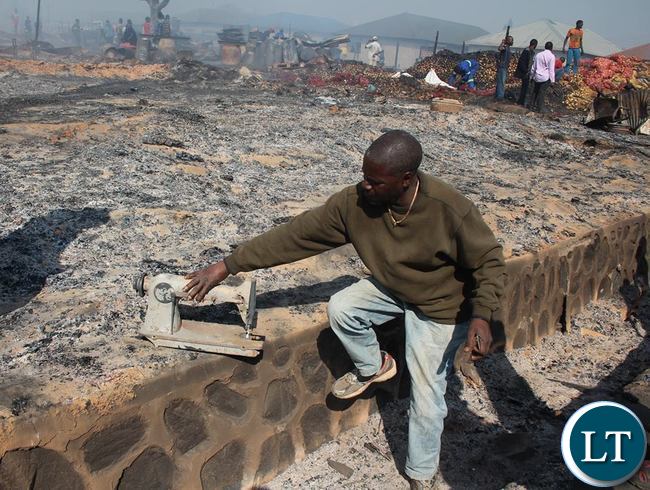 Earlier, Minister of Home Affairs Stephen Kampyongo has called for thorough investigation to ascertain the cause of fire that engulfed Kapalala market in Ndola last night.
Mr. Kampyongo has described the incident as regrettable noting that the nation had only started enjoying relative calmness.
"It is sad and regrettable when we have enjoyed relative calmness and peace that we have to yet record another disaster in an inferno that has gutted Kapalala market," Mr Kampyongo said.
He asked police officers to reactivate themselves and remain active to ensure tranquility of the state.
"I appeal to people to remain calm and for our men in uniform it is time to reactivate ourselves and not relax thinking all is well," Mr Kampyongo said.
He asked for citizens to remain calm and not speculate on the cause of fire allowing for investigations to conclude.