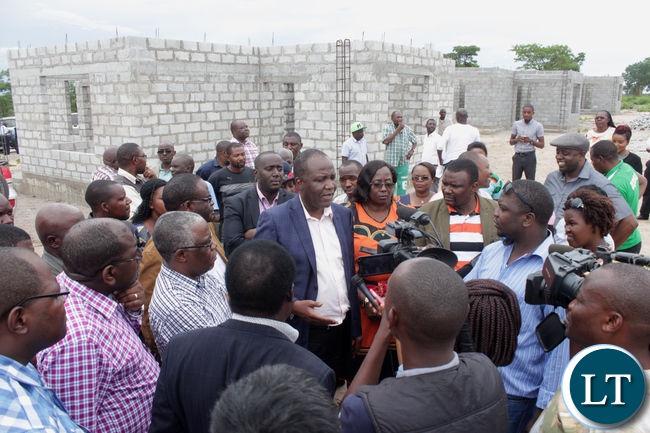 Finance Minister Felix Mutati has announced that the 2018 National Budget will be presented to Parliament on Friday 29 September, 2017.
Mr. Mutati has also said the government is in the process of finalising consultations and blending of some budget proposals from institutions and individuals with the governments vision for development.
He stated that one final consultative meeting will be held with Copperbelt based economic sector players to reach common grounds on administrative priority action which is needed to promote Zambian entreprenuers in the predominantly mining province.
Mr. Mutati will during the course of this week visit Kafue Steel Company in Kafue District.
Meanwhile, MMD Die Hard Youths Coordinator Gerald Chiluba has advised the PF to stop arm twisting the Republican President Edgar Lungu with their demands to have Finance Minister Felix Mutati dropped.
Mr Chiluba who was speaking when featured on MUVI TV's breakfast show said the President has been on record telling the nation that PF is working with MMD hence the demands by the PF would only make the President contradict himself.
He said PF Secretary General Davies Mwila should not have used such strong language but instead should havel engaged his counter part from MMD.
"As MMD Die Hard Youth wing we want to urge our alliance partners to stop arm twisting President Edgar Lungu as there is no concrete reason to protest against Hon. Felix Mutati.
"There was no need for the PF SG to use such strong language when he could easily have engaged his counter part from our party especially that the president has on several occasions mentioned that the MMD are in a working relationship with the PF.
"Just recently in Mansa there was a defection ceremony led by the deputy SG OF PF were 70 people defected to PF and among them were members from the MMD. as MMD we did not say anything but when the same situation happens vice versa people are now talking which is unfair," he said.
He further called on the PF not feel threatened by the fact that MMD is mobilising itself but instead concentrate on their mobilisation.
"Our alliance partners should never feel threatened by the fact that the MMD is mobilising itself neither should MMD feel the same because every political party as the moral obligation to mobilise and install competent structures that will help the party to thrive and this is simply what MMD is doing.
"We also want to take this opportunity to appeal to His Excellence the President of the republic of Zambia to intervene in this misunderstanding and categorically explain the spirit of the alliance between the two parties so as to sustainably settle the dust," he said.
[Read 88 times, 1 reads today]