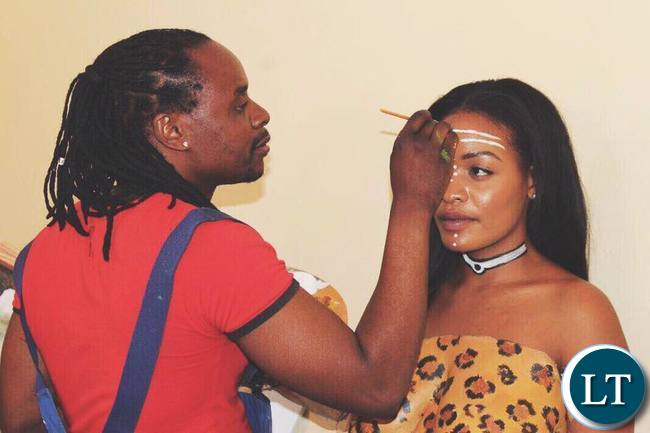 The artist who painted Socialite Iris Kaingu's body which has become a latest internet sensation in Zambia has defended his artistry.
Caleb Chisha said it is unfortunate that most Zambians who have condemned his work on Iris's body do not understand art.
Chisha said he has received thousands of phone calls from people who has criticized his work.
This week, photos of an almost naked Iris having her private parts painted by Chisha hit the internet with most social media users castigating the art work and describing it as immoral.
But Chisha said most Zambians do not understand art.
"Have received a thousand calls and messages from people because of this body art I did on Iris Kaingu, it's unfortunate most Zambian people don't understand what art is and the message behind this work I did," Chisha said.
He said, "historically women in Africa walked around in the nude. After colonization, western ideals were forced upon our people and custom changed. Nowadays, the female body is not as celebrated and women aren't allowed to express themselves through clothing without ridicule."
"To emphasize this. I have done a beautiful illustration of an African Princess. Three things I would like to highlight, 1. Society needs to understand that by our actions in body shaming others we make people lose confidence in themselves. We need to be a society that builds each other up. You are confident, bold, beautiful, fearless! You are you! We are all beautiful."
Chisha added, "2. Contrary to what most believe, this is a part of our culture and not the modernized dress of present dat. We need to unite and preserve what is still left of our traditions and customs so that future generations have their feet firmly in the ground."
"3. Lastly, you are beautiful in your own skin. You are wonderful made by God. You must be celebrated. If short shorts or tight little skirts are what make you feel beautiful, you should express that. You have the freedom to! Go ahead and celebrate what God blessed you with Iris."
And Iris has thanked Chisha for the work done on her body called Painted Princess.
"Thank you Caleb Chisha for helping me with this project*painted Princess*. A project exploring the historical beauty of cultural body paint," Iris said.
In October 2012, Iris who is Former Higher Education Minister Michael Kaingu's daughter was fined K10 million after she was convicted of on one count of making obscene material likely to corrupt morals after her pornographic video was leaked on the internet.