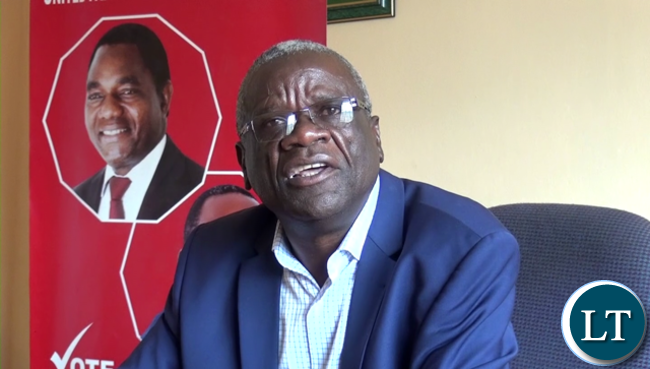 United Party for National Development (UPND) Secretary General Steven Katuka Mr. Katuka has said UPND intends to hold several thanksgiving rallies across the country which will be addressed by the UPND senior leadership that includes the UPND President Hakainde Hichilema and his Vice-President Geoffrey Bwalya Mwamba (GBM).
Mr. Katuka believes that peaceful and lawful assemblies, demonstrations, meetings and rallies are part of the democratic tenets that must be allowed like the PF members have been doing against Finance Minister Felix Mutati of late.
"We intend to hold several Thanksgiving prayers countrywide" Katuka said
And Mr. Katuka has expressed concern regarding the seemingly countrywide demonstration by PF supporters against the Minister of Finance Felix Mutati calling for his resignation.
Mr. Katuka says UPND is not interest on the merits or demerits of these demonstrations as that is really none of UPND's business as the demonstrations are purely an internal PF and MMD led Mutati faction.
Mr. Katuka has observed what he teemed as the usual selective application of the Public Order Act in Zambia where PF members can easily get into the busy or streets without a police "permit" and start demonstrating.
Mr. Katuka wondered how PF members are being allowed to demonstrate especially at a time when the country is under the threatened State of public Emergency where such activities are not allowed.
Mr. Katuka says the current status quo vindicates Mr. Hichilema with his sentiment at a Press Conference in South Africa suggesting that there is selective justice and application of laws in Zambia.
Mr. Katuka has since reiterated Mr. Hichilema's allegations that some laws in the country favours those in the ruling party to the disadvantage of the opposition especially the UPND.
Mr. Katuka adds the the UPND President and some seniour members have been very consistent in their messages both home and abroad that there is suppression of the rights of those holding different views from those of the PF in the country and both Zambians and the international community must pay attention to the UPND's observation on some Zambian laws with a view to correct the situation so that it favours all citizens.
Meanwhile, the UPND Secretary General has commended Zambia Police Service for what he deemed as seemingly change of heart and professional conduct and hope that from now onwards, the police will also allow the UPND members who wish to hold thanksgiving rallies on the release of their party leader Mr. Hichilema to do so according to the provisions of the Public Order Act.
"We now hope the Zambia Police Service have finally reflected and have had a change of mind on the discriminatory application of the Public Order Act so that even UPND members will be allowed to freely hold both indoor and outdoor party mobilisation meetings as well as given their constitutional and democratic space to actively engage citizens and share their messages without hindrance" Katuka said
[Read 101 times, 1 reads today]