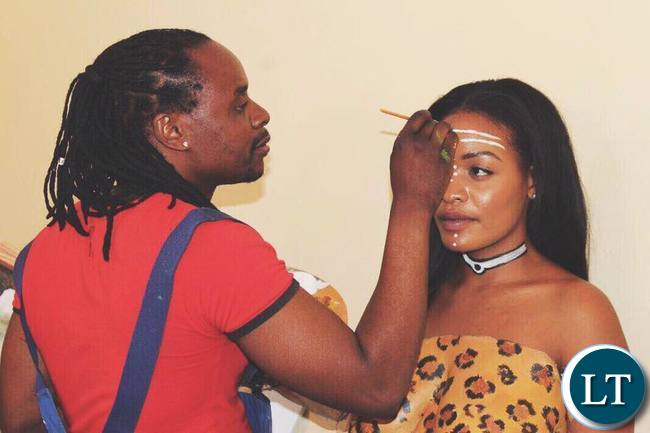 Iris' Actions Are Pernicious to Society
Iris Kaingu's latest stunt to publicly bare her whole body save for the covering of paint does not come as a surprise. This act just like her previous tradition defying escapades reflects the extent to which society has degenerated. While I cannot say that she is the most immoral person alive, I will fail in my Christian duty if I turned my eyes elsewhere pretending that all was well or by saying that it is none of my business. When she called for a press briefing on Sunday, 10th September, I was convinced that she was going to repent of her immoral actions. To the surprise of many, she was justifying her actions and essentially, ended up lecturing journalists on why they should report positively about her.
Will it be right therefore to agree with Iris, even for a second, that women empowerment or liberation means that they can do as they please even at the expense of society norms? Or is it true as she alleges that our forefathers used to walk about stark naked and no one cared? No, I do not agree with any of these assertions. Let me focus on the last one.
Before Adam and Eve sinned, not putting on clothes was not a problem. But that state of innocence ended when they disobeyed their maker for we read,
7 Then the eyes of both of them were opened, and they realized they were naked; so they sewed fig leaves together and made coverings for themselves. "Gen 3:7
Consequently, all of us as their descendants are born with that sense of shame and it becomes clear as soon as we know right from wrong. Curiously, you will never see this kind of behavior in the animal kingdom. Why? Because they never sinned. Interestingly, even an attempt by our forefathers to clothe themselves was a failure because the leaves were not sustainable. It had to take God to clothe them with animal skin. In effect, God was affirming the necessity of humans to wear clothes in public and any such departure is an affront to Him. In other words, wearing clothes to cover shame defines humanity. There is therefore no society, no matter how backward were people walk around naked and are unaffected. Granted, the level of covering may differ. The bushmen will for instance wear something just to cover their sexual organs but their society is ok with that.
When human beings begin to claim that there is nothing wrong in posing naked in public, it is an indication that mentally, there something wrong and that urgent help is needed. A story is told in Luke 8 about Jesus' encounter with a demon possessed man:
26 They sailed to the region of the Gerasenes,[a] which is across the lake from Galilee. 27 When Jesus stepped ashore, he was met by a demon-possessed man from the town. For a long time this man had not worn clothes or lived in a house, but had lived in the tombs.
After the demons are removed, this is what we are told in Mark 5 "15 When they (the villagers) came to Jesus, they saw the man who had been possessed by the legion of demons, sitting there, dressed and in his right mind; and they were afraid.
It is beyond debate that all of us must remove our clothes at one time or the other. But this is only done in the privacy of our homes or any places designated for such activities. But when one chooses to bring images that are only for consumption of themselves or those that are licensed to do so, then a redline has been crossed and consequences follow.
Iris is guilty of corrupting morals by causing her images to be publicly viewed. The Lord Jesus does not spare words when he talks about those that corrupt the morals of the public(more appropriately his children): Mark 9:42
"If anyone causes one of these little ones–those who believe in me–to stumble, it would be better for them if a large millstone were hung around their neck and they were thrown into the sea.
It cannot be argued that the publication of the pictures has led some men to sin in their hearts and otherwise. But this exposure is also an affront to the women folk who have been indirectly undressed and publicly shamed by Iris' actions. I am made to wonder whether it has occurred to Iris that these pictures are being looked at even by people that are very close to her including her parents and siblings! It is very clear from her actions that Iris is a single woman. But which parent will be willing to allow their son to marry one who has undressed in public? God forbid that she should even have a child who would sooner rather than later be accessing the images of their mother on internet.
It may not occur to Iris that her actions are in plain view of her maker before whom she will have to give an account. That she was not suddenly struck by lightning, doesn't mean that God is unaware or has over looked her actions. The warning is also for her accomplices (those men that worked to paint her body). They couldn't have publicly undressed themselves but they are just as guilty as she is. When Adam was persuaded to eat of the forbidden fruit, he was found guilty of the offence even though the serpent only deceived Eve.
But is there hope for Iris to reform and become accepted before her maker? While many may condemn her, and find her inimical to society the answer is an emphatic yes.
In Isaiah 1:18 the picture is given of God's willingness to forgive those that sin against him, no matter how vile. We read:
"Come now, let us settle the matter,"
says the Lord.
"Though your sins are like scarlet,
they shall be as white as snow;
though they are red as crimson,
they shall be like wool.
Elsewhere, in He is literally, pleading with the wayward Israelites:
Say to them: 'As I live,' says the Lord God, 'I have no pleasure in the death of the wicked, but that the wicked turn from his way and live. Turn, turn from your evil ways! For why should you die, O house of Israel?'
There is therefore hope for Iris to turn. She needs to humble herself and denounce all the justifications of an otherwise publicly immoral life and to turn in repentance to her maker or else as the apostle says about those that refuse to repent:
"but only a fearful expectation of judgment and of raging fire that will consume the enemies of God." Heb.10:27
By Kambilo Musopelo