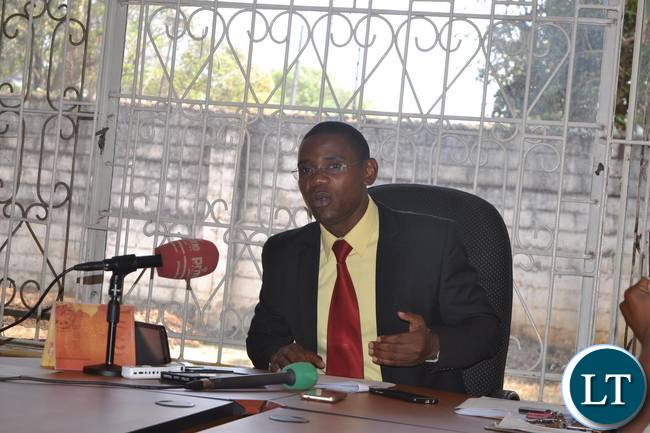 EPP President Chilufya Tayali has come out in support of the Tender for the Purchase of the 42 Fire Trucks. In a statement released to the media, Mr Chilufya said that said that the public was being unfair, unreasonable and unpatriotic to demonize Zambians involved in this tender.
Mr Tayali also took a swipe Former Information Minister Chishimba Kambwili who he described as a very frustrated man failing to handle his dismissal from Govt in a manner that a mature politician ought to, and deliberately misleading the public, taking advantage of their naivety.
Below is the full statement
PRESS STATEMENT ON THE PROCUREMENT OF 42 FIREFIGHTING TRUCKS AND THE CONSTRUCTION OF LUSAKA – NDOLA DUAL CARRIAGE WAY
====================
We are deeply concerned with perceived naivety in many of our citizens who seem to be easily cheated by unscrupulous politicians.
For a long time, we have been cheated into trusting or believing the very people that have brought us misery simply because they have changed their political affiliation. They ride on our miseries by promising us heaven which they failed to give us when they were in power.
We have the same politicians going in and out of Govt on different political ticket and we expect different results. They keep changing the language, depending on where they are, yet we believe them because of our naivety.
A good example is Chishimba Kambwili who was recently fired and expelled from PF. When Kambwili was in Govt he tormented, us as he defended everything and everyone in Govt to an extent of being tribal and disrespectful to anyone who opposed Govt. But today, Kambwili wants to ride on our naivety and miseries to get back into power.
As EEP we find it hypocritical that Chishimba Kambwili would call for the arrest of all the people in Govt when he was part and parcel of the same Govt for over 5 years. Most of the transactions that Kambwili is hypocritically criticizing were initiated and approved when he was in Govt.
If Kambwili was a principled man, as he wants to pretend to be, he would have resigned and told the nation about the corruption going on in PF. He did not have to wait until he was fired and expelled to stand with the poor Zambians.
We are not here to defend corruption, neither are we stopping anyone, including Kambwili, from speaking out against corruption, but we are warning citizens against immoral politicians who want manipulate them to get back into power.
One of the priorities of EEP when we come into power is to fight corruption, but with integrity, justice, fairness and patriotism, but, we will not go to bed with anyone wolves in sheep skins, in the name of fighting corruption.
In the meantime, as we are in opposition, we want to provide checks and balances to the PF govt, but we want to do this in reasonableness and objectivity. We will always stand for the truth without fear or favor. At the same time we will not allow our citizens to be taken advantage of by hypocritical politicians regardless of their political affiliation.
Having said that, we want to tell the nation, what we know about the two Govt tenders, involving the fire fighting trucks and Lusaka-Ndola dual carriage way. We urge citizens to put aside their political emotions and be reasonable and objective in looking at these two issues, as we have done.
WHAT DO WE KNOW ABOUT THE 42 FIRE FIGHTING FIRE TRUCKS?
This issue came to my attention whilst working at The Zambian Voice (ZV), as a report of corruption in the tender process in 2016, though the tender was floated in 2015. We were told that, Govt had award a contract to Grandview to supply fire fighting machines at an exorbitant price of USD$42 million.
Through ZV, we did a verification and confirmed the reports. Confidentially, we reported the matter to Anti-Corruption Commission ACC. The tender was halted by ACC pending investigations, but it was later cleared to have been correctly awarded to Grandview.
What came to light in that investigation was that, one of the former senior Ministers was behind one of the companies that bid for the tender and he wanted to be favored.
It was this former minister and his company that started leaking information to the public to incite them against Govt and that is how we also came to know about it. This former minister acted so shrewdly, that he is not on the list of shareholders on the company that bid, and they used proxies to leak information, therefore, our hands are tied to mention either the names of this former minister and the company, suffice to say, we know him.
Nonetheless, what we should put our mind on, is the price and justification of the firefighting trucks.
From our point of view, we find the price reasonable and justified according to our needs, though our economy is small for such an expense.
A simple search online on how much a firefighter truck costs, will easily reveal to anyone that, a basic entry is about USD$300,000 going up to more than one million dollars.
https://www.quora.com/How-much-does-a-firefighter-truck-cost,Timothy O. Casey, Firefighter/Alcoholic/Comedian/Author Answered Oct 15, 2014 • Upvoted by Dave Chapman, Professional Fire Fighter/Paramedic, 27 years experience
"The short answer is depends on the truck. The three most common fire trucks would be a pumper/engine truck, a ladder truck, and a wildland truck of some sort. Specialty trucks like a heavy rescue or hazmat truck would be common also. There are two costs with fire apparatus, the cost of the vehicle and the cost of the equipment that truck carries.
So a fire engine depending on class could be under $1,000,000, whereas a ladder truck could cost up to $300,000 and that is with both trucks unequipped. Adding equipment from basics like hoses to hydraulic extrication tools may add another $50,000 to $100,000. It all comes down to what the department ordering a new (not used) truck wants and what functions they want that piece of equipment to perform."
Mike Chlanda, 29 years on FD as medic, firefighter and lieutenant. Now an firefighting author Answered Dec 15, 2015 • Upvoted by Dave Chapman, Professional Fire Fighter/Paramedic, 27 years experience
Wow, that's almost like asking how much does a house cost. A basic engine (one that pumps the water, which is what most civilians think of as a "firetruck"), starts around $300,00 – $400, 000 USD and goes up from there depending on extras. A ladder truck starts around $700,00 and escalates from there. A crash truck used at airports can go from $750,000 to 1.5 million dollars. None of these prices include the equipment that goes on the rig – that can ad another 100,000 to $150,000 to the cost.
Some of the specifications on the order included:
1. Different forms of Fire fighting, such as gas, water, or chemical form
2. High tech pump
3. Type of truck which is fast, lean but able to carry a huge volume of water or other forms of fire fighting, self recovery in poor terrains, etc
4. Longer pipes and stronger pipes to navigate barriers.
Our estimations are that, the firefighting trucks could have costed the suppliers between USD$800,000 –USD$850,000 to supply which should have given them about USD$150,000 profit.
In all fairness and reasonability, a person who spend 800 – 850 thousand dollars to supply goods, deserves profit and 150 thousand dollars is in order. If that supplier is even Zambian, we say, thank God, because the money will be within Zambia other than foreigners who take the money away.
We, therefore, feel, the public is being unfair, unreasonable and unpatriotic to demonize Zambians involved in this tender. We should rather, be happy that the price is okay and the tender was given to Zambians. As a party, that is what we want, we want Zambians to be in-charge of this Country and take priority in awarding of Govt contracts at reasonable price and efficient delivery.
We urge the fire departments who have received the firefighting trucks to use them properly and efficiently, knowing the cost of these valuable assets.
LUSAKA – NDOLA DUAL CARRIAGE WAY
Coming to the road the Lusaka-Ndola road dual carriage we find those citizens, especially Mr. Kambwili, who was part of the Govt when this road was being discussed and promised to the people, as being unreasonable and counter-productive based on the fact that, they are being speculative on the cost of road and what it is coming with.
On the part of Kambwili, we find him to be very frustrated and failing to handle his dismissal from Govt in a manner that a mature politician ought to. Kambwili is deliberately misleading the public, taking advantage of their naivety.
Firstly, the road is not 321km, which is the distance between Ndola and Lusaka, but 812km because in includes 45km from Masangano turn off to Luanshya roundabout, Kabwe by pass of 20km and Kapiri Mposhi by pass of 20km all of which are dual, therefore it is multiplied by two.
If you literally divide 812 into 1.2 Billion you will find that the road is costing about USD$1.478 million per kilometer.
But since the road is coming with a bridge at Mulungushi University, Toll plazas, Transit Hotels, Service stations, Weigh bridge, Office space for RDA, among other infrastructure, you may take away an assumed 30% from the total cost which will give you USD$840,000,000.00 as the total cost.
If that total cost is divided by the total Kilometers we can estimate the road to cost at about USD$1 million for kilometer.
If you compare the cost of roads in the region and world over, one would find that most of the 2 lane highway roads cost over one Billion dollars http://blog.midwestind.com/cost-of-building-road/). Therefore, we should not cry foul over the cost of USD$1.2 Billion. Besides, that, this road is highly progressive, looking at so many deaths that have occurred on the same road. The road is also one of the most economic value in the Country.
It is also one of the best deals because the road is being constructed by China using their money, and it will pay itself through tolling over a period of 17 years.
While we are worried of Zambia's debt stock, this is a commendable project which Zambians, irrespective of their political affiliations, should commend.
CONCLUSION
It is clear from our point of view that many citizens do not take time to interrogate information given to them, they tend to be naïve and thereby falling into the trap of unscrupulous people to exploit them not only politically but economically and emotionally.
This attitude is very dangerous on an individual level as well as at a national level.
Immoral politicians are taking advantage of electorates by singing all louder against corruption, yet they have enriched themselves by the same corruption, but since they have fallen out of favor of the power that be, they want to pretend to be fighting for the poor.
If these unscrupulous politicians care so much about the poor, how come they are so rich, while most of Zambians are poor?
We urge all Zambians to woke up and see politicians for who they are, by looking at what they have done in the past, especially if they were in Govt, otherwise they will keep on manipulating them.
Let us support what is good and condemn what is wrong regardless of where it is coming from, including the party in power albeit being in opposition.
Over and above, let us be patriotic and support each other as Zambians, we should not be quick to throw mud at our fellow Zambians regardless of their political affiliation or support. We get nothing in bringing others down, but we stand to gain if we promote or support other Zambians.
May God bless the Republic of Zambia
Chilufya Tayali