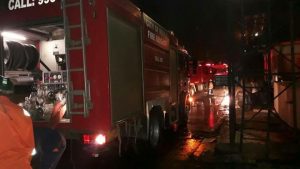 New acquired fire tenders in Ndola used
in putting off fire
A plant belonging to Global Industries Limited,  a cooking oil manufacturing firm in Ndola on Nakambala Road 
on Thursday
 night caught fire.
The fire which started on the top floor around 
21:00
 Hours was quenched in time by fire fighters who arrived on site at 
21:05
 Hours saving most of the building and the lower level which harnesses machinery valued at millions of Kwacha.
The newly acquired fire engines was used by the City Council with the aid of Luanshya and Indeni fire engines.
The three fire tenders manned by 23 fire fighters and the aide of Global Industry workers battled the flames for about three hours and spent another five hours cooling the ducting which had layers of oil fats which had accumulated inside.
The cause of the fire has not yet been established however, investigations are underway.
And Ndola City Council Public Relations Manager Tilyenji Mwanza said ," as a Local Authority, we would like to take this opportunity to appeal to members of the public not temper with the fire hydrants located around the city. The Local Authority would also like to acknowledge that the newly acquired fire engines aided us to combat the fire promptly and more effectively."