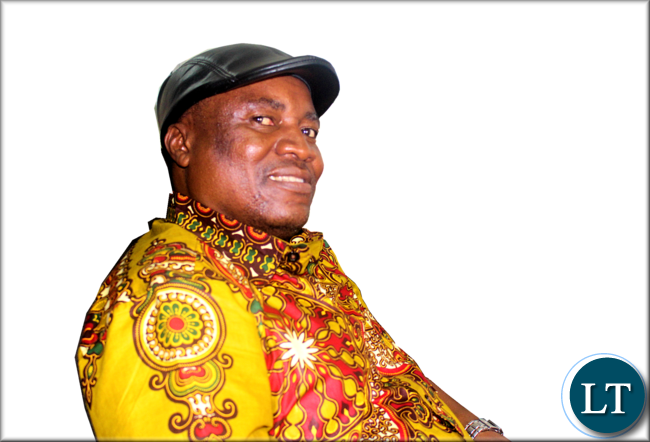 Green Party President Peter Sinkamba has demanded for answers from Government in respect of mineral concessions, land and other assets held by ZIZA and Pan African Minerals Development Company in South Africa (PAMDC), the two companies which are co-owned by Zambia Railways Limited (ZRL) and National Railways of Zimbabwe (NRZ). ZIZA is an acronym for Zimbabwe-Zambia Limited.
"I have several questions to ask Government for and for which I demand answers in respect of PAMC and ZIZA," the Green Party leader said in Kitwe this morning.
"How much is Zambia Railways net worth in ZIZA? How much is Zambia Railways net worth in PMDC? When did the ZIZA and PAMDC ever declare a dividend to Zambia Railways, let alone the Zambian Government? Why is it that ZIZA and PAMDC assets are not on Zambia Railways Limited assets register? Why is it that ZIZA and PAMDC are not listed in the Zambia Railways 2014-2018 Strategic Plan? Why is it that operations of ZIZA and PAMDC not part of the Ministry of Finance budgeting regime? Why is Zambia not exploring its mineral assets in South Africa?" Sinkamba demanded to know.
The background to this story is that Zambia, through Zambia Railways Limited has mining concessions exploited through PAMDC. PAMDC was created in 2007 to take over exploitation of the mining rights partly owned by Zambia and Zimbabwe through the then Federation of Rhodesia and Nyasaland. During the Federation from 1953 to 1963, Zambia and Zimbabwe owned mining rights through ZIZA.
PAMDC essentially came into being to incorporate the Government of South Africa into the ownership arrangement of the entity after the South African government laid claim to ZIZA's concessions under the Mineral and Petroleum Resources Development Act (of 2004), which vests all mineral rights with the state. That is how the Government of South Africa also became a shareholder of PAMDC.
The mining claims are for manganese, and limestone. PAMDC is supposed to prospect for a variety of minerals, including gold, coal, diamonds and platinum.
"In terms of assets outside the country, ZRL only has mineral rights of manganese and limestone in South Africa. The national railway company jointly owns these mineral rights with South Africa and Zimbabwe," said the Green Party leader.
It is not known whether or not the South African Government paid for the rights when it took over the rights from ZIZA.
"However, we are aware that when the Zambian Government took over the mineral rights in Zambia in 1964, millions of pounds were paid by the Zambian Government to BSA Company. When the South African Government took over the mining rights from the Bafokeng in Rusternburg in 2004, billions of Rands were paid by the South African to the Bafokeng Royal Establishment. But with regard to the acquisition of the ZIZA mining rights, we are not aware of such compensation being reported when the take-over took place but must worth billions of Rands, hence the need for a serious forensic audit," Sinkamba said.
According to the scheme of arrangement on the mineral claims, Pan-African Mining Development Corporation has taken charge of the mineral programme in South Africa, where it is expected to manage concessions in excess of 1.7 million hectares.
The plan was that the mineral prospecting firm is listed on the Johannesburg Stock Exchange before subsequent listing on the Zimbabwe and Zambia Stock Exchanges as part of its capital raising efforts. It is not clear if any listing has since taken place on the Johannesburg Stock Exchange.
"However, we are 150% sure that no such listing has taken place on the Zimbabwe and Zambia Stock Exchange," Sinkamba said.
The Green Party leader also wants to know why ZCCM-IH went to invest and run mines in Botswana instead of exploiting Zambia's claims in South Africa.
"Here in Zambia we are told that ZCCM-IH is not a mining company but an investment company. But next door in Botswana ZCCM-IH is involved in fully-fledged mining. So, who is fooling who? Why hasn't ZCCM-IH invested funds in the exploiting our mining claims in South Africa?" Sinkamba asked.
The Green Party leader bemoaned that Zambia Railways is currently struggling due to lack of capital and dilapidated infrastructure and equipment. He said that if the company is properly capitalized according to its 2014-2018 Strategic Plan, its performance could have wider ramifications in terms of reducing operational costs for other economic players such as manufacturing, mining and agriculture.
"However, due to under-capitalization, most of its clients have shifted bulk business haulage to trucks which is more costly to the nation on road maintenance," he added.
He said it was not worth borrowing from the Eurobonds to recapitalize Zambia Railways. He said that instead the best option would have been to transfer Zambia Railways shares in ZIZA and PAMDC to ZCCM-IH.
"We would then have gotten ZCCM-IH to pay Zambia Railways for the shares, which funds could be used for recapitalization of the Railway Company and repayment of the Eurobond portion," he said.
"Thereafter, ZCCM-IH, being a miner and investor, could then embark on serious exploitation of the Zambia's claims in PAMDC. Otherwise it is just as well we sale-off our interests in ZIZA and PAMDC altogether and invest the revenue into modernizing Zambia Railways," the Green Party leader concluded.
[Read 25 times, 1 reads today]