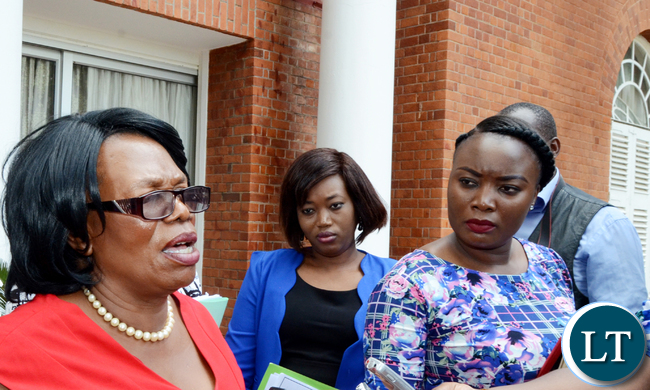 Higher Education Minister Professor Nkandu Luo has said that her ministry does not and will not support the hike in fees at the University of Zambia (UNZA).
The University of Zambia (UNZA) has increased accommodation fees for the 2017/2018 academic year from K1, 200 to K3, 900 representing a 100 per cent hike from last academic year and further hiked tuition fees by between 3,000 and 5,000 Kwacha across all programmes.
Professor Luo stated that there is no way that there can be an increment of more than 100 percent in fees suddenly.
She has explained that there are rules and regulations that should be followed whenever the university or an institution wishes to hike fees and one of the rules is to consult with the ministry.
Prof Luo has disclosed that her ministry was not consulted over the hike and is still waiting to be consulted for it to state its position on whether the fees are valid or not.
However, the University of Zambia, Vice Chancellor Luke Mumba has said that all procedures were followed and relevant stakeholders were consulted in the process of revising accommodation and user fees.
Commenting on Minister of Higher Education Prof Nkandu Luo's claims that the Ministry was not consulted, Prof Mumba said all stakeholders including the ministry were part of the process that reached at the current revised accommodation and user fees for students.
"Governance of UNZA is done through committees and the Ministry of Higher Education is represented in the council committee, moreover we wrote to the permanent secretary on the matter, so it is really unfortunate and surprising that the minister was unaware of how we reached at the adjustments which she says are unreasonable," he said.
Prof Mumba told the media in an interview that management had an obligation to run the institution and the University council made adjustments to fees to keep the institution running.
"We cannot not run without adequate funding so as regards to accommodation fees we did a survey and we discovered that we had the lowest accommodation fees in the country but the living conditions at the hostels are pathetic. Students are paying K1,200 a year which is K100 a month so the council saw a need to increase the fees to provide a better service," Prof Mumba.
Prof Mumba said that no adjustments were made to tuition fees adding that only user fees such as examination fees, sports fees, medical fees and internet fees were revised to improve the services at the institution.
"The UNZA council decided to adjust these fees upwards because they were too low as a result some necessities were expensive for the university to provide, for example internet services, UNZA pays K15 million per year and students only contribute K4.6 million," he said.
He said that management's duty was to run UNZA on behalf of Government and the people of Zambia and if government was of the view that the fees were too high they should engage the University council
[Read 79 times, 1 reads today]