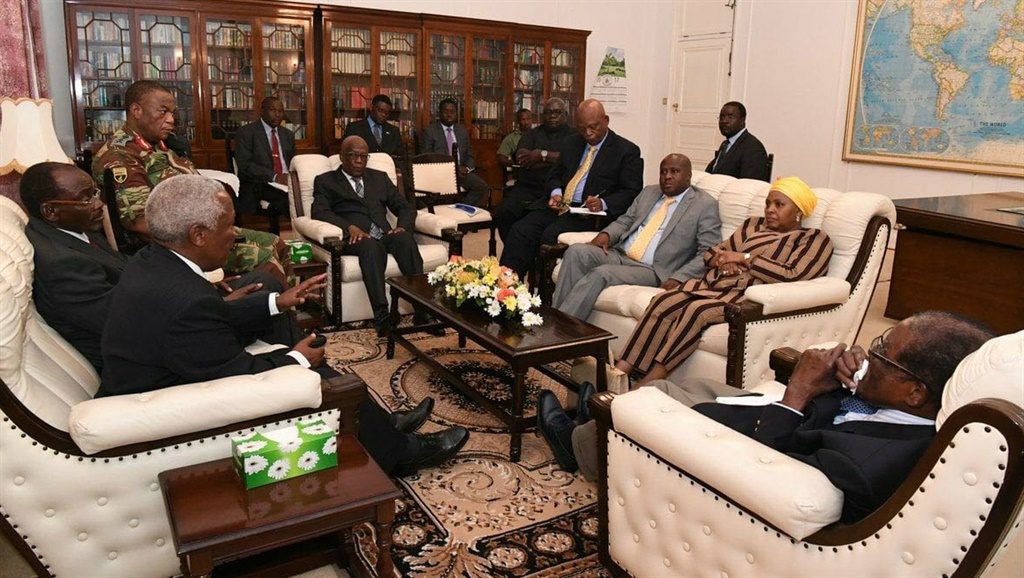 By Economic.Governance
Economic growth
Without using statistics, most Zambians would not only label Zimbabwe a financial basket case but also tha it is a country whose economy and trade are more backward than Zambia's. Not necessarily so. Since its independece in 1980, the economy has not grown significantly less than that for Zambia. Figure 1 below shows that since then up to 2008, Zimbabwe's growth has been at almost par with the Zambian economy. In fact, in the period 2008-2010 it grew astonishingly and inconceivably higher than the Zambian economy. If this level had been maintained, Zambia would have been left far behind and an almost economic miracle announced in Zimbabwe. All this is in the context of the fact that, unlike Zambia, Zimbabwe has, for many years been victim of international economic sanctions. Logic therefore is that if it did not suffer from this international embargo, it perhaps would have brought prosperity for its people.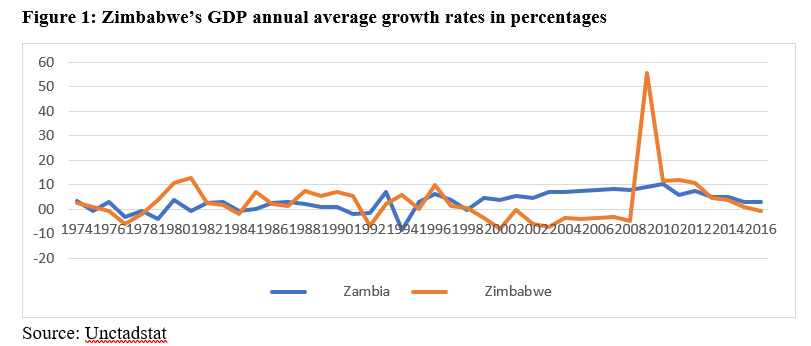 Trade with the world in absolute terms
Despite international roadblocks, Zimbabwe's trade with the world has shown resilience, at least in absolute values. Compared with its neighbor which has had sanctions, Zimbabwe's exports of goods of $2.8 billion in 2016 is not very from Zambia's $5.8 billion and imports of $3.7 and $7.0 billion respectively (Figure 2).

Trade with the world in goods in proportion
In proportional terms, Zimbabwe's trade with the world shows a significant pattern of similarities with Zambia. In fact, it is Zambia which compared with Zimbabwe lost more in integrating in the world trading system. In 1970 Zambia's share stood at almost 0.4% compared to Zimbabwe's almost 0.2% but since 1976 the latter has had an edge over the former until the period 2006-2016 but all this is marginal (Figure 3).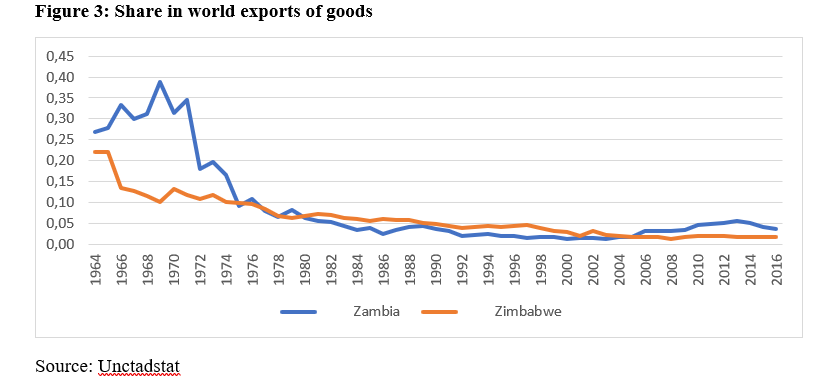 Exports of goods to the former colonial power
With sanctions ringing in our ears all the time, you would expect that Zimbabwe's exports to the UK is much lower than that for Zambia. Alas, not so true. Figure 4 shows that the difference in exports between the two former colonies is nothing to write home about since Zambia's exports of about $200 million in 2016 is not far from Zimbabwe's $50 million in terms of significance. Why is Zambia exporting goods worth only $200 million to the UK where it should export more than anywhere else?
Exports of manufactured goods to world
The only sector where Zambia has an upper hand is in exports of manufactured goods to the world, in which it has overtaken Zimbabwe as Figure 5 shows, and for this, we say bravo to Zambia. Between the two, Zimbabwe was a better exporter of manufactured goods than Zambia. It will be recalled that income that came from copper mining in then, Northern Rhodesia (Zambia) used to fund lucrative activities such as manufacturing in then, Southern Rhodesia (Zimbabwe) and, even after independence Zimbabweans continued to prosper in manufacturing. Certainly, global sanctions must have played a major role in Zimbabwe's loss of share in exports of manufactured goods to its neighbor. The period 2013-2016 also shows that the two countries' exports were hugely affected by global factors as can be seen by declines.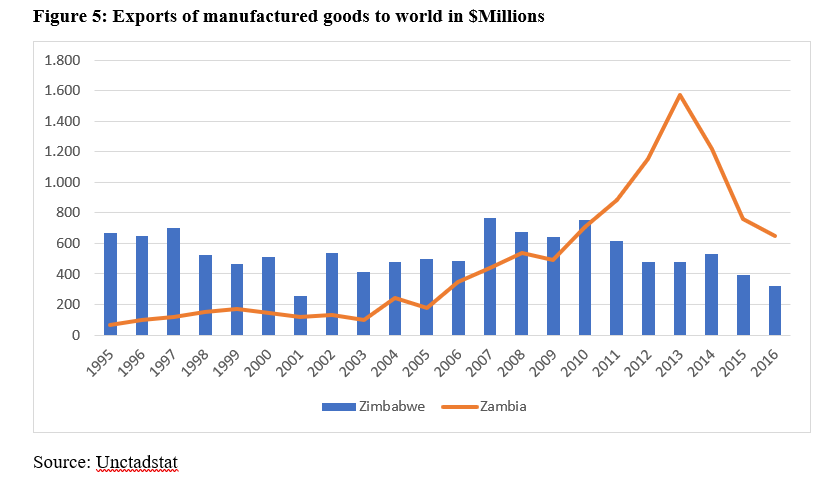 Zimbabwe's Economic Fundamentals
In the growth of economic fundamentals, there are some variations between Zimbabwe and Zambia which can be explained by economic sanctions, self-inflicted governance stains and the fact that Zambia's economy is based on copper. That may explain why Zambia's GDP is almost twofold that of Zimbabwe; services value added of almost double; FDI stock of almost fourfold and FDI inward flows of about fourfold too (Table 1).
Table 1: Zimbabwe's Economic Fundamentals in Economy in $ Millions
| | | | |
| --- | --- | --- | --- |
| | | 1980 | 2015 |
| Zambia | GDP | 4,315 | 21,255 |
| | Manufacturing | 725 | 1,697 |
| | Services | 1,951 | 11,988 |
| | Flow | 61.75 | 1,582 |
| | Stock | 1,997 | 14,467 |
| | | | |
| Zimbabwe | GDP | 7,148 | 13,893 |
| | Manufacturing | 1,696 | 1,504 |
| | Services | 3,454 | 6,707 |
| | Flow | 2 | 421 |
| | Stock | 186 | 3,966 |
Source: Unctadstat
Concluding remarks
If change is made in leadership and the new regime is pro-good governance, the UK is likely to rise from the shadows and show Zimbabweans that it can help them to expand the economy. If the UK fails to significantly contribute to the country's integration into the global economy, that is likely to affect its promises to Africa of a better post Brexit UK-Africa partnership. It could be a similar story to the USA-Viet Nam post war partnership where the former has supported the latter's foreign direct investment to make a country once devastated by war one of the main exporters of manufactured goods in the world. This is an opportunity for the UK to showcase its real love for an African country that is no longer a dictatorship. For Zimbabwe, this an opportunity to close the gap and if this is done, through governance and development-adhering policies, there is every likelihood that Zimbabwe will surpass Zambia in various economic sectors such as manufacturing and tourism. Remember from Table 1, Zimbabwe's GDP was higher than Zambia's in 1980, almost twice the size. It is likely that in the next 10-20 years, under credible leadership, it may bounce back to haunt Zambia.
Many useful Zimbabwean white farmers and business people who left the country for South Africa and UK may start coming back with huge investments. Zimbabwe's trade with the world and Africa may also significantly improve in the next ten years leaving Zambia behind because instead of taking advantage of the economic mess that the outgoing leadership found itself in, Zambia preferred to be political, not economic. The snag is that the fundamentals of Brexit may limit the UK's hand to showcase Zimbabwe. First, conservatives in the country who are trying to limit external support may resist. Second, the UK is in a situation where it wants to use Africa or Commonwealth countries as future trading and political partners but that means all of them must be supported almost equally.
On the other hand, for the type of leader he was, Zambia's condemnation of regime change in Zimbabwe, that removes Mugabe by military means may not be as popular to the Zambian people, Zimbabweans and even the international community as some think especially if that step ushers in a credible and popular leader to replace Mugabe.
[Read 80 times, 1 reads today]