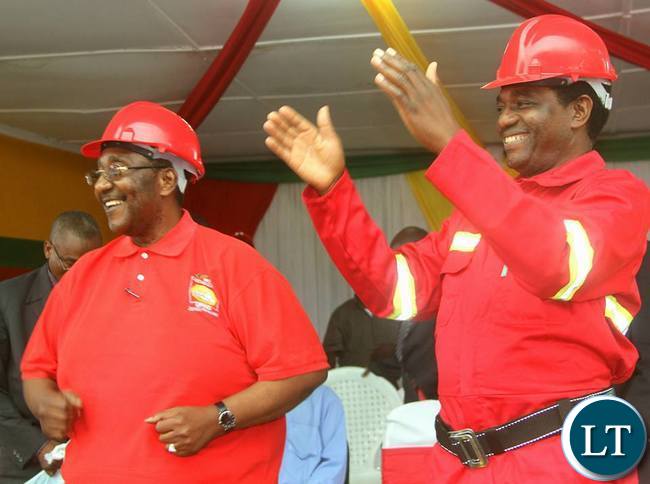 Opposition UPND President Hakainde Hichilema has charged that the ruling PF is in panic mode after the fall of Zimbabwe's Robert Mugabe.
Mr Hichilema described Mr Mugabe as the Godfather of dictatorship in Africa who taught the PF how to steal votes and arrest political rivals.
He said now that Mr Mugabe is out of power, those in Africa who benefitted from his lecturers in brutality are now panicking.
"No more stilling our votes because the Godfather of dictatorship is gone. You cannot oppress people for too long. Mugabe was teaching PF to brutalize people and steal votes and arrest people and denied permits to demonstrate. Why is Mugabe today?"
He added, "You can suppress people but not forever. Every dog has its day. Mugabe is gone, he was the one who was teaching African leaders to be dictators."
The UPND leader was speaking on Sunday late afternoon when he addressed multitudes of UPND supporters at the Kitwe Showgrounds during the party's card renewal exercise.
He thanked the Copperbelt party leadership for keeping the party intact even in the face of increased persecution from the PF.
Mr Hichilema also stressed that his leadership will not rest until full basic freedoms are restored.
He demanded that the PF releases all political prisoners that are being held in prisons.
"We demand that the PF must release all the political prisoners. This is the first time since Independence that the country has so many of its citizens in prison as political prisoners.
You know our tempers are rising and what we need now is stabilization. Too many of our people are denied basic freedoms, we are being denied the right to assemble because they scared of the petition," he said.
Mr Hichilema also stated that the UPND wants the full restoration of media freedoms in Zambia.
"We want the Post back. They now want to close Muvi. We want free media and the rule of law. We don't want PF thugs beating our people, we won't rest until all our liberties restored. This is why we have the Commonwealth here so that we restore our freedoms," he said.
He added, "They thought after prison, HH will be scared, we will not tire until we get what the Zambians want. We are ten times stronger now. We are freedom fighters, the struggle continues. We won't tire until the freedom is won. They wanted to kill us and kill UPND but God said no. We survived prison because God has a purpose for us. God wants us to liberate this country."
Mr Hichilema said the PF has lamentably failed to deliver.
"Even those who voted for PF are suffering today, the street vendors were lied to that HH will chase you from the streets but they have been chased," he said.
"Thank you abena Kopala for turning out in numbers and being peaceful during our today's card renewal exercise at Kitwe's Show grounds. We are your servants and we remain committed to the wellbeing of all our citizens from every corner of our country," Mr Hichilema said.
"Together with our party Vice-President, Geoffrey Bwalya Mwamba, we love you and shall move together in uniting, developing our country," he said.
And Mr Bwalya thanked Copperbelt residents for giving the UPND 187,000 votes in the last general election.
He also pledged his commitment and loyalty to the UPND and Mr Hichilema.
He said, "Me and HH ni Phone na SIM card. I will not leave HH. I don't follow anyhow. I followed Sata because he had brains. I don't need Edgar because of contracts. We will come and grab all those contracts. They think they are still popular after drinking Jameson."