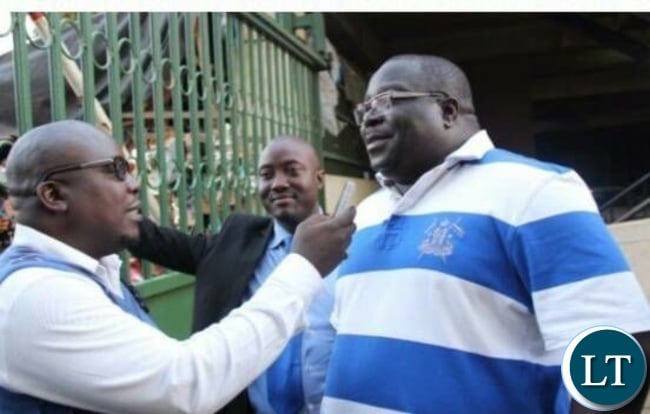 Roan Member of Parliament Chishimba Kambwili has accused State House of Using Zambia's Economic and Equity Party (EEP)leady Chilufya Tayali to victims him.
Mr. Kambwili has alleged that it was State House victimising him through EPP leader Chilufya Tayali, adding that the EPP leader reported him to State House that he uttered documents at Patents and Companies Registration Agency (PACRA) in 2013.
But Mr Tayali has advised Mr Kambwili to concentrate on preparing his defence in court.
"Kambwili should for once take responsibility for his misdeeds, instead of using politics as scapegoat. This man never takes responsibility of anything, he is like a mummy's boy who accuses everything wrong on his brothers, but himself," Mr Tayali charged.
"The corruption in PF, under which he served for over 5 years and still holding on to, is on all other members, but himself. If he saw corruption in PF why didn't he resign instead of being fired and expelled."
He added, "But even after being disgracefully expelled, he is still holding on to the party that he accuses of being corrupt. Where is the morality of this man who is aspiring to be President."
"Ministers are supposed to pay back the money they were paid, when they were not supposed to be in office, but Kambwili, without shame, is refusing to do so, instead he is accusing President Lungu, saying, he he is the one that made him stay and therefore, he should pay for him," Mr Tayali said.
"If Kambwili did not agree with President Lungu, why didn't he resign or at least refuse to get payments. But Kambwili is a selfish man who wants to have it all including being on top as President, so he got the money and he can't think of paying it back."
"Today, he has been warned and cautioned for using a fictitious name and an NRC of his sister to register a company (fraud), in fear of being held responsible for illegal deals the company was doing, but he wants to blame it on State House and accusing me of being a stooge of State House," Mr Tayali said.
Mr Tayali said he reported Mr. Kambwili to the police over illegalities way before President Lungu appointed him as Information Minister.
"I hope the police will expedite this case, I feel they are taking long, the case has all the evidence, so that Kambwili can go to court and explain why he registered a company in a fictitious name. I am ready to go to court and testify. In fact I will bring more on this man since he is now free for all cases, to be prosecuted," Mr Tayali said.
Police in Lusaka have recorded a warn and caution statement from Roan Member of Parliament Chishimba Kambwili.
Mr. Kambwili was warned and cautioned for fraud, uttering a document and giving false information to a public officer.
Mr. Kambwili's lawyer Christopher Mundia confirmed the development to Journalists at Lusaka Central Police.
[Read 22 times, 1 reads today]