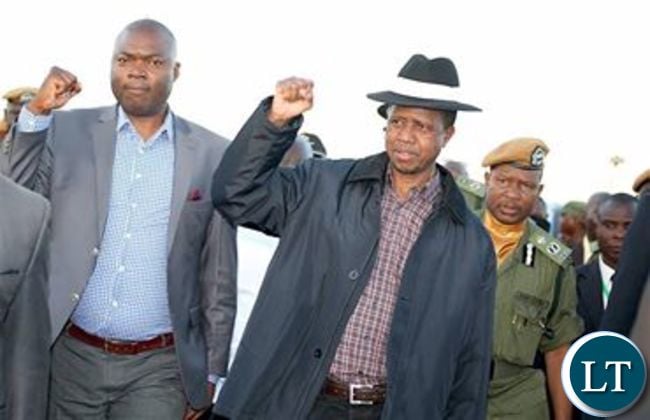 Copperbelt Minister Bowman Lusambo has defended his statement in which he declared himself as Zambia's number one bootlicker for President Edgar Lungu.
During last weekend's PF Interactive Forum at Protea Hotel in Ndola, Mr Lusambo when responding to questions from Journalists on sentiments that he is a bootlicker, declared in the affirmative that he is indeed Zambia's number one bootlicker for President Lungu.
The statement drew some condemnation from some sections of the society with Musician Pilato issuing a statement condemning Mr Lusambo and anther musician Petersen composing a song over the same issue.
Featuring on the Hot Seat radio programme on Hot FM on Thursday morning, Mr Lusambo said he has no apologies to make over his statement.
Mr Lusambo who is also Kabushi Member of Parliament said those condemning him do not understand loyalty in politics adding that bootlicking equates to loyalty which is essential in leadership.
He said all the Ministers are serving under the pleasure of President Edgar Lungu and 100 percent loyalty is important.
Mr Lusambo explained that by declaring that he is number one bootlicker, he was merely declaring his unwavering support for President Lungu and his administration.
He said he is disappointed that some local musicians have even started composing songs mocking his statement.
"These musicians are just wasting their precious studio time by writing songs that don't even add value. They should use their talents to compose music that will build the nation and not focusing on non-issues," Mr Lusambo said.
He added, "In politics, the appointing authority puts you in office because he or she knows that you share in his vision. For mem I was first elected M.P in Kabushi and later on President Lungu appointed me to serve in his Cabinet because he felt I shared his vision for Zambia."
Mr Lusambo stated that in politics, those who do not want to stay loyal to any leader are asked to leave or they get fired.
"When one is loyal, it does not mean that they cannot advise the President. We all do that when we meet in Cabinet but there is also a principle of collective responsibility which binds us all after a decision has been made. If those that do not agree with a collective position, they are asked to leave."
Mr Lusambo also defended his stay in the PF having left the MMD just before the 2016 general elections
He said in Zambia, politicians have been changing parties since the colonial days adding that there is nothing wrong with switching political camps as long as the people vote you into office.
Mr Lusambo said the majority of Zambian politicians served in the Federation administration and later moved into UNIP at Independence and also crossed over the MMD in 1991 right through to the PF administration.