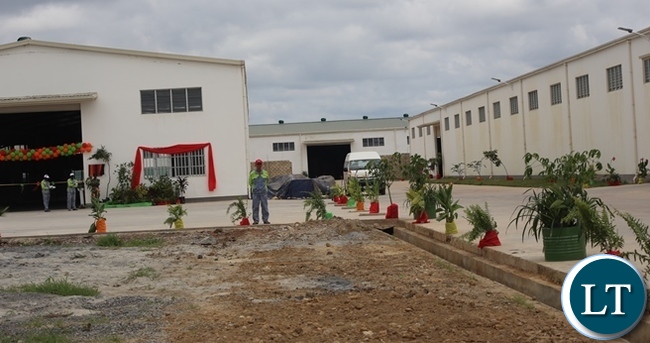 PRESIDENT Edgar Lungu has officially opened the first ever privately owned fertilizer producing company called Foresticol Fertilisers Zambia Limited in Kabwe District in Central province.
Speaking at the official opening of the company, President Lungu said the establishment of Foresticol Fertilisers Zambia Limited was in line with government' five year development plan.
Mr Lungu said in a speech read for him by Vice President Inonge Wina that due to the prevailing conducive business environment in the country, SAHNE group of companies formed a fertiliser company known as Foresticol which has been centrally located in Kabwe taking advantage of the town's centrality to satisfy farmers demand for fertilizers in all the ten provinces.
He said Central province has always been one of the high producers of agricultural products such as maize adding that with fertilizers readily available, farmers were expected to increase production of maize and other food crops.
President Lungu observed that Foresticol Fertilisers Zambia Limited had spent over K200 million in infrastructure development, acquisition of the state of the art machinery and procurement of the raw materials.
The President said the company would in the next stage build warehouses in all the provincial centers across the country in order to enhance the availability of the fertilizers to all farmers.
He said Foresticol Fertilisers Zambia Limited at full operational capacity would be able to produce 150 metric tonnes of fertilsers that was equivalent to 3,000 bags of fertilsers per day thereby creating about 400 employment opportunities.
President Luungu said so far, over 200 people had been employed by the company, most of them from Kabwe adding that only five Chinese nationals were working at the company with a view of transferring knowledge and skills.
"I want to mention here that it is in our interest as government to attract as many investors as possible so that we give a re-birth to Kabwe, a town which some years was very vibrant with regards to economic activity with many men and women employed in the companies that existed at the time," he said.
President Lungu also noted that Foresticol Fertilsers Zambia Limited through its Corporate Social Responsibility (CSR) would build a primary school for the surrounding communities and rehabilitate a few existing health facilities in Kabwe.
"The company will also partner with government to promote provision of quality health care through the construction of health facilities and rehabilitation of a few existing ones. This is the kind of investment we wish to encourage, investment which also looks at the plight of the community within the vicinity of its location," he said.
President Lungu however urged the company to continue operating within the confines of the country's labour laws.
"The Patriotic Front government remains committed to ensuring that we change the general living standards of our people and we believe that creation of employment is one the ways this can be realised," he said.
Speaking earlier, Central Province Minister Sydney Mushanga commended government for prioritising infrastructure development in the country.
Mr Mushanga said the province had received a fair share of infrastructure development in the agricultural sector.
"As Central Province, we are privileged to have this structure being commissioned yesterday. Foresticol Fertilisers is one of the many players in the agricultural sector supporting farmers to achieve their goals," he said.
Foresticol Fertilizers Zambia Limited Director Kevin Young said the company was positioning itself to ensure that no farmer was left out in the acquisition of agricultural inputs.