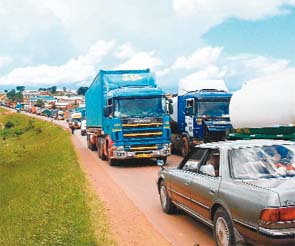 Traffic at Nakonde border in Muchinga Province has improved with more vehicles crossing between Zambia and Tanzania.
Nakonde District Commissioner Field Simwinga has confirmed the development to the Zambia News and Information Services (ZANIS) in Chinsali yesterday.
Mr. Simwinga said a newly devised system that allows a simultaneous flow of traffic especially trucks from both Tunduma in Tanzania and Nakonde in Zambia which was introduced last week has improved the flow of traffic.
Mr. Simwinga said the traffic which was building up at Tunduma in Tanzania following a protest by Tanzanian truck drivers had pressure on Nakonde adding that over 1,500 trucks which were waiting to cross into Zambia have been cleared.
He said that initially it would have taken about two weeks for trucks which included fuel tankers to move from Songwe in Tanzania about 20 km to Nakonde border in the old arrangement.
Mr. Simwinga said a joint meeting held at the border last week on Monday attended by both authorities from Zambia and Tanzania, agreedede that flow of traffic especially trucks, be allowed in order to reduce the congestion on both sides.
Nakonde Customs Clearing Agents Executive Committee Secretary Samson Chihana says his committee is happy with the normalizing of traffic at Nakonde border which has boosted business.