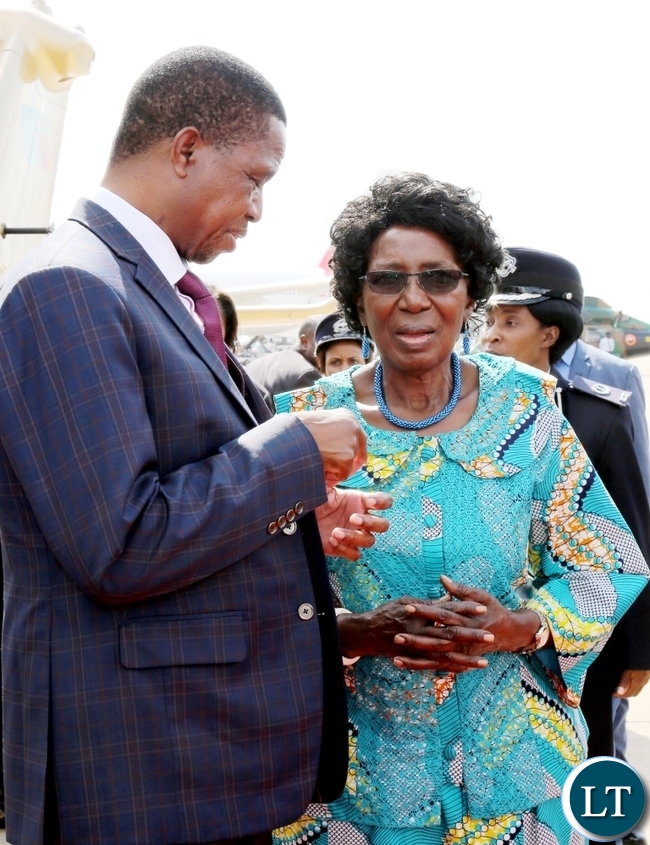 WHEN MR. HICHILEMA WAS HAPPY WITH NUMBERS
Almost everywhere, ruling Governments often face towering criticism about the governance of their countries and economies. Nowhere are they left scot free. When they try to list some achievements, they are told that people cannot eat numbers which they use to back their achievements. Of course, numbers do not feed anyone. Economists invest their claims of economic achievements in numbers and we always criticize them arguing that low inflation or macro-economic stability is not enough to feed the Zambian family. But numbers help us to say and understand many things. They provide useful indications of performance which, sustained over many years can lead to better things. That is why numbers are useful and cannot be ignored or belittled simply for that sake. But they can upset of make you happy. When we use them against other people, we are happy, and they are unhappy and vice versa. When Mr. Hichilema, leader of UPND stated the other day, "I have been vindicated by IMF on Zambia's debt," and that he had been advising Government against excessive borrowing, he was referring to numbers. On 26 February 2016 Mr. Hichilema was happy to also state, "With figures for February showing a further rise in prices and inflation at 22.9% – the highest level since 2000 – here is a reminder of our statement from earlier in the year on 'Combatting High Inflation – The UPND Way'. The rate of inflation has risen from around 7% when President Lungu's was elected to 21.1%. A rate we have not seen in Zambia for more than 10 years."
If we want others to hear our numbers, we must also hear their numbers. Even we author of articles that sometimes criticize the ruling Government have a governance obligation to recognize and show numbers that show achievement even if they will not feed anyone but are pointing in the right direction. And it is high time we heard the ruling Government's numbers, not from them but from us.
REMARKABLE ACHIEVEMENTS BY GOVERNMENT SHOULD MAKE HIM HAPPY
In this article, we look at only three numbers or statistics to show trends in growth of (i) Zambia's GDP; (ii) of Gross Capital Formation and (iii) Zambia's international trade in goods and services to illustrate remarkable achievements of the ruling Government, which no one wants to show to the people of Zambia yet, they deserve to know even if numbers cannot feed them.
Before doing so, let us be reminded that inflation that Mr. Hichilema refers to is a subset of the bigger economic picture. When it is as low as zero, we all must celebrate because it provides a good basis for economic development although on its own it is not development. When it was 22.9% as stated by Mr. Hichilema above, of course that was not good and we all must have been worried. But there are better economic pictures illustrated by numbers too, that must be disseminated just as when they are bad, we will also disseminate them.
Number one, Growth Trend of Zambia's GDP
It is 50 years since Zambia obtained independence. In this period, the country has been ruled by different political parties. If we wish to track their economic performance, we can even if statistics may not exactly tell the story, given that there are other factors to consider. During the period 1970 to 2005 or about three decades, Zambia's gross domestic product (GDP) grew steadily, from about $1.5 billion in 1970 to $8.3 billion in 2005. But compared to the short period between 2011 and 2015 as Figure 1 below shows, this growth of 34 years was not phenomenally significant. It is the last five to six years that growth surged to unprecedented heights, reaching the highest mark of $12.7 billion in 2006 and $21.2 billion in 2015. I don't have figures for 2016 but if this past five year-trend continues uninterrupted, this growth trend is likely to be a boon in the next twenty years. Ladies and gentlemen, bad guys and girls can say what they want. And they may be right because, again, numbers alone do not feed anyone. But they provide a basis, and this number does provide a strong basis for optimism, again, if things are done well. According to the image below, the growth that you see in the first 34 years was flat and timid wavering below $5.0 billion for so many years. Of course, we cannot ignore previous Government's contribution. But more importantly, why would we ignore the ruling Government's such huge contribution when the surging statistics clearly stand in the period during which they are presiding?
I don't know where the communications department of the ruling Government is located but I hear it is in the Ministry of Information. If it is not communicating these numbers to the public and political foes. Again, numbers alone do not feed Zambians, but you can't fight them either.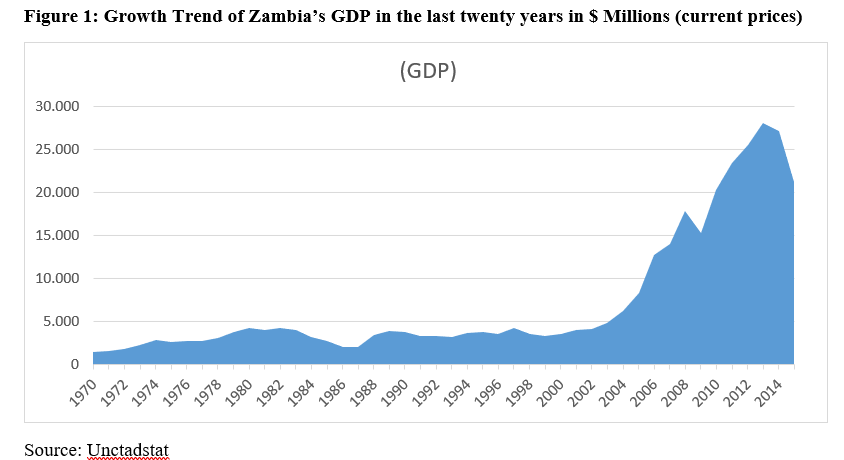 Number two, Growth Trend of Zambia's Gross fixed capital formation
Economists and financial experts will know better how the Gross fixed capital formation functions and why its growth is important to the Zambian economy. But it simply "refers to the net increase in physical assets (investment minus disposals) within the measurement period (Financial Times)." Experts would argue that Zambia needs capital goods and to replace current assets to expand the economy that are used to produce goods and services. When this is done on a large scale and capital formation is higher, it means the economy can growth fast and better. Countries need capital goods to replace the current assets that are used to produce goods and services, and if a country cannot replace capital goods, production declines. Generally, the higher the capital formation of an economy, the faster an economy can grow its aggregate income. All this requires continuous growing savings and investments which, for Zambia are quite low in comparative terms with other countries. For example, Table 1 below shows Zambia's gross fixed capital formation in comparison with Asian countries. You can see that Viet Nam's is about fivefold higher than Zambia's. Indonesia's $286 billion is the highest in the Table. To grow substantially, Zambia needs to expand its investment.
Table 1: Gross Fixed Capital Formation in $ Millions
| | |
| --- | --- |
| | 2015 |
|          Indonesia | 286,045 |
|          Viet Nam | 47,645 |
|          Zambia | 9,118 |
Source: Unctadstat
However, despite its small size, the speed and size, in the Zambian context at which gross fixed capital formation has grown, again in the last six years, all connected with the GDP is quite commendable in comparison with previous leaderships. Again, unlike the issue of inflation, there has been a sudden surge of growth of gross fixed capital formation, rising from $234 million in 1970 to $2.9 billion in 2006 and then $ 9.1 billion in 2015 (Figure 2). Again, in terms of size, this is only $9 billion hence not much to write home about. However, judging by the significant size compared to the last 40 years, this growth of the last 5 to 6 years is unprecedented. This growth is also characterized by the upward trend despite external vulnerabilities.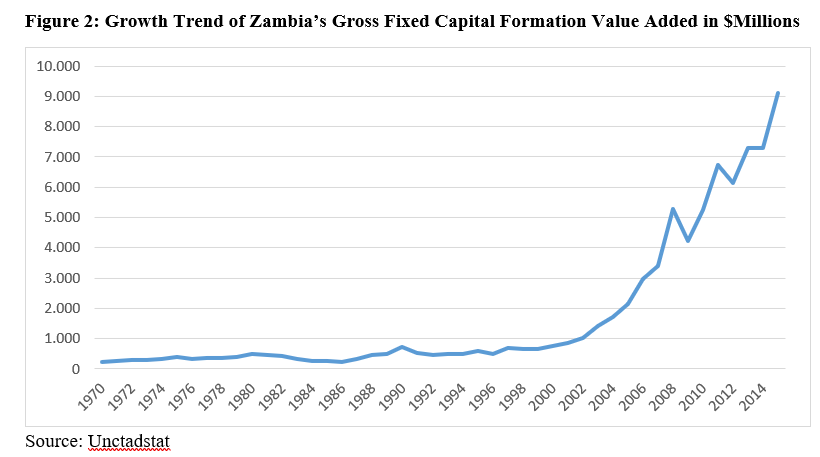 Number 3, and finally, there is remarkable performance in international trade in goods and services
Finally, the graph below shows similar pattern of remarkable international trade performance during the period of the PF Government between 2011 and 2015. You can argue what you want, that they are a reflection of the past leadership, that growth takes long and we cannot make judgement now. But, again, the highest growth shown in the image below in Figure 3 is concentrated in the period of the PF rule. And, in comparison to years before, surely, it is much higher, leapfrogging from about $10.2 billion in 2011 to $12.3 billion in 2013 and 2014. Of course the external factors on copper exports in the last four years also explains why this massive growth started taking the downward turn. The message is to ensure that the 2013 or highest growth period should come back and if this growth can continue in the next twenty years, Zambia will get into the development path. The point is that you cannot grow a country by images shown between 1970 and 2006 when exports and imports are so low.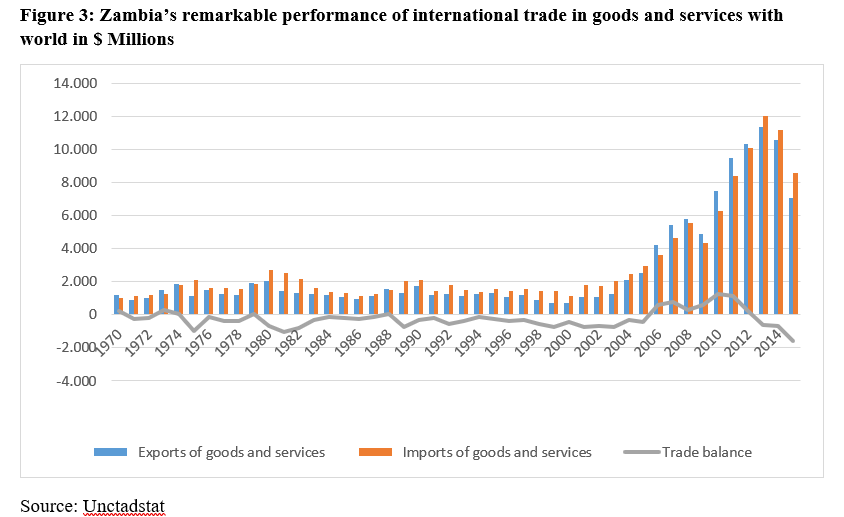 CONCLUSION
In conclusion, we cannot eat numbers. But they have a special message to deliver. And if we have used them before to make a point on others, we must also listen when others come back with them to explain their achievements. Sometimes they look small but when compared with others, they certainly send a strong message. Finally, improved numbers do not mean that the ruling Government now sits and does nothing. It must do more for that is what it was elected for. As said earlier, although some numbers like ones in the foregoing look good, we cannot eat them. We need a strong translation of numbers into three meals a day for each family. But good numbers should also not provide a tool for showboating or telling off opponents. No. But they should perform the purpose for which they were invented.
By Economic.Governance