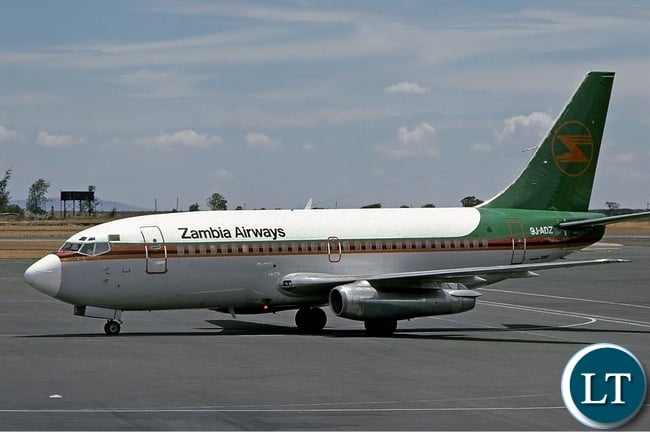 When an unclean spirit comes out of a man, it passes through arid places seeking rest and does not find it.."
By Economic. Governance
Mr. Chishala is right. My own advice is that the Government should spend the money intended for Zambia Airways revival on economic diversification. The airline will contribute almost nothing to economic diversification. The larger part of use will be free tickets and transportation of personal effects by the Ministers and their relatives. This is what history tells us happened with Zambia Airways, the cow that produced the milk for all public servants until it ran dry and could not produce anymore. Like an impure spirit that comes out of a person, we tried and concluded that it was not useful, so we got rid of it. But now we think we made a mistake and must go back to where we were. Then it says, 'I will return to the house I left.' On its return, it finds the house swept clean and put in order. In the end, it finds no rest at all. We are likely to regret if we implement the decision to revive Zambia Airways. It will heighten political and economic divisions rather than narrow them. It is far from a selling point. It is not a priority.
We all also heard that then it was the IMF and World Bank that put the last nail into the coffin by instructing the Government to finally sell the airline. Today, the IMF has a problem of debt with the Government and is refusing to grant the loan. Certainly, the rebirth of Zambia Airways cannot be a decision or support by the IMF. It is locally-made. As usual, every time we make our own decisions, they tend to be aptly unwise. As anyone else, I seriously suspect hot pressure coming from families of former Zambia Airways employees who lost jobs and benefits of flying all over the world and doing business. They have been lobbying since it was defunct. We all lobby but this one is meant to ground the whole economy including proponents of the airline's rebirth finally to its knees. That's how we are. We lobby for wrong things.
AS NUMBERS SHOW, ZAMBIA'S DIVERSIFICATION PROBLEM IS ALARMINGLY HUGE
Zambia's diversification problem is more than we all think. Let us use numbers to understand. Thanks to efforts by Government to diversify but numbers show that we are still very far therefore need to use almost every penny on this important economic decision.
First, Zambia's exports are dominated by copper, accounting for almost 70% and this is non-manufactured (Table 1 below). The top non-copper exports in the name of precious and semi-precious stones are also easy-come-easy-go. So, the top serious non-mineral or non-traditional export product is tobacco which, in 2016 accounted for only $163 million exports or 3% of total exports of $5.8 billion. The shares of the top 3-4 non-traditional products (tobacco, precious, maize and sugar are simply too low to make any significant contribution to economic development especially that they are not manufactured products. There is a potential factor here that may lead to future reduction of exports of especially tobacco – the Zimbabwe political landscape may mean some of that country's farmers based in our country may inevitably go back.
Table 1: Zambia's Exports of Non-Copper Products in $ Millions: 2016
| | | |
| --- | --- | --- |
| | 2016 | Share in % |
|        Total all products | 5,804 | |
|        Copper | 3,960 | 68 |
|        Tobacco, unmanufactured; tobacco refuse | 163 | 3 |
|        Pearls, precious & semi-precious stones | 153 | 3 |
|        Maize (not including sweet corn), unmilled | 114 | 2 |
|        Sugar, molasses and honey | 113 | 2 |
|        Inorganic chemical elements, oxides & halogen salts | 97 | |
|        Gold, non-monetary (excluding gold ores and concentrates) | 95 | |
|        Lime, cement, fabrica. constr. mat. (excludingglass, clay) | 79 | |
|        Cotton | 66 | |
|        Manufactures of base metal, n.e.s. | 59 | |
|        Miscellaneous no-ferrous base metals for metallur. | 53 | |
Source: Unctadstat
In terms of trend over the last twenty years, exports of tobacco in absolute values have enjoyed rapid rises as can be seen by the image in Figure 1 below although declines became visible in the last 2-3 years due to global price fluctuations of commodities. But this rise is nothing when export values are so low. However, chances are that in the next twenty years, if production is expanded, exports would start to grow significantly.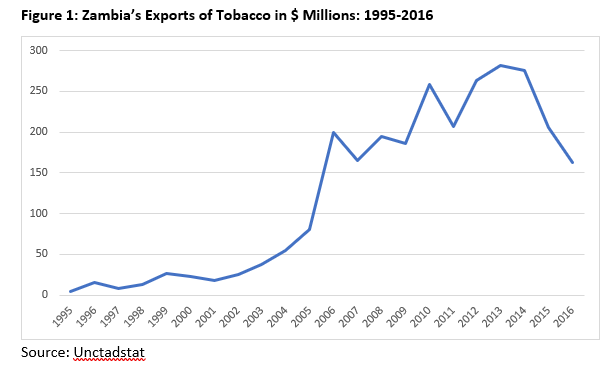 Second, Zambia's efforts to diversify exports can be understand by looking at international measurements such as the diversification index, which, shows that the more numbers are close to 1, the less diversified a country is; and that the closer they are to zero, the more they are diversified. So, in Table 2, we see that in 1995, Zambia's export diversification index was 0.9, which is almost 1, meaning it was very far from diversifying, that is why it is one of the top four countries with less diversification. In 2016, Zambia is joined by many African countries with an index of 0.8 which is not far from the number it had twenty years ago, suggesting that by international standards, the country is still very far from integrating in diversification or the global value chains and networks. In other words, we can say what we want and make public pronouncements that the country is diversifying but we cannot hide from numbers.
Table 2: Zambia's Export Diversification Index: 1995 and 2016
| | |
| --- | --- |
|   | 1995 |
|            Uganda | 0.9 |
|            Nigeria | 0.9 |
|            Lesotho | 0.9 |
|          Zambia | 0.9 |
| | |
|   | 2016 |
|            Botswana | 0.9 |
|            Equatorial Guinea | 0.9 |
|            Mali | 0.9 |
|            Sierra Leone | 0.9 |
|            Burkina Faso | 0.9 |
|            Gabon | 0.9 |
|            Congo | 0.9 |
|            Sudan | 0.9 |
|            Chad | 0.9 |
|            Zimbabwe | 0.9 |
|            Guinea | 0.8 |
|            Nigeria | 0.8 |
|            Mauritania | 0.8 |
|            Libya | 0.8 |
|            DRC | 0.8 |
|            Burundi | 0.8 |
|            Central African Republic | 0.8 |
|            Lesotho | 0.8 |
|          Zambia | 0.8 |
Source: Unctadstat
Third, the country's industry value added in the economy is too low in absolute values. In the last 45 years, industry value added has only grown from $ 585 million in 1970 to $ 6 billion in 2015 compared to $11 billion for Kenya and Tanzania respectively. In 1995 Tanzania's industry was $443 million, less than Zambia's but it is now about twofold more than ours. As a share of GDP, industry is currently about 30% (Figure 2), at least in 2015. More importantly, the trend shows that in the last almost five decades, it has been declining, from almost 50% in 1970. Obviously, much of this is the copper story, further confirmation of lack of diversification. In relation to the Zambia Airways story, clearly, here is the challenge to invest more in industry to take it back to the level of the 1985 when the share was 51%. Expanded industry will create more jobs than Zambia Airways. It will create more manufacturing and regional and global competitiveness than the airline. The airline will be more luxurious and contribute almost nothing to regional and global competitiveness.
Figure 2: Zambia's Industry Value Added in GDP in Percentages: 1970-2015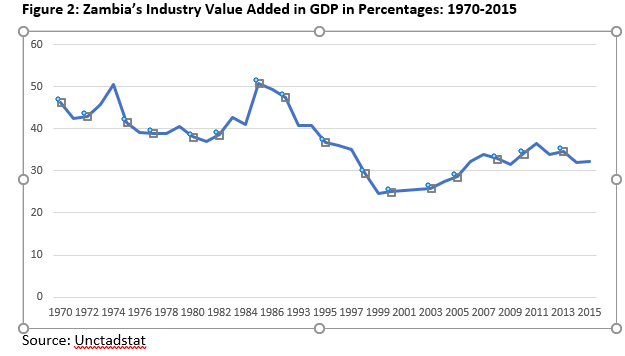 Conclusion
When an unclean spirit comes out of a man, it passes through arid places seeking rest and does not find it.." It then says, 'I will return to the house I left' hoping to find better things but instead it finds worse things. It is like African countries and the World Trade Organization (WTO). Before, it was called General Agreement on Tariffs and Trade (GATT) and developing countries thought it was a rich man's club. So, they thought it would benefit them if it became WTO, or for all countries instead of a few rich ones. So, they created WTO in 1995. Today, Africa is only told by other members, the rich countries that what they are proposing will benefit the continent. But when Africa makes its own proposal (if any?), it is never accepted. The only gain it has obtained is that its voice has strengthened. But a strong voice without accompanying economic benefits is nothing. Africa is now wondering if it can go back to GATT.
[Read 5 times, 1 reads today]