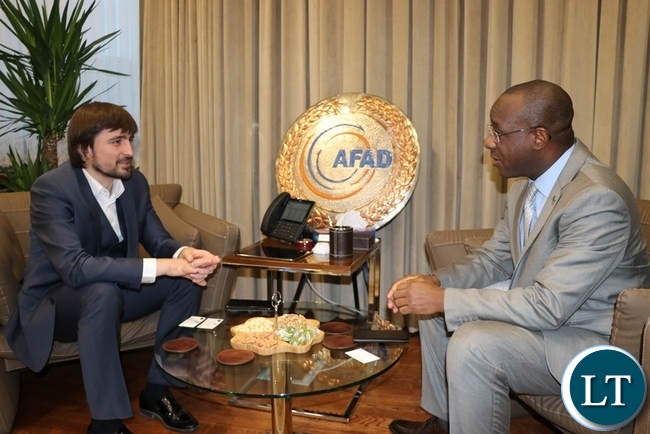 The Disaster and Emergency of Turkey, has expressed willingness to provide technical assistance in the area of disaster Management Authority (AFAD) under the office of the Prime Minister management to the Disaster Management and Mitigation Unit (DMMU).
The pronouncement was made when Charge d' Affairs of Zambia in Turkey, Bwalya Nondo conferred with AFAD Director-General, Dr. Mehmet Gulluoglu.
This is contained in a statement made available to ZANIS in Lusaka today by First Secretary for Press at the Embassy of Zambia in Ankara, Turkey Jerry Munthali.
Mr. Nondo who expressed gratitude for the pledge, said Zambia was currently grappling with an influx of refugees from the neighborhood and would be grateful to have any assistance rendered to ease the burden.
He said President Edgar Lungu recently launched an international appeal for the global community to provide assistance and treat the refugee situation in Zambia as an emergency.
"Our government has been working with the United Nations High Commissioner for Refugees (UNHCR) to mobilise aid to be able to respond to this emergency and at the same time, the appeal that our President has made to the global community is to ensure that all efforts are garnered to be able to prevent a further humanitarian disaster," Mr. Nondo said.
Mr. Nondo added that the Phenomenon of climate change was cross-cutting and of global concern.
He said climate change required concerted efforts regionally and internationally to respond to its large scale impact which affected agriculture, health and other areas.
Mr. Nondo said disasters such as floods and drought either way impacted negatively on the country and called for measures to address the effects.
He further noted that epidemics arising from environmental perspective were also a great source of concern to the government.
Mr. Nondo said effective response to emergencies and disasters called for a sense of preparedness, which entailed availability of resources, technical know-how and early warning systems.
Meanwhile, Dr. Gulluoglu has urged Zambia to share ongoing humanitarian response plans with his authority to enable AFAD render technical aid and cooperation in the area of disaster management, including the refugee crisis in Zambia
"We are open to that kind of relationship and we are aware that the instability in some of your neighboring countries is exerting a lot of pressure on your country," Dr. Gulluoglu said.
According to the UNHCR, Turkey is host to over three million Syrian Refugees.
[Read 9 times, 1 reads today]