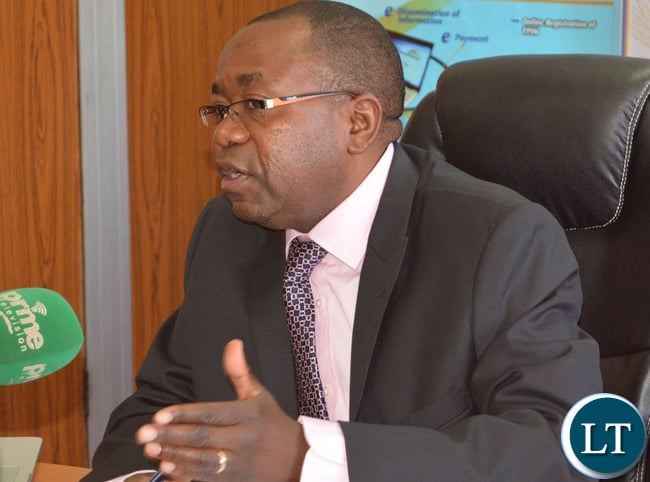 Zambia Revenue Authority (ZRA) Commissioner General Kingsley Chanda says the revenue authority performed exceptionally well after it collected a net revenue of K39 billion for the period January to December 2017.
ZANIS reports that Mr. Chanda told Journalists in Lusaka that ZRA collected a total of K45.868 billion in gross revenues and refunded K6.718 billion to mines and other tax payers thereby recording a net revenue of K39.149 billion.
The ZRA Commissioner General stated that the 2017 collection exceeded the statutory annual budget target of K37.622 billion by K1.527 billion representing 16.8 per cent contribution to the gross domestic product.
Mr. Chanda however, dispelled public perceptions that the Zambia Revenue Authority is given easy revenue collection targets by government.
The ZRA Commissioner General said the targets are not set by the revenue body alone but by a select committee comprising representatives from the Ministry of Finance, Parliament and ZRA.
Mr. Chanda said the 2018 revenue target has been set at K44.667 billion, which is K7.054 billion higher than the 2017 target of K37.622 billion.
He said while, government has given ZRA a target of 16.2 per cent contribution to the country's GDP for 2018, the authority has set its own internal target of 17 per cent
Mr. Chanda attributed ZRA's imposing performance to increased collections from domestic Value Added Tax (VAT) emanating from strong implementation of the withholding VAT mechanism.
He said net domestic VAT collections grew from K96.52 million in 2016 to K5.630 billion in 2017 translating into a growth of 5,734 per cent.
He said the implementation of the tax amnesty in 2017 was revolutionary in Zambia's tax administration history as it received positive response from tax payers.
Mr. Chanda said the amnesty programme and debt enforcement activities raked in K4.097 billion and that an additional K650 million is expected to be collected between January and June this year.
He disclosed that the authority handled 425 investigations in its quest to curb smuggling and concluded 94 cases which resulted in the collection of K27.2 million from assessments and penalties.
He further said the mobile Compliance Unit carried out enforcement operations and intelligence patrols resulting in 7, 380 interceptions with a value of K830 million.
The ZRA Commissioner General said it will continue to partner and work with other Revenue Authorities in the region to improve its operations and attain its targets.
Mr. Chanda said that to ensure tax payers declare correct taxes, ZRA conducted 10, 473 audits that yielded over K2.9 billion in taxes.
Meanwhile, Mr. Chanda has admitted that the prevailing cholera pandemic in the capital city is expected to affect revenue collections from the informal sector.
He however, announced that ZRA will engage tax agents to collect tax from the informal sector such as rental income and other taxes from taxis, marketeers among others.
Mr. Chanda further disclosed that ZRA is in discussions with the Zambia National Marketeers Credit Association (ZANAMACA) to create a data base of Marketeers for the purposes of tax collection which has been set at K1.00 per day.
And the Zambia Revenue Authority (ZRA) says it registered 270, 000 new Tax Payers Identification Numbers (TPIN) in 2017.
ZRA Commissioner General Kingsley Chanda revealed this in Lusaka today, that the revenue authority captured 269,817 new TPINs compared to 17,717 that were registered in 2016.
Mr. Chanda said ZRA is pleased with the high compliance levels for TPIN registration and expressed optimism about increased registrations.
He said the authority achieved a 1,500 per cent increase in TPIN registrations in its efforts to enforce TPIN requirement on Bank accounts.
ZRA has set a deadline of March 31st this year for all bank account holders to obtain tax payer identification numbers.
[Read 13 times, 1 reads today]