Which of you, if your son asks for bread, will give him a stone?
Trade or stay poor
Last year in 2016, Minister, Madame Dora Siliya said the following about agriculture, "Government has challenged stakeholders in the agriculture sector to boost agricultural products exports from about US$645 million last year to US$2 billion to build up on revenue to cushion the trade deficit." She was referring to exports for 2015. In 2016, Zambia's exports of top 19 agricultural products amounted to about $654million, almost the same number as that which came from the Minister's mouth, which is about 11% of total exports of the country of about $6 billion that year (Table 1). The Minister had a point. Zambia's agricultural exports are simply too low to write home about. Why are we exporting only three main agricultural products? The economic strength of many countries lies in the quantity and quality of what they export to the world. Nations are reducing poverty, building better lives for their citizens and even helping others largely because of their success in diversified and value-added trade. Success in trade has enabled nations to stop begging and instead to rely on themselves. Success in trade has a huge multiplier effect on nations. In 1989, in a book, "Everything is negotiable," Gavin Kennedy was right when he said, "Trade or stay poor, that is the bottom line for every country that aspires to compete in the world economic system. If you don't trade at all you will have sealed your fate as surely as if you had gone in for free-fall parachuting – without a parachute."
The Minister means well. It is the traders that trade. But the Minister must facilitate this trade. I am not privileged to information about this facilitation but clearly, Zambia's exporters in agriculture have to do better than they are currently doing. Look at the top three agricultural exports products in Table 1, comprising tobacco with exports of only $163million, maize with $114 million and sugar with only $113million. The money in dollar values are simply too low to achieve the target of $ 2billion professed by the Minister. Yes, she is right that exports need to go up. And up in big numbers.
Table 1: Zambia's exports of top 19 agriculture products to world in $ Millions
| | | |
| --- | --- | --- |
| | | 2016 |
| |          Total all products | 5,804 |
| 1 |        Tobacco, unmanufactured; tobacco refuse | 163 |
| 2 |        Maize (not including sweet corn), unmilled | 114 |
| 3 |        Sugar, molasses and honey | 113 |
| 4 |          Cotton | 66 |
| 5 |          Feeding stuff for animals (no unmilled cereals) | 45 |
| 6 |          Oil seeds & oleaginous fruits (incl. flour, n.e.s.) | 22 |
| 7 |          Tobacco, manufactured | 20 |
| 8 |          Vegetables | 17 |
| 9 |          Meal and flour of wheat and flour of meslin | 13 |
| 10 |          Animal or veg. oils & fats, processed, n.e.s.; mixt. | 13 |
| 11 |          Fixed vegetable fats & oils, crude, refined, fractio. | 10 |
| 12 |          Sugar confectionery | 9 |
| 13 |          Cereal preparations, flour of fruits or vegetables | 9 |
| 14 |          Mechanical handling equipment, & parts, n.e.s. | 8 |
| 15 |          Lead | 8 |
| 16 |          Oil seeds and oleaginous fruits (excluding flour) | 8 |
| 17 |          Edible products and preparations, n.e.s. | 6 |
| 18 |          Barley, unmilled | 6 |
| 19 |          Spices | 4 |
| |  Total of the 19 top products in $Millions | 654 |
| |  Share in % | 11 |
Source: Unctadstat
We must always compare what we do with other countries
It is always important to compare what we do with other countries. One of the reasons why Zambia is not globally competitive is simply that we don't bother to look at other countries. If we were able to integrate competitiveness in our daily work, we would probably be doing better today. I remember my working life at BP Zambia then as a salesman. You were a failure if you did not carry with you a file every day detailing competitive figures of other filling stations to see where BP was. No wonder, BP was always on top. That is something I learnt from the managing director then called Lishomwa. It is a pity that such successful Zambian managers are not an integral part of the bigger picture – the Government. So, even Minister Siliya must have that kind of file in her hands. She must know how Zimbabwe, Malawi and other neighboring countries are doing in agriculture. Look at Table 2 below, showing Viet Nam's exports of the top six agriculture products. We boast of exporting maize and professing that Zambia will become a hub of agriculture in Southern Africa or compete in the world. But there are countries like Viet Nam who have never known a culture of boasting but are heavy weights in agriculture exports. Viet Nam's exports of these products are all in billions, with spices, the least fetching $1.5 billion. Is it that the soil in Viet Nam is more fertile than in Zambia? I don't think so. One reason is that Asians work harder than we do generally. They grow their own food for consumption and exports. But we don't. They simply have a different mindset from ours. We like making big statements about small successes even pledges. We talk about agriculture as being important to our economy and livelihood. But this is a myth and an absurd thing to be proud of. It absorbs about 60% of the labor force but it is low productivity and traditional agriculture.
Table 2: Viet Nam's Exports of Top 6 Agriculture Products in $ Millions
| | |
| --- | --- |
| | 2016 |
|        Fruits and nuts (excluding oil nuts), fresh or dried | 3,935 |
|        Rice | 3,652 |
|        Fish, fresh (live or dead), chilled or frozen | 3,324 |
|        Coffee and coffee substitutes | 3,287 |
|        Fish, aqua. Invertebrates, prepared, preserved, n.e.s. | 2,019 |
|        Spices | 1,482 |
Source: Unctadstat
Exports of Agriculture are not growing
In the five decades, growth of Zambia's agriculture value added in the economy has been pathetic, to say the least, and everyone has admitted that this is due to limited investment. Again, to prove that we talk more than we do, the high-pitched preaching that agriculture is important has not been matched with investment. In 2015 for example, total agriculture in the economy stood at only $1.6 billion or less than $2billion from $139million in 1970. If you consider how that has grown over the years, on an annual basis, the image below in Figure 1 provide the answer. Normally, growth is explained in percentage terms but for me, it conceals the real picture. In Figure 1, growth is shown in absolute values or dollars per year. There is only one year, in 2007 when growth went over $400 million. In percentage terms, agriculture value added in the economy has lamentably dropped from about 33%, the highest level ever achieved in 1993 to 8% in 2015. That is terrible. You cannot expect this kind of growth to be used to reduce poverty or improve living standards of people because the numbers are simply too low. Serious growth must around $2 billion each year. We, especially agriculture business people need to do more work and avoid showboating. It cannot always be the Government that has not done its work. This Zambian business sector is simply a joke.
Figure 1: Annual Growth of Zambia's agriculture value added in GDP in $ Millions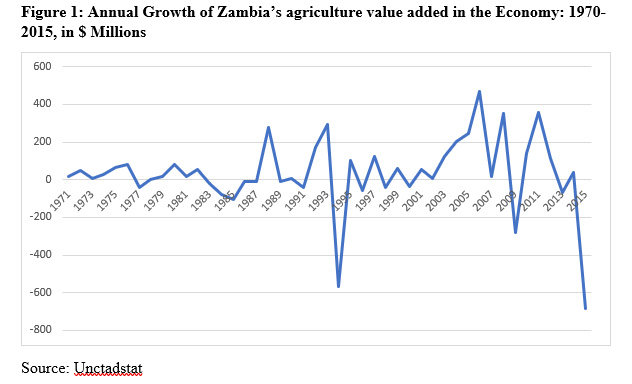 Why is Agriculture Budget allocation declining if we are serious about it?
If we want to match what we preach with action, one best way is to look at the budget allocation of agriculture. We don't have figures for 201 to 2017. But the budget for the period 2009 to 2014 in Figure 2 shows that the share of agriculture in total budget of the country declined from 7.2% in 2009 to 6.8% in 2010, then down to 6.0% in 2011, then down to 5.8% in 2013and finally down to 4.1% in 2014. This is not a trend of budget that demonstrates seriousness about our vision for agriculture.
Figure 2: Agriculture national budget allocation in share percentages: 2009 – 2014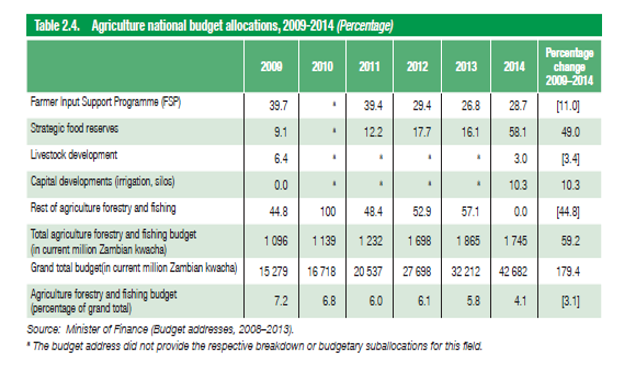 When Zambians ask for agriculture, they must be given a professional Minister
Leadership matters in agriculture. When a child asks for bread, he is not given bread, not a stone. We cannot preach strong love for agriculture but give the ministerial post to someone who has no academic or professional qualification in the field. It is contradictory that we decide that agriculture is the country's mainstay of the economy, that we must transform the sector and use it to create jobs, improve living standards and reduce poverty and become competitive in Africa and then select a Minister without credentials to lead the vision. The Head of State needs to be supported by academically strong Ministers and professionals. Agriculture is a highly professional field. And Zambia is lucky that since independence, President Kaunda educated many young men and women from the University of Zambia School of agriculture. There must be other Zambians working outside the country who are professionals in the field. I personally do not believe in the agriculture revolution because I prefer that the country takes the manufacturing or industrial route to development. But that is not the point. If democracy decides that we go agriculture, we must go agriculture but supported by relevant human resources. Otherwise, when history comes to judge us, we will be asked, "What was the point of erecting an expensive University and school of agriculture which produced experts but you instead decided to ignore and belittle them in place of leaders who did not obtain these qualifications? When you educate your own child in agriculture, will you not ensure that she is employed in agriculture? Can you expect productivity in agriculture from someone who is not well equipped professionally to advance agriculture? When Zambians ask for agriculture, please give them a Minister who will lead and, hopefully, the new year will do just that.
By Economic.Governance