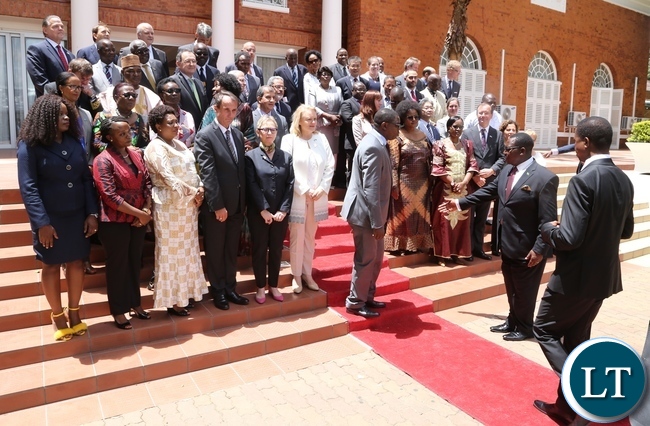 President Edgar Lungu has commended Zambia's cooperating partners and development agencies for their continued support to the country's economic development.
President Lungu says the continued sustained support has helped in advancing Zambia's social and economic development.
ZANIS reports that President Lungu said this when he addressed diplomats accredited to Zambia at the annual meet and greet diplomats at State House in Lusaka yesterday.
The President has described 2017 as a fruitful and rewarding year for Zambia as a result of the many bilateral and multilateral cooperation that the country engaged with different governments and international organisations.
President Lungu said his hosting of several Heads of State in 2017 demonstrates his government's efforts in enhancing its relations with other countries in order to spur trade.
He said this has helped to showcase the country's manufacturing sector and market the country's tourism resulting in several Joint Permanent Commissions being established with many countries to consolidate frameworks of collaboration in various economic sectors.
The Head of State stated that Zambia's economy grew by 4 per cent and attributed it to largely improved copper prices and output, better rainfall which triggered productivity in the agriculture sector and relieved the energy production deficit the country experienced in 2016.
He further said his government will use the Seventh National Development Plan(7NDP) to be the foundation for the attainment of the vision 2030 of becoming a prosperous middle income country.
President Lungu added that Zambia will continue with her historical call of promoting peace and security in the region and the world through her membership to SADC, COMESA, International Conference on the Great Lakes and the African Union in devising oversight mechanisms to neutralize rebel forces in war ravaged countries.
The President said as Zambia assumes the Chairmanship of the SADC Organ Troika on Defence, Peace and Security in August this year, it will continue to play a pivotal role in mitigating political instability in the region and support measures aimed at ending guns and violence in Africa.
He also called for more international support to help the country address the challenges faced and posed by the escalating influx of refugees in the country.
President Lungu said though tremendous strides have been made to address the challenges of re-settling thousands of refugees entering Zambia, there is need for continued assistance to meet basic needs of the over 14,000 refugees who are largely in Nchelenge district.
The Head of State noted that Zambia will continue to invest in youths because Africa's future lies in its young people who comprise the majority of the population that need equal access to opportunities.
He pointed out that the country will continue to campaign against early and child marriages stating that Zambia's efforts in combating the vice have been rewarding following a reduction of child marriages by 10 per cent.
And speaking on behalf of the diplomats, Dean of the Diplomatic Corp Balbina Da Silva who is also Angolan Ambassador to Zambia commended President Lungu for availing them time from his national duties to meet them.
Ambassador Da Silva further praised President Lungu for steering Zambia to economic and social advancement despite a global economic and financial slow down in 2017.
She said Zambia continues to remain a model through her continued efforts in promoting peace and security in Africa and the world at large.
Ambassador Da Silva also conveyed condolences to President Lungu on the
deaths of over 60 people that have died from the prevailing cholera pandemic in the country where over 3,000 cases have been recorded.