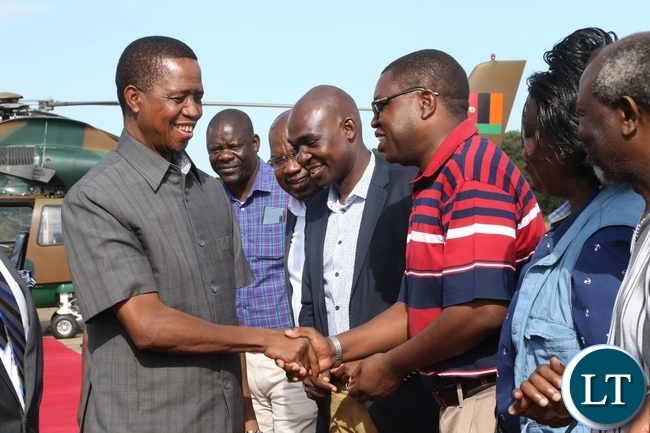 President Edgar Lungu says government is ready to handle any possibilities of a poor crop yield during the 2017-2018 farming season due to poor rains and army worms in some parts of the country.
President Lungu says the country has enough maize stock under the Food Reserve Agency-FRA- and that the no maize shortage is expected.
The Head of State has further directed FRA and Farmers to adequately utilise the maize that the country has.
President Lungu was speaking to journalists at the ZAF Samora Machel Air force base in Mbala before proceeding to Muchinga Province for his country wide fact-finding tour.
Meanwhile President Lungu says Zambia needs to focus more on the agriculture sector despite the rise in Copper prices.
And President Lungu has held a closed-door meeting with two chiefs in Chinsali district.
The two are Senior Chief Nkula and Chief Nkweto of the Bemba people.
And speaking after the meeting with the Head of State, senior chief Nkula said he informed the President that the people in Chinsali are happy with the construction of the provincial administration block and other structures in the area.
The traditional leader told reporters that the district will never be the same once all the buildings are completed.
And Chief Nkula said the President assured them that government will ensure the projects are completed on tim