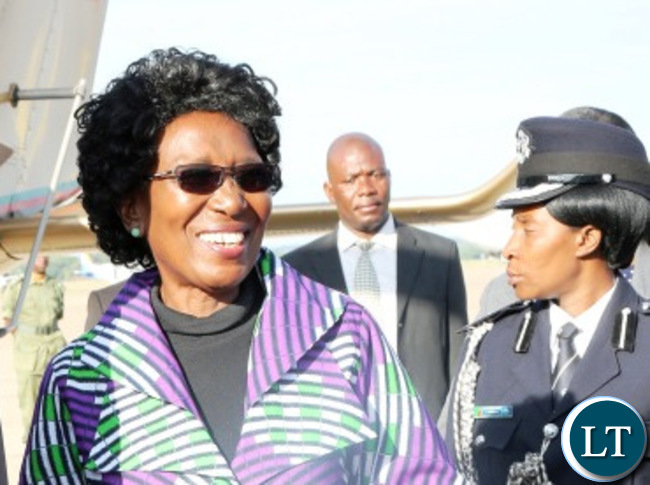 Vice President Inonge Wina says she looks forward to participating in the 30th ordinary session of the Assembly of the African Union Heads of State and Government Summit.
The Vice President observes that the Africa Union has continued to promote its programmes such as the New Partnership for Africa's Development, NEPAD, Peace and Security including issues on gender.
Mrs. Wina, was speaking last night in an interview with ZANIS when she arrived in Addis Ababa, Ethiopia at Bole International airport at about 20:50 hours, local time.
The summit is scheduled to take place from 28th to 29th January, 2018.
"You are aware that his Excellency the President delegated this responsibility to me as Vice president to attend this summit and we look forward to Zambia's participation in this summit", she added.
The Vice President who took recognition of the African Union member states' commitment to fight corruption said this was a positive step in the right direction as the continent would be able to achieve its developmental goals.
She explained that corruption has the capacity to erode the gains that most African countries have achieved over the past years.
Mrs Wina further added that in order for African countries to transform the continent, there is need to fight corruption both at national and international level.
She noted that corruption is a cancer that affects and destroys the fabrics of society.
This year's theme is dubbed "Winning to Fight against Corruption: A Sustainable Path to Africa's Transformation."
And when asked on Zambia's experiences and challenges pertaining to the fight against corruption, the Vice President explained that the country has put in place measures through the creation of structural institutions such as the Anti-Corruption Commission, ACC, Drug Enforcement Commission, DEC, and the Public Accounts Committee whose aim is to ensure that the problem of corruption is curbed.
On Zambia's representation at the United Nations Security Council, the Vice President noted that although the continent had not been given a place yet, the demand to have representation by the African Union has continued.
She observed that Africa forms a large part of the membership of the United Nations and therefore, if the continent is not represented, the situation will continue to create an imbalance.
Africa is determined to ensure that the representation is effected as soon as possible so that the African voice can be heard at the Security Council.
Meanwhile, the Vice President met with Kenya's President Uhuru Kenyatta at Bole International Airport shortly after the East African leader's arrival.
The two leaders shared a light moment as Zambia's foreign affairs minister Joseph Malanji looked on.
In October 2017, Mr Kenyatta was declared winner of the repeated Presidential elections in Kenya after winning the second polls of which he received 7.5 million votes.
[Read 19 times, 1 reads today]