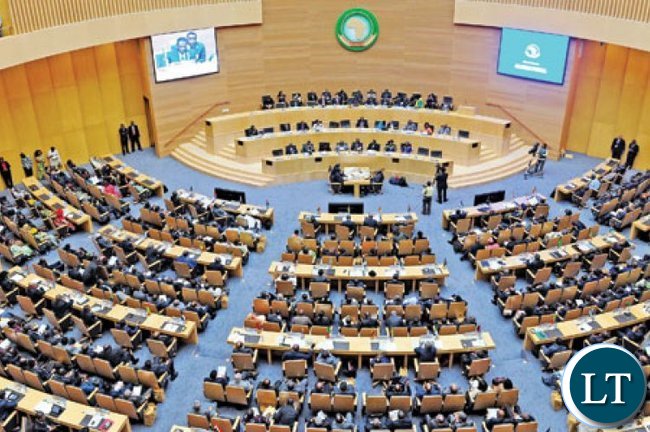 The 30th ordinary session of the assembly of the Heads of State and Government of the African Union (AU) summit has opened in Addis Ababa, Ethiopia, with special attention to fighting corruption in order to uphold Africa's vision in achieving development.
Vice President Inonge Wina, who is representing Zambia, is among the more than 20 African Heads of States in attendance.
Mrs. Wina described corruption as a cancer that destroys the fabric of society.
The Vice President took recognition of the African Union member states' commitment to fight corruption despite challenges surrounding the scourge.
Outgoing AU chairperson Alpha Conde, who is also President of Guinea, thanked the member states for their unwavering support during his tenure from January to December 2017.
New African Union chairperson Paul Kagame, who is also President of Rwanda, told the member states that despite the challenges facing the continent, it was important to infuse the economies with technology for advanced development.
"Africa is important and the free movement of the people is achievable in 2018," he emphasized.
He appealed to the elders in Africa to enjoy their task of providing guidance to the young people.
And United Nations (UN) Secretary General Antonio Guterres said the United Nations remains committed to affirming its strong partnership to the membership and the people of Africa.
Mr. Guterres said migration is a positive globe phenomenon which powers economic growth and reduces inequalities.
Meanwhile, the member states welcomed three new leaders who include Emmerson Mnangagwa of Zimbabwe, Angola's Joao Lourenco and George Weah of Liberia.
Mr. Mnangagwa assured the member states that former President of Robert Mugabe's legacy is secure while Mr. Weah sought for the union's support and guidance for him to deliver according to the promises he made during election campaigns last year.
The assembly may also table the subject of conflicts in the Democratic Republic of Congo (DRC), a situation which has seen thousands of refugees seek asylum in Zambia.
In Zambia, the number of refugees has gone up to more than 13, 000, creating an overwhelming pressure on government.
Stakeholders such as the United Nation agencies and Red Cross among others, have come on board to supplement the Zambian government's efforts in providing for the required services to the affected persons.
The assembly may also table the issue of self -financing for the continent's economic projects.
During the official opening of this year's 32nd session of African Union Executive Council, the African Union Commission Chairperson Moussa Faki Mahamat stressed the need for African leaders to strengthen their financial independence in order to avoid dependency syndrome from the developed world.
Mr. Mahamat has declared the year 2018 as an African anti-corruption year.
He said the fight against corruption demands putting in place stronger institutions that will bring about prosperity in order to consider the importance and urgency when addressing such a vice.
"Corruption hampers efforts of promoting democratic governance, socio-economic transformation and peace and security," he said.
[Read 39 times, 1 reads today]