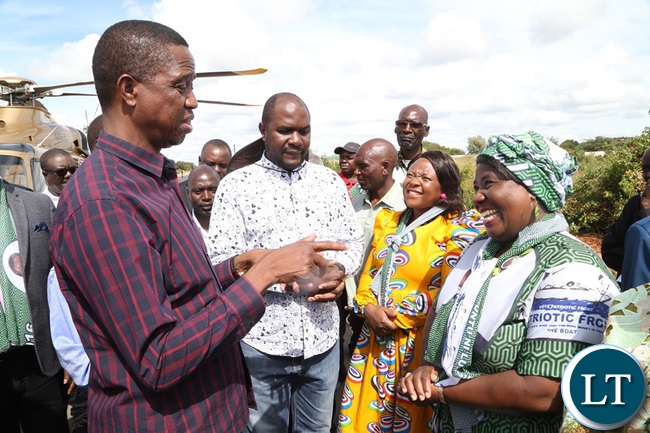 President Edgar Lungu has acknowledged having received reports that the defence team that are manning the streets in the central business district of Lusaka as a measure to address the cholera epidemic are harassing people.
The President stated that it is regrettable that such reports can be coming up as the defence personnel are supposed to exhibit high levels of discipline.
He however, indicated that very soon, the defense personnel will be removed from the streets and the council will be left to take up the responsibility using their own council police officers.
President Lungu was speaking in Chisamba in Central Province this afternoon when he addressed a meeting with seven Chiefs in the province at Mwayansuka School.
Meanwhile, the President has lashed out allegations by some people that he no regards or respect for traditional leaders.
President Lungu noted that there are sentiments that he is receiving insinuating that the office of the royal highnesses cannot work with him as he does not respect the office.
The Head of State has since appealed to the Chairperson for the House of Chiefs to show him how they expect him to work with them to foster development in the country.
He said the best thing traditional leaders can do is to engage him on how they can work together.
The President noted that if chiefs do not support him then he will find it difficult to work with them.
President Lungu further noted that the chiefs are key to the governance system hence, he is getting fade up with people politicising the office of the royal highnesses.
He said he does not wish to extend politics to the office of the royal highnesses and has since advised them to stay away from politics.
And President Lungu said government remains committed to ensuring that all parts of the country are developed.
The President mentioned that once government promises to do something for the people, it cannot be expected to be done overnight, but that the most important thing is that whatever projects were promised have to be implemented.
He said this when he was responding to the chiefs concerning the challenges that are faced in their various chiefdoms.
Earlier, Chief Chamuka, who represented other traditional leaders indicated that most chiefdoms have common challenges such as transport, schools and poor road network among others.
Among the traditional leaders the President met included Chief Liteta,chief Mulubwa, chief Chanda, Chief Ngabwe and Chief Chamuka.
Others were Senior Chief Mukuni Ngombe and Chief Kanyesha respectively.
[Read 52 times, 1 reads today]