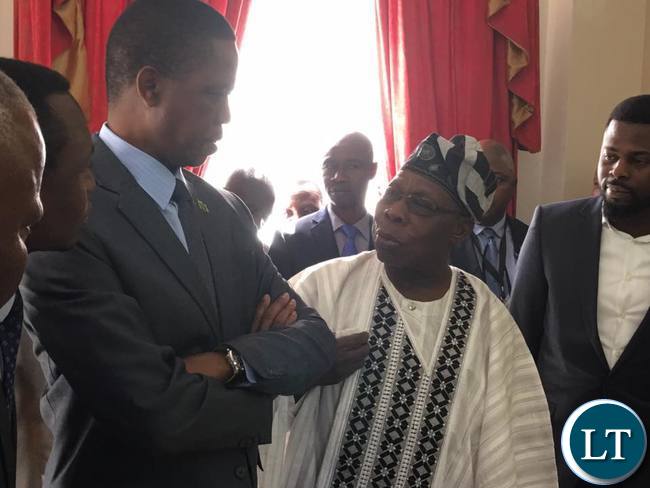 Zambia has reacted sharply to Assertions by Former Nigerian President Olusegun Obasanjo that the country had inconsistent mining policies.
Zambia's High Commissioner to South Africa Emmanuel Mwamba says Zambia takes great exception to remarks by President Obasanjo who was speaking at the on -going Africa Mining indaba in Cape town in his capacity as chairperson of Brenthurst foundation.
Mr. Mwamba stated that contrary to the former Nigerian leader who is also the current Chairman of Brent Hurst foundation, Zambia's Mining policy has been under revision to ensure that it responded to the need and aspirations of its people for the benefit of the country and local communities.
He described Obasanjo's statement divisive and untrue, urging him to refrain from making such statements more so he was an African leader of eminent standing.
Mr. Mwamba noted that the foundation which president Obasanjo was representing was known to actively engage a negative agenda against Zambia.
Zambia is currently among countries that are participating at the on- going Africa Mining Indaba that has attracted 220 mining companies and 350 investors and government leaders from across the world.
Mines Minister Christopher Yaluma is leading a delegation of senior government officials and chief executives from the mining sector in Zambia who include Deputy Secretary to Cabinet Christopher Mvunga, ZCCM_IH Chief executive officer Dr. Pius Kasolo and Mr. Mwamba , among others.
Meanwhile Mr. Mwamba says economic performance remains impressive and that the country was implementing through the Ministry of Finance, a medium-term debt strategy to resolve concerns around the country's public debt.
He said this at the on-going Africa Mining Indaba that the Medium-Term Debt Strategy (2017-2019), which was developed by the Ministry of Finance would serve as an important tool in guiding decision making with regard to prudent debt management.
Mr. Mwamba noted that Zambia was keen to attain the target of being a prosperous middle-income nation by 2030.
He added that it was for this reason that Zambia's impressive economic performance was recently echoed SADC Peer Review Team Leader Abna Dlamni.
Mr. Mwamba said it is for this reason that international rating agency Moody's upgraded Zambia's rating from negative to stable.
He explained that this was due to reduced government liquidity pressures and a slowdown in debt accumulation.
Mr. Mwamba said the government had put up policies through the Minister of Finance Felix Mutati, policy choices that included balancing social development expectation and the country's fiscal sustainability as well as boosting domestic resource mobilization through modernization and enhancement of tax compliance levels from 60% to 80%, and above;
He said that President Edgar Lungu had guided the public service to ensure that labour intensive options are taken into account in the implementation of the economic diversification drive.
This is according to a press statement made available to ZANIS by Zambia High Commission First in South Africa First Secretary Press and Public Relations Naomi Nyawali.
[Read 10 times, 1 reads today]