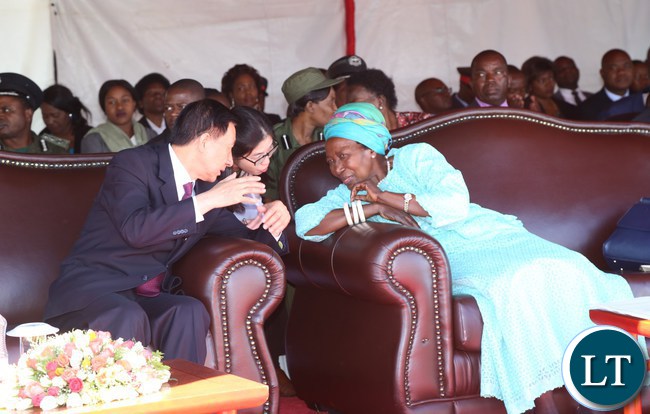 By Economic. Governance
Give a man a fish and you feed him for a day; teach a man to fish and you feed him for a lifetime
Although the origin is contestable, what I remember is that it is the Chinese mainly that are accredited with the famous saying, "Give a man a fish and you feed him for a day; teach a man to fish and you feed him for a lifetime." Its meaning is that China should not just give aid or physical infrastructure of roads and others to Zambia, one of its key trading and development partners in Africa and perhaps the only African country with the highest population of the Chinese. That is fine with me, after all, the US, the greatest nation on earth was built by migrants. Foreigners can bring something unique and complementary in thinking, innovation, technology and know-how. But this often happens when the host country has put policies in place to ensure that they don't repeat what local Zambians can easily and effectively do, and when Zambians themselves prove that they can do it and only need outside complementarity.
China has overtaken the US in exports of manufactured goods
Zambia has a bilateral trade relationship with China that dates to many years. Although partnership in trade is one activity that has made nations in Asia expand wealth and reduce poverty, it is largely because this trade has shifted from primary commodities to manufactured goods. China, with a share of exports from 3% in 1995 to 17% in 2016, and the US from 12 to 8% respectively, the Asian giant has overtaken the US in exports of manufactured goods to the world as Table 1 below shows. In absolute terms, China exported almost $2 trillion and the US $954 billion in 2016. One explanation is that in 2001, China joined the WTO and found import tariffs at most favored nation level had dropped due to global trade liberalization, and Africa was a major supporter of its accession although today a major loser from its membership. But the most outstanding reason is that China was readier to take advantage of market access provided by WTO than Africa was in terms of production and ability to export quality manufactured products in big quantities. China learnt early that overly-reliance on exports of primary commodities is no longer sustainable in world trade due to the continued threats arising from global downturn in prices, a threat that Africa and Zambia have lamentably failed to address in the last fifty years of independence despite many public pronouncements of diversification.
Table 1: China's share of exports of manufactured goods in the world in percentages
| | | |
| --- | --- | --- |
| | 1995 | 2016 |
| China | 3 | 17 |
| US | 12 | 8 |
Source: Unctadstat
Zambia's trade with China in manufactured goods is lopsided in favor of China
But the main point of this article lies in the Table below which shows the growing unevenness in trade, especially in manufactured goods between Zambia and China. As in the colonial master-Zambia trade configuration which was skewed in favor of the former extracting raw materials from Zambia and in turn exporting manufactured goods to the colony, our so-called South-South friends picked up from where the colonial master left and continue to exploit our resources in the same manner. China exports only manufactured goods to Zambia, in 2016 amounting to $461 million compared to Zambia's exports to the Asian country of only $ 11 million as Table 2 below shows. On the other hand, Zambia exports only primary commodities amounting to $ 1 billion in 2016. That is not the Africa we want. The Africa we want is one that ensures that South-South cooperation supports Zambia to upgrade its trade with China in manufactured goods.
Table 2: Exports of manufactured goods to China and Zambia in $ millions
| | | | |
| --- | --- | --- | --- |
| | |   | 2016 |
| China to | Zambia | Total all products | 490 |
|   |   | Primary commodities, precious stones and non-monetary gold | 28 |
|   |   | Manufactured goods | 461 |
|   |   | | |
| Zambia to | China | Total all products | 1,079 |
| | | Primary commodities, precious stones and non-monetary gold | 1,068 |
| | | Manufactured goods | 11 |
Source: Unctadstat
In terms of trend, Figure 1 below helps the reader to understand that over the last twenty years, China's exports of manufactured goods to Zambia has been growing steadily until 2015 when it went down to about $518 million.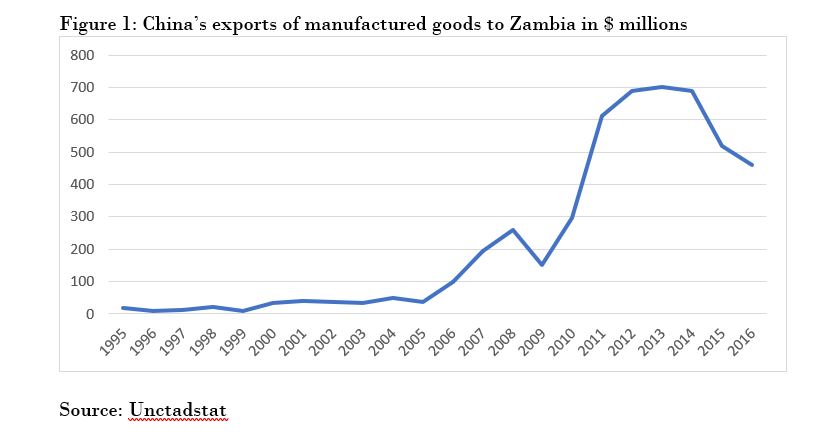 On the other hand, Zambia's exports of manufactured goods to China slumped from about $93 million in 2012 to a shameful level of only $11million.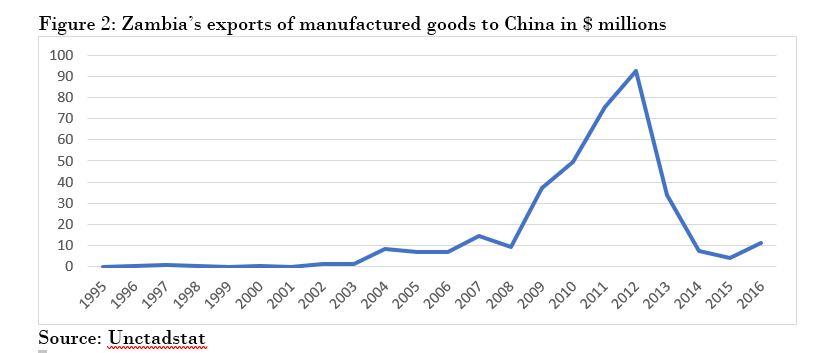 Meanwhile, Zambia's exports of primary commodities shows an upward trend, from about
$ $3 billion in 2013 before tumbling down to $1 billion in 2016 as Figure 3 below shows. If exports of 2013 had been maintained, more revenue would have been made. Unfortunately, demand in China for copper went down, and this is a warning of over-reliance on one export market and more importantly on exports of primary commodities. If today China decides that it has had enough copper from Zambia and stops buying, I am not sure what alternative ideas Zambia has apart from slipping further into China's shadow.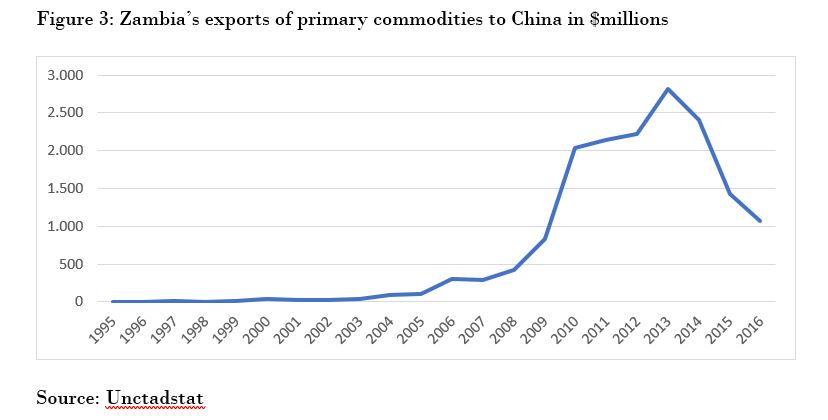 History will remember KK for his diversification drive
On 20 July 2009, when Kenneth Kaunda, former President of Zambia received his achievement award from the African Heritage Society in recognition for his contribution to the liberalization struggles in Southern Africa, he had one important message for African countries, "Diversify your economies." He lamented, "African countries have remained underdeveloped due to a number of factors some of which are due to the manner in which Africa is conducting its trade with the rest of the world." In fact, even within Africa. He said, "Africa's trade with other countries is lopsided as it is to a large extend only exporting raw materials. Africa needs to develop its manufacturing sector to enable it attain sustainable comparative advantage and compete highly with the rest of the world." He said further, "We cannot remain competitive in this world if we do not have an educated populace and a well-trained manpower to run factories, mines, hospitals and schools. We can only compete by developing our human resource to provide necessary skills in order to enhance our productivity."
If action speaks louder than words, I would be the first to admit that despite his policy short-comings, such as nationalization, Kaunda's rule is the only period that was characterized by an upsurge in manufacturing in Zambia. I have presented these figures before in previous articles. But we all remember factories like the Mansa batteries, Kafue textiles, Mwinilunga apples, Kapiri glass, Rop cooking oil, Fiat assembly in Livingston and others. As we learn from today, even the US is moving back to nationalization which we discarded in Zambia. If we had continued, perhaps by now we would have produced a pool of skilled Zambians in manufacturing.
The Zambia-China knowledge partnership is perhaps more important
Perhaps the leadership knows better the proceeds of the Zambia-China development partnership. In addition to the unfair trade relationship, one common to the common man is the investment in road and football stadium infrastructure. But perhaps Zambia needs more knowledge infrastructure partnership with China than physical ones which, after 50 years of independence we should be able to do on our own like Ethiopians. Zambia needs to have a plan with China to get help on how to develop human skill for innovations, technology transfer and general manufacturing. China has shown the world that is has abundant knowledge in manufacturing especially, for Zambia, textiles and clothing. China is supporting Ethiopia, Rwanda and other African countries in this sector on a very large scale. If we cannot acquire manufacturing knowledge from the Chinese while they are with us, eating with us, drinking with us, and even marrying our daughters, when and where will we take advantage of this opportunity? According to Fernandez-Stark, Frederick and Gereffi, authors of 'The Apparel Global Value Chain', "Apparel production is considered an important catalyst for national development, and often it is the typical starter industry for countries engage in export-oriented industrialization due to its low fixed costs and emphasis on labor-intensive manufacturing. Low cost countries like China, India and Bangladesh – are emerging as leaders in the lower-value assembly segments of the value chain." Even rich countries like the UK, Germany and others used textiles for industrialization. Of course, there is stiff competition now after the expiry of the quotas in the WTO but if others are making it, Zambia can also make it.
[Read 20 times, 1 reads today]