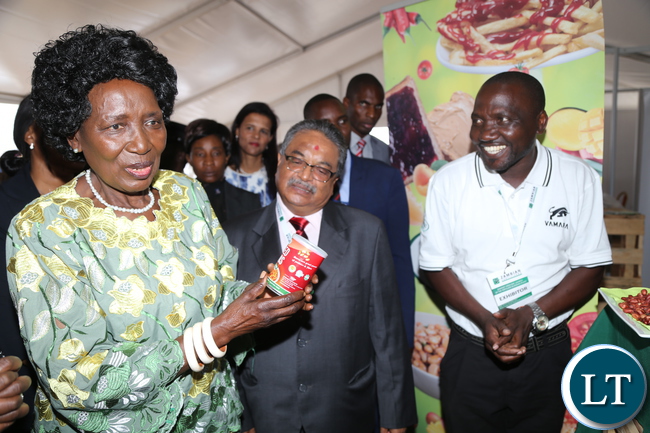 Vice President Inonge Wina says Zambia and the United States of America (USA) have enjoyed an excellent relationship which dates back to independence era when the US government established an embassy in the country.
Ms. Wina, who is also Acting President stated that USA has assisted Zambia in various sectors of the economy through the United States Agency for International Development (USAID).
The Vice President said this in a speech read for her by Minister of Higher Education, Nkandu Luo at the launch of the American Corner at National Institute of Public Administration (NIPA) in Lusaka yesterday.
Ms. Wina noted that the American Corner is part of a larger network of over 800 public accessible American spaces worldwide with Lusaka's Corner being the second in Zambia besides the one at Copperbelt University.
She said the American corner will provide information resources to Zambians about the United States of America through various avenues including American books, documentaries, electronic library services, education advisory services and free internet facilities.
Ms Wina stated that the corner is designed to facilitate learning of the English language, foster people to people connections, increase mutual understanding and support continued engagement with the Zambian alumni of US exchange programmes among other objectives.
Ms. Wina said she happy that the launched American Space will ignite in the minds of Zambians and those who are presiding over higher learning institutions to learn to celebrate people who have contributed to the development of the country.
She indicated that Zambia will appreciate to learn from the American experience the setting up and operation of such spaces so that the country can endeavour and explore how to enhance information sources.
Ms. Wina is also hopeful that the Corner will provide readily available information to assist enhance trade and investment between the two countries.
Meanwhile, the US Ambassador to Zambia, Daniel Foote said the American Corners help to build the bridge between the people of America and other countries.
Mr. Foote said his country is overjoyed with the entrepreneurship, democracy in governance and health programmes that are taking place in Zambia.
He noted that there is need for stronger ties between the two countries and that his country is grateful to NIPA for the partnership in putting up the American Corner at the institute.
Mr. Foote further dedicated the American Corner to Maya Angelou and declared it as Maya Angelou American Corner whom he said was the prominent American that represented the best of the values that Zambia and the US shares.
And NIPA Executive Director, Royson Mukwena said the realisation to put up a new ultra-modern library at the learning institution was meant to provide modern information on courses and services to students, staff and other end users within Lusaka.
[Read 32 times, 1 reads today]