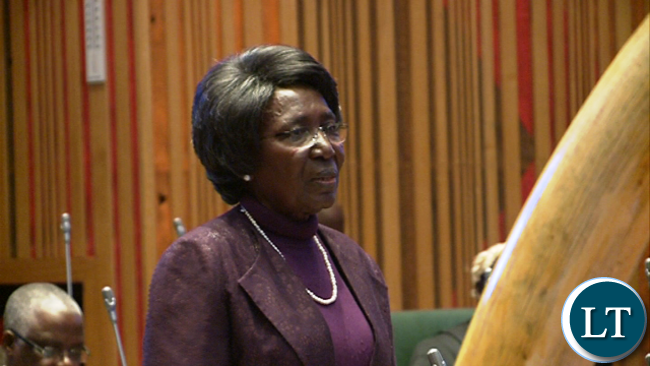 VICE-PRESIDENT Inonge Wina has said that there is nothing wrong with President Edgar Lungu's suggestion to remove tribe from Zambians' National Registration Cards as it is a pro-active way of stemming deep-rooted tribalism that could trigger genocide in the country.
During the Vice-President's question time in Parliament today, Mazabuka Central UPND member of parliament Gary Nkombo, in his question, observed that in most recent times, there had been a lot of statements that President Lungu had made that had caused a lot discomfort and consternation in the country.
"The latest one that he made was that 'you are going to exclude tribe,' which is a distinct feature of a social grouping, from the National Registration Card. Knowing very well that tribes are what make a nation, what do you think was going on in the President's mind when he made this obnoxious statement?" Nkombo asked.
But Speaker Dr Patrick Matibini said: "Honourable member for Mazabuka Central, maybe help me appreciate the meaning of the word obnoxious."
Nkombo then answered: "Very clearly; I'm a teacher of English – it means very unpleasant!"
In response, Vice-President Wina explained the context in which the President's remarks were made.
"Mr Speaker, we should take into context where this statement was given. If I remember correctly, the statement was made by the Head of State after visiting the genocide museum in Kigali, Rwanda. Anybody who has visited that museum will never come out the same after seeing the atrocities," Vice-President Wina said before heckles of 'question, question' watered down her voice.
"I'm amazed at the lack of empathy among some of the members of parliament. Genocide is not a laughable matter. That statement was made after visiting that museum and what is on display in that museum will make every person who visits that museum [to] move in disgust as to what human beings can do to others. What happened in Rwanda during the 50s, 60s, was discrimination based on tribe. The colonial masters were telling one tribe to rise against another and they will even mark the houses; this house belongs to such a person of such a tribe. This led to one tribe resenting the other tribe [and] it came to a situation where families were so divided [and] killing each other. This is the context in which that statement was made and the Head of State is free to make statements of this type so that our nation can debate and reflect on issues of tribe and what happens to a nation when tribe is raised above everything else. So, I do not see anything wrong with such a pronouncement or a statement made by His Excellency Mr Edgar Chagwa Lungu in Kigali, Rwanda after visiting that museum."
While in Kigali, Rwanda, last month, President Edgar Lungu proposed that the word "tribe" be removed from the National Registration Card (NRC) for Zambians as a way of preventing tribalism.
However, a green NRC has no provision for tribe but a citizen's full name, date of birth, place of birth, sex, father's/mother's place of birth, village, district, chief, registration date, special marks and the holder's and registration officers signatures.
[Read 7 times, 1 reads today]