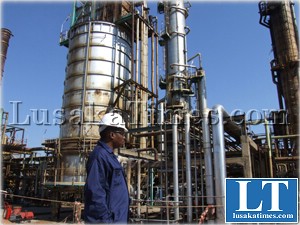 The Industrial Development Corporation (IDC) has today announced that five companies out of the seven that submitted applications for pre-qualification have been shortlisted for the next stage of selecting a strategic equity partner in Indeni Petroleum Refinery Company Limited.
The five companies who will be invited to submit Request For Proposals (RFP) are:
1. Glencore Energy Limited of the United Kingdom
2. China Petroleum Technology and Development Corporation of China
3. Joint Stock Company Global Security of Russia
4. Sahara Energy Resources Limited of the United Kingdom; and
5. Beijing Huiersanji Green Chem – Tech Co. Ltd and Avic International Holding Corporation Consortium of China
IDC Chief Executive Officer Mr Mateyo Kaluba, said that Indeni's contribution to the national petroleum demand in Zambia has, since 2005, been less than 50%; and this will progressively reduce if nothing is done to increase the production capacity of the plant.
With a design capacity of 1.1 million metric tonnes per annum and achievable capacity of 850,000 metric tonnes per annum, Indeni processing capacity falls far short of the country's combined demand of petrol and diesel which currently stands in excess of 1.7 billion litres per annum.
"IDC envisions that a strong strategic equity partner will upscale the production capacity of Indeni to a level that will meet the nation's petroleum demand for the future. Experts have projected national consumption for fuel in Zambia to hit around 3.5 billion litres by 2030. It is this reason that the IDC would like to ensure Indeni remains relevant to the Zambian economy even by 2075 while at the same time it plays a role in the reduction of fuel pump price", Mr Kaluba said.
IDC is confident that the shortlisted bidders meet the minimum criteria set for the pre-qualification process.
These firms will now be invited to submit their technical and financial proposals.
This is according to a statement issued by IDC Public Relations Manager Namakau Mukelabai.
[Read 81 times, 1 reads today]