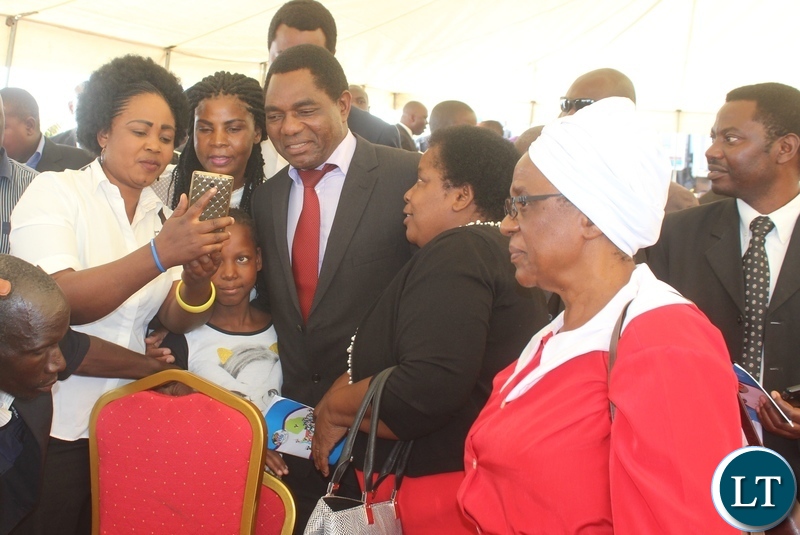 United Party for National Development (UPND) President Hakainde Hichilema urged South Africa to provide leadership in the Southern African region in championing an end to injustice in Zambia.
Speaking in Livingstone yesterday after attending the New Apostolic Church Divine Service at Nakatindi Church grounds to mark the church's 90 years of existence in Zambia that the current harsh economic conditions being experienced under the PF government needed the people to remain strong.
"President Ramaphosa, though busy with domestic issues, needs to be alerted that Zambia could blow up any moment from now and this will negatively affect the SADC region. South Africa has to provide leadership in our region. Zambia and other countries in the region fought hard against the then oppressive Apartheid regime. Today, South Africa is in a stronger position to provide the necessary leadership in our region to restore the rule of law, human rights, democracy , peace and stability for development. Nigeria is providing such leadership in the ECOWAS region," Hichilema said.
"…we had some local government by-elections, some oposition voters and polling agents, Electoral Commission officials and members of the public were beaten, injected with poison (chemical weapons), detained by armed ruling party thugs working with state police disrupting voting, vote counting/talling and announcing in many polling stations around the country in war zone like situation. The situation is getting worse than the 2026 election scenario."
Mr Hichilema said the church was an important institution which could help Zambians in times of need.
"I decided to come and join my brothers and sisters in the New Apostolic Church in celebrating their 90 years of their church's existence in Zambia. The church is a very important institution and so we must continue praying. We must pray hard especially during these economic hardships that we are going through, we must stay strong and continue praying for the country," Hichilema said.
"We are also looking for ways of reviving the now stalled dialogue which had raised hopes of restoring law and order in our country. Currently, the regime is becoming more desperate and brutal. Any ideas of unlocking this ugly situation would be welcome."
And New Apostolic Church Chief Apostle Jean-Luc Schneider urged congregants to give up the silly thought of what the church should do for them.
"We are so thoughtful of what Jesus did for us, so let's ask ourselves as to what we can do for God to promote his church. God's will is for all men to be saved," said Schneider.
[Read 32 times, 1 reads today]